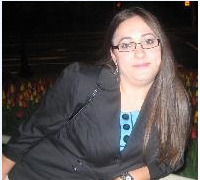 Miembro desde Oct '07
Idiomas de trabajo:
inglés a rumano
rumano a inglés
inglés a moldavo
moldavo a inglés
español a inglés
Irina Adams
ATA Voting Member - 17 years experience



Estados Unidos

Hora local:

06:50 EDT (GMT-4)



Traductor o intérprete autónomo,

Miembro con identidad verificada
This person has a SecurePRO™ card. Because this person is not a ProZ.com Plus subscriber, to view his or her SecurePRO™ card you must be a ProZ.com Business member or Plus subscriber.

Translation, Interpreting, Editing/proofreading, Website localization, Voiceover (dubbing), Subtitling, Transcription, Training, Project management, Vendor management, Sales
Se especializa en

Derecho: (general)

Informática: Programas
Informática: Hardware
Informática (general)
Juegos / Videojuegos / Apuestas / Casino

Negocios / Comercio (general)

TI (Tecnología de la información)
Derecho: impuestos y aduanas

Viajes y turismo

Arte, artes manuales, pintura
More
USD
61 comentarios



More
Transferencia electrónica, Marque, PayPal, Visa, MasterCard, American Express, Descubrir, Paypal
Rina's picks EN>RO, Rina's picks RO>EN
Master's degree - Kaplan University
Años de experiencia: 24 Registrado en ProZ.com: Feb 2005 Miembro desde Oct 2007
N/A
inglés a rumano (ACTFL, verified)
inglés a rumano (Defense Language Institute)
rumano a inglés (ACTFL, verified)
rumano a inglés (Defense Language Institute)
inglés a rumano (American Translators Association)




More
ATA, ACTFL, ALTA, NAJIT, AAIT, IAPTI
TIFD Translation Team
Adobe Acrobat, Adobe Photoshop, Catalyst, memoQ, Microsoft Excel, Microsoft Word, MemoQ, Passolo, Powerpoint, SDL TRADOS, SDLX, STAR Transit
CV available upon request
Powwows organized

Irina Adams apoya ProZ.com's Directrices profesionales (v1.0).
Palabras clave: Romanian, English, Translator, voice over, over 10 years experience, return projects in no time, fast, reliable, law, business, marketing, technology, IT, Romaneste, lege, 10 ani experienta, zece ani experienta, raduceri, voci, vocile, Mutarjim in Urdu, traducător (male)/traducătoare (female), tłumacz (male), tłumaczka (female), mütercim, cevirmen, tercüman, Prevodilac (Latin), Преводилац (Cyrillic), oversetter, Bāsha Parivarthaka, переводчик, переводчица, Iwwersetzer, Iwwersetzerin, traducteur, traductrice, 翻译, 译者, 翻译人。, นักแปล, fordító, 'cyfieithydd', pl. 'cyfieithwyr', translation, romanian, english to romanian translation, translator, romanian translator, IT, computer, computers, technical, legal, sworn, linguistics, Romanian, native, document, documents, localization, web site, automotive, games, game, PC, business, software, certificate, diploma, DVD, manual, manuals, transcript, cinema, TV, film, subtitles, mechanics, engineering, traducere, traduceri, engleza, romana, autorizate, traducator, autorizat, traducator autorizat, engleza romana, traducere engleza romana, traducator engleza romana, romana engleza, romanian financial translations; english-romanian translations; legal translator; romanian translator; translations into romanian; romanian financial translator; accounting; banking; romanian; financial; economics; stock market; auditing; management; insurance; articles of association; memorandum of association; audit; marketing; law; legal; contracts; patents; software localization; website translation; user's manual; traducator instant romana engleza, traductor de texte din engleza in romana; traducere engleza; traducere romaneste; Anđelo, Miklić, hrvatski, Croatian, Croatia, Hrvatska, izvorni, govornik, native, speaker, tehnički, technic, technical, tehnika, prevoditelj, prijevod, translator, translation, brzo, fast, engleski, materinji, jezik, professional, localization, lokalizacija, CAT, Trados, turizam, tourism, iskustvo, experience, pravni, pravo, law, rule, reference, references, manuals, priručnici, web, automotive, engine, energy, marketing, military, army, weapon, electro, optic, weapons, skill, medicar, radiology, radiation, health, education, documents, games, html, trados, bosnian, serbian, serbocroat, computer, power, user, guide, celullar, GSM, audio, video, TV, camcorder, air, conditioner, music, film, subtitling, proofreader, proofreading, fast, accurate, medicine, medical, clinphone, medicinski, medicinskih, medicina, medic, paramedic, chemistry, phisycal, electron, electro, comp, computer, weapon, squad, tactics, business commerce finance marketing economics human resources HR banking IT user manual computers law contracts education media software tourism medical medicine health care psychology statistics fashion mathematics employment records work records translation translations Romanian English Spanish French Italian subtitle, commerce, finance, marketing, economics, human resources, HR, banking, IT, user manual, computers, law, contracts, education, media, software, tourism, medical, medicine, pharmaceuticals, health care, psychology, statistics, fashion, mathematics, employment, records, work records, translation, translations, translation agency, translation company, website translation, brochures, annual reports, brochures, advertising, advertisment, proofreading, subtitling, telecommunications, literature, death certificates, birth certificates, certified translations, Romanian to English, English to Romanian, Romanian to Spanish, Spanish to Romanian, Romanian to French, French to Romanian, Italian to Romanian, Romanian to Italian, German to Romanian, Romanian to German, Bulgarian to Romanian, Catalan to Romanian, Czech to Romanian, Greek to Romanian, Hungarian to Romanian, Romanian to Hungarian, Norwegian to Romanian, Polish to Romanian, Portuguese to Romanian, Russian to Romanian, Swedish to Romanian, Chinese to Romanian, Japanese to Romanian, Arabic to Romanian, Turkish to Romanian, traduction technique, traductor, traducteur, informatique, mécanique, électronique, traduction, technique, engineering, physique, francophone, anglophone, mécanique, électrique, tecnical, website, medicine, biology, legal, contracts, economics, management, marketing, informatics, social, argentina, übersetze übersetzen Übersetzer übersetzer übersetzer übersetzer arabisch französich übersetzer auf kroatisch übersetzer berlin übersetzer chinesisch englich übersetzer dänisch deutsch übersetzer deutsch übersetzer deutsch englisch übersetzer deutsch english übersetzer deutsch französisch übersetzer deutsch holländisch übersetzer deutsch italienisch übersetzer deutsch niederländisch übersetzer deutsch polnisch d übersetzer deutsch russisch übersetzer deutsch spanisch übersetzer deutsch türkisch übersetzer deutsch tschechisch übersetzer englisch übersetzer englisch deutsch übersetzer english übersetzer english deutsch übersetzer english und übersetzer übersetzer französisch übersetzer französisch deutsch übersetzer gesucht übersetzer griechisch übersetzer hamburg übersetzer holländisch übersetzer im internet übersetzer in polnisch übersetzer ins texte übersetzer internet übersetzer italienisch übersetzer italienisch deutsch übersetzer japanisch übersetzer kroatisch deutsch übersetzer münchen übersetzer niederländisch deutsch übersetzer norwegisch übersetzer online übersetzer polnisch übersetzer polnisch deutsch übersetzer prüfung übersetzerprogramme übersetzer rumänisch übersetzer russisch französisch übersetzer schwedisch übersetzer software übersetzer spanisch übersetzer spanisch deutsch übersetzer sprach übersetzer türkisch deutsch übersetzer tschechisch übersetzer und dolmetscher übersetzer vokabel übersetzer von deutsch übersetzer von deutsch auf übersetzer von englisch übersetzt übersetzung übersetzungen übersetzung italienisch Übersetzungsagentur übersetzungsbüro übersetzungsbüros übersetzungsburo übersetzungsburos Übersetzungsdienst übersetzungsdienste Übersetzungsservice übersetzung türkisch deutsch überstzer volltext переводчик agencia de traducción agencias de traducción agency technical french translation agentur albanisch Albanisch als übersetzer amerikanisch arabisch arabisch übersetzer Armenisch asiatisch assistance traduction Baskisch beeideter uebersetzen beglaubigte übersetzer Beglaubigte Übersetzung beglaubigte übersetzungen beglaubigter übersetzer beglaubigter ubersetzer beglaubigte ubersetzer beglaubigte ubersetzung beglaubigte ubersetzungen Beglaubigung Beglaubigungen bosnisch brasilianisch brasilien britisches englisch British englisch British english bulgarisch bureau bureau de traduction cabinet de traduction chinesisch chinesisch übersetzer company company translation dänisch databases desktop deutsch deutsch übersetzer deutsch englisch übersetzer deutsch englisch Übersetzung deutsch englisch online übersetzer deutsch english übersetzer deutsch französisch übersetzer deutsch französisches deutsch japanisch übersetzer deutsch polnisch übersetzer deutsch russisch deutsch russisch übersetzer deutsch spanisch übersetzer deutsch türkisch übersetzer deutsch türkisch uebersetzung devis traduction dienstleistung dienstleistungen Dienstleistungsunternehmen diktionär diplom übersetzer diplomübersetzer documentation document technique document translation Dolmetschen Dolmetscher dolmetscher übersetzer Dolmetscherdienst Dolmetschern dtp dutch Eilübersetzung Eilübersetzungen Eilubersetzung Eilubersetzungen empresas de traducción england Englisch englischübersetzer englisch übersetzer englisch übersetzer online englisch deutsch übersetzer englische übersetzung englischer übersetzter englisch online übersetzer englisch russischübersetzer englisch text übersetzer english deutsch übersetzer english deutsch überzetzer english to french technical translation english to french translation english to german technical translation english to italian technical translation english to italian translation english to japanese translation english to portuguese technical translation english to spanish technical translation ermächtiger Übersetzer ermächtigter französisch español traducción eutsch italienisch übersetzer o export exportieren fachübersetzer Fachübersetzern fachübersetzung Fachübersetzungen Fachübersetzungsdienst Fachübersetzungsdienste Fernübersetzung Fernübersetzungen finnisch finnisch übersetzer Firmenbroschüre online flämisch francese traduzioni frankreich Französisch französisch übersetzer französisch deutsch translation französisches französisch japanisch übersetzung fremdsprachenübersetzer french translation Galizisch ganze sätze übersetzern ganze texte deutsch englisch GB-Englisch GB-English GB Englisch Georgisch geprüfter übersetzer german german english translator german technical translation r german translation Geschäftsdolmetscher Gestaltung Layout Druckvorstufe gesucht übersetzter giurate traduzioni dall'italiano all'inglese google grammatik griechisch griechisch italienisch handel hebräisch Hindi holländisch Holland hollandisch im internet import importieren industrie inglese italiano traduzioni inglese traduzione di manuale traduzioni di manuali traduzioni inglese italiano internationalization internet übersetzer interpreting irländisch isländisch italian technical translation italian translation italien Italienisch italienisch übersetzer italienisch deutsch übersetzer japanese japanese technical translation japanisch japanisch übersetzer jura juristisch juristische übersetzung Juristische Fachübersetzung Juristische Fachubersetzung juristischer Übersetzer juristischer Fachübersetzer juristischer Fachubersetzer juristischer ubersetzer juristische ubersetzung Kasachisch Katalanisch Koreanisch korrektur lesen korrekturlesen korrigieren kroatisch Kurdisch Language language translation layout Lettisch linguistic litauisch lituanisch localization mazedonisch mediche traduzioni memories multilingual multilingual solutions multilingual translations Niederländisch niederländisch übersetzer niederländisch türkisch deutsch übersetzer Niederland Niederlande nline übersetzer englisch norwegisch online übersetzer online übersetzer deutsch italienisch online übersetzer deutsch spanisch online übersetzer englisch online übersetzer polnisch übersetzer online übersetzer türkisch Online-Kostenvoranschlag online deutsch online traduzione per l'editoria traduzioni persisch polen polish polnisch polnisch deutsch übersetzer polnish Portugal Portugiesisch portugiesisch übersetzer prestataire traduction pubblicitarie traduzioni publishing recht rumänisch russian technical translation Russisch russland südamerikanisch satzübersetzer scalable schwedisch schwedisch übersetzer scientifiche traduzioni serbisch Serbokroatisch service company service document services services technical french translation service technical translation service translation servicios de traducción slowakisch slowenisch software and services translation software translation solutions spanien Spanisch spanisch übersetzer spanisch übersetzer dolmetscher spanisch deutsch übersetzer spanische internetübersetzer spanisch englisch spanisch online übersetzer spanish technical translation spanish translation spanish translation site sprachübersetzer Sprache Sprachen sprachen übersetzer Spracherkennung staatlich staatlich anerkannter staatlich beglaubigt staatlich ermächtigt staatlich geprüfter staatlich geprüfter übersetzer staatlich vereidigt staatlich vereidigter übersetzer staatlich vereidigter ubersetzer türkisch türkisch russisch übersetzer tłumacz technical manual translation technical translation technical translation bureau technical translation italian techniques site de traduction Technische Übersetzung technology terminology tests textübersetzer text übersetzer übersetzer texte holländisch traducción traducción alemán traducción al español traducción audiovisual traducción castellano traducción catalán traducción de español traducción de inglés traducción de ingles traducción de ingles a español traducción de textos traducción español traducción español inglés traducción español ingles traducción español italiano traducción francés traducción inglés traducción inglés español traducción ingles traducción ingles español traducción italiano español traducción jurada traducción on line traducción simultánea traduceri traduction anglais français traduction en français traduction français allemand traduction français italien traduction italien traductions italien traduction notice technique traduction traductions traductions français allemand traductions français italien traduction technique traduttore traduttori traduzione di manuali traduzioni traduzioni traduzioni legali traduzioni on line traduzioni russo traduzioni scientifiche in bulgaro traduzioni scientifiche in inglese traduzioni siti internet traduzioni tecniche traduzioni tecniche in bulgaro traduzioni tecniche in inglese traduzioni testi traduzioni translation Translation translations translator translators translator spanisch tschechisch tschechisch übersetzer online Ubersetzer ubersetzung ubersetzungen ubersetzungsbüro ubersetzungsbüros ubersetzungsburo ubersetzungsburos ubersetzungsdienst uebersetzer ukrainisch ungarisch ungarisch übersetzer Unsere Kunden US-Englisch USA Englisch US Englisch verbessern verbesserung vereidigte übersetzer vereidigter übersetzer vereidigter ubersetzer vereidigte ubersetzer Vietnamesisch volltextübersetzer webübersetzer web übersetzer webseite übersetzer website Übersetzer web site language translation web site translation weißrussisch weissrussisch wirtschaftsübersetzer wirtschaftsenglisch worterklärung yugoslawisch zum übersetzer russisch deutsch, English, German, French, Englisch, Deutsch, Französisch, anglais, allemand, français, translator, Übersetzer, traducteur, interprète, interpreter, Dolmetscher, translation, translating, traduction, Übersetzungen, Übersetzen, interpretation, simultanée, interprétariat, interpreting, Dolmetschen, Simultandolmetschen, Simultandolmetscher, Konsekutivdolmetschen, Konsekutivdolmetscher, Konferenzdolmetschen, Konferenzdolmetscher, conference interpreter, simultaneous, consecutive, simultan, konsekutiv, architecture, construction, civil, structural, engineering, Architektur, Bauwesen, Hochbau, Tiefbau, building materials, Baustoffe, quarrying, aggregates, Zuschlagstoffe, industrial minerals, Industriemineralien, mineral extraction, Mineralgewinnung, cardiology, cardiac, heart surgery, Kardiologie, Herzchirurgie, medical, Medizin, pharma, legal, Recht, contracts, Verträge, business, Wirtschaft, finance, Finanzen, annual reports, Geschäftsberichte, financial statements, reporting, Jahresabschluss, Jahresabschlüsse, accounting, balance sheet, bilan, Bilanzierung, Bilanzen, Rechnungslegung, Rechnungswesen, Buchhaltung, Finanzberichterstattung, marketing, market research, Marktforschung, IT, information, documentation, Dokumentation, library, Bibliotheken, librarianship, Bibliothekswesen, politics, Politik, current affairs, EU, EEC, EC, Europe, European, Union, Community, Europäische, Gemeinschaft, Trados
189 visitas durante el mes pasado,
de un total de 84 visitantes Este perfil ha recibido
Última actualización del perfil
Jan 4