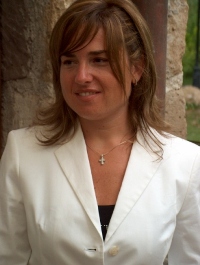 Miembro desde Mar '05
Idiomas de trabajo:
español a italiano
inglés a italiano
Valentina Cafiero
Reliable, punctual and accurate



Campania, Italia

Hora local:

17:59 CET (GMT+1)




Idioma materno

: italiano
Reliable, punctual and accurate
Traductor o intérprete autónomo,

Miembro con identidad verificada
This person has a SecurePRO™ card. Because this person is not a ProZ.com Plus subscriber, to view his or her SecurePRO™ card you must be a ProZ.com Business member or Plus subscriber.

This person is not affiliated with any business or Blue Board record at ProZ.com.
Translation, Editing/proofreading, Website localization
También trabaja en
Papel / Fabricación de papel

Automóviles / Camiones

Manufactura

Informática (general)

Barcos, navegación, marítimo

Mecánica / Ing. mecánica

TI (Tecnología de la información)

Ingeniería: industrial

Ingeniería (general)

Construcción / Ingeniería civil

Informática: Sistemas, redes

Informática: Programas

Informática: Hardware

Automatización y robótica
Send a payment via ProZ*Pay
Muestras de traducción: 3
inglés a italiano: Technical- electronic devices
Texto de origen - inglés
The XXX rechargeable battery pack is the ideal companion to your XXX.



Economical and convenient


Easy to use – just fit and forget


Charges while connected to the mains


Up to 35 hours of portable listening per charge


More cost-effective than disposable batteries and reduces the quantity of batteries that end up in landfill




XXX instruction manual. German, French, Italian, Danish and Dutch
11/08/2008

Please read these instructions before use

XXX from XXX is a high quality iPod® docking cradle designed to connect to any XXX radio with an AUX IN/Line In connection, or any audio product with a 3.5mm stereo line input. i-10 will charge your iPod while you listen and the supplied mini-remote allows you to change tracks and adjust volume from the comfort of your sofa.

Connecting and using your i-10
1. Check the contents of the box:
a) i-10 docking cradle
b) 9 iPod dock adapters in storage box
c) 3.5mm Aux-in cable
d) 6.5V DC UK power adapter with EU adapter, or Australian power adapter.
e) Mini remote control (remove the battery tab to activate)

2. Insert the correct dock adapter into the recess on top of i-10. We've included dock adapters for most iPod models: check the supplied storage box and match your model of iPod to the correct dock adapter number (this number is located on the reverse panel of each dock adapter).

3. Connect i-10 to your radio or other compatible audio product:


Undo the cable tie.


Insert one end of the cable into the LINE OUT connection on the rear of i-10 and the other end into the 3.5mm LINE IN/Aux In connection on the rear or side of your PURE radio or other compatible audio product.



4.Connect the power adapter (optional).


If you are using i-10 in European countries outside of the UK, slide the catch on the power adapter to remove the UK adapter and then attach the EU adapter.


If you want i-10 to charge your iPod while you listen, insert the power adapter into the 6.5V DC connection and plug the adapter into the mains supply.



5.Place your iPod on the docking cradle.

6.Switch on your radio or audio equipment and change the source to "Auxiliary input" or "Aux" if necessary. Adjust the volume on your radio to around half way if possible.

7. Press [>/||] on the mini remote control or the iPod to begin playing a track.

8.Change tracks/folders and adjust the controls using the mini remote control as detailed below:
ButtonFunction
StandbySwitch the iPod into standby. Wake the iPod when i-10 is disconnected from mains power.
MenuAccess the iPod's home menu. Go up one level when navigating albums, tracks or playlists.
Select -/ Navigate tracks, albums and playlists on the iPod screen.
Adjust the volume from the i-10.
Skip tracks and albums. Press and hold during playback to seek through a track.
Play/pause a track, album or playlist. Wake the iPod when i-10 is connected to mains power.
ShuffleSwitch Shuffle mode on and off.
RepeatChange Repeat mode between once, all or off.

Removing the dock adapter
To remove the dock adapter, remove your iPod from the dock then insert your thumbnail or a credit card into the slot to gently tilt and lift the dock adapter out of the recess.

Troubleshooting
"I can't hear any sound"
Try adjusting the volume on your radio and increase the volume from the i-10 using the supplied mini remote control. Note that the volume level on the iPod is ignored by i-10.

"The iPod isn't responding"
‐Make sure the Hold switch on the iPod isn't down. Press any button on the iPod. Try lifting the iPod off the dock and re-connecting it.

Safety
Keep the unit away from heat sources.
Do not use the unit near water.
Avoid objects or liquids getting into the unit.
Do not remove screws from or open the unit.
Fit the mains adapter to an easily accessible socket, located near the unit and ONLY use the mains power adapter supplied. Keep the supplied iPod dock adapters away from small children.



Traducción - italiano
Il pacco batteria ricaricabile XXX è il compagno ideale di XXX.



Economico e pratico


Facile da usare. Una volta montato non dà più problemi


Si ricarica mediante collegamento alla rete elettrica


Fino a 35 ore di ricarica per ascolto portatile


Più conveniente rispetto alle batterie monouso e con minore impatto ambientale



Manuale di istruzioni XXX. Tedesco, francese, italiano, danese e olandese
11/08/2008

Leggere le presenti istruzioni prima dell'uso

XXX di XXX è un alloggiamento dock per iPod® di alta qualità progettato per il collegamento a tutte le radio XXX con un ingresso AUX IN/Line In o a qualsiasi prodotto audio con ingresso linea stereo da 3,5 mm. i-10 consente di caricare l'iPod durante l'ascolto e con il mini-telecomando in dotazione è possibile cambiare i brani e regolare il volume restando comodamente seduti sul proprio divano.

Collegamento e utilizzo di i-10
1. Verificare il contenuto della confezione:
a) Alloggiamento dock i-10
b) 9 adattatori dock per iPod nella confezione
c) Cavo Aux-in da 3,5 mm
d) Adattatore di corrente per Regno Unito da 6,5V CC con adattatore per Europa o Australia.
e) Mini-telecomando (rimuovere la linguetta della batteria per attivarlo)

2. Inserire l'adattatore dock corretto nel relativo alloggiamento sulla parte superiore di i-10. Sono forniti adattatori dock per tutti i modelli di iPod: verificare la confezione fornita e associare il modello di iPod al numero di adattatore dock corretto (questo numero si trova sulla parte posteriore del pannello di ogni adattatore dock).

3. Collegare i-10 alla radio o ad altri prodotti audio compatibili:


Slegare il cavo.


Inserire un'estremità del cavo nell'ingresso LINE OUT sulla parte posteriore di i-10 e l'altra estremità nell'ingresso LINE IN/Aux da 3,5 mm sulla parte posteriore o lateralmente alla radio PURE o ad altri prodotti audio compatibili.



4.Collegare l'adattatore di corrente (opzionale).


Se i-10 viene utilizzato nei paesi europei al di fuori del Regno Unito, far scorrere il fermo sull'adattatore di corrente per rimuovere l'adattatore del Regno Unito e collegare quello europeo.


Per caricare i-10 con l'iPod durante l'ascolto, inserire l'adattatore di corrente nel collegamento 6,5V CC e quindi l'adattatore nell'alimentazione di rete.



5.Posizionare l'iPod sull'alloggiamento dock.

6.Accendere la radio o l'apparecchiatura audio e modificare la fonte in "Ingresso ausiliario" o "Aux" se necessario. Regolare il volume della radio circa a metà se possibile.

7. Premere [>/||] sul mini-telecomando o l'iPod per iniziare la riproduzione del brano.

8.Modificare brani/cartelle e regolare i comandi con il mini-telecomando come indicato di seguito:
PulsanteFunction
StandbyPremere per accendere l'iPod e tenere premuto per la modalità standby. Accendere l'iPod quando i-10 è scollegato dall'alimentazione.
MenuAccedere al menu principale dell'iPod. Salire di un livello per cercare album, brani o playlist.
Select -/ Cercare brani, album e playlist sulla schermata dell'iPod.
Regolare il volume di i-10.
Saltare brani ed album. Tenere premuto durante la riproduzione per cercare il brano.
Play/pausa di un brano, album o playlist. Accendere l'iPod quando i-10 è scollegato dall'alimentazione di rete.
ShuffleAttivare e disattivare la modalità Shuffle.
Repeat (Ripeti)Applicare la modalità Repeat a uno, tutti o tenerla disattivata.

Rimozione dell'adattatore dock
Per rimuovere l'adattatore dock, togliere l'iPod dalla dock e con l'aiuto del pollice o di una carta di credito nella slot, inclinare leggermente e rimuovere l'adattatore dock fuori dall'alloggiamento.

Risoluzione dei problemi
"Non riesco a sentire nulla"
Regolare il volume della radio e aumentarlo da i-10 con il mini-telecomando fornito. Notare che il livello di volume sull'iPod viene ignorato da i-10.

"L'iPod non risponde"
‐Accertarsi che il blocco di sicurezza Hold dell'iPod non sia attivato. Premere un pulsante qualsiasi sull'iPod. Rimuovere l'iPod dall'alloggiamento e quindi ricollegarlo.

Istruzioni di sicurezza
Tenere l'unità lontano da fonti di calore.
Non utilizzare in prossimità dell'acqua.
Evitare che oggetti o liquidi entrino nell'unità.
Non rimuovere le viti o aprire l'unità.
Fissare l'adattatore di corrente a una presa facilmente accessibile, vicino all'unità e utilizzare SOLO l'adattatore di corrente fornito. Tenere gli adattatori dock per iPod fuori dalla portata dei bambini.



inglés a italiano: Marketing - Web site
Texto de origen - inglés
Take a stroll down memory lane in this short sleeve crew neck tee. Novelty ribbed collar.
Front screen and gel graphic.100% cotton. Styled from the past, updated for today!


Only the best of the best get brought back. Cool design. Full zipper front. Comfortable cotton/polyester blend. Be the first one to sport this stylish track jacket.

Stay warm when it's cool and cool when it's warm with our X-Static high performance fiber system. SmoothFit eliminates all seems. Naturally odor free. Run long.
Traducción - italiano
Fai una passeggiata nel viale della memoria con questa maglia a girocollo a maniche corte. Colletto a costine di nuova concezione. Riquadro anteriore e immagine stampata al gel. Cotone 100%. Ispirata al passato, al passo coi tempi!

Solo il meglio del meglio rivisitato. Design alla moda. Chiusura a zip anteriore completa. Cotone comodo/poliestere. Procurati subito questo elegante giubbotto sportivo.

Stai al caldo quando fa freddo e al fresco quando fa caldo con il nostro sistema di fibra ad alte prestazioni X-Static. SmoothFit elimina tutte le cuciture. Trattamento antiodore. Lunghe corse. Corri veloce.

español a italiano: Técnico - Aerogenerador
Texto de origen - español
Pantalla de protección proyección eléctrica y guantes protección eléctrica.

El personal que deba llevar a cabo labores de revisión, operación o mantenimiento del aerogenerador debe colocarse un arnés de seguridad; este arnés va provisto de un mosquetón que debe suje¬tarse a diferentes puntos del aerogenerador, mediante la cuerda de seguridad con disipador, atendiendo en cada momento a la tarea a desempeñar:

Para acceder al buje o la nariz es necesario seguir las siguientes instrucciones:

ACCESO AL BUJE-NARIZ

 No es aconsejable efectuar esta operación con vientos superiores a 12 m/s.
 Esta operación requiere la presencia de dos operarios.

Para realizar esta acción con seguridad se requieren los siguientes materiales y herramientas:

 Sistema de trabado del aerogenerador.
 Una cuerda de seguridad de 2m con disipador.
 Un arnés de seguridad.
 Ordenador para conectarse al control.




La secuencia a seguir en el modo de acceder al buje es la siguiente:

1. En el control del aerogenerador debe activarse uno de los dos modos de mantenimiento, para señalizar la presencia de operarios en el aerogenerador.

2. Parar el aerogenerador. Una vez frenado las palas están a 86º.

3. Debe colocarse el aerogenerador en posición Y

4. Debe trabarse el rotor con el tornillo-útil de trabado. Se recomienda montar siempre el trabado del eje rápido. Referencia IDM-0449 Uso de los trabados.

5. Desde el control del aerogenerador poner las palas a 2º. Es la posición más segura de trabado del aerogenerador.

6. Se recomienda siempre que sea posible dejar el aerogeneradores orientados a 90º respecto a las direcciones de viento predominante y a ser posible con las palas a 2º y el trabado del eje rápido montado

7. Abrir la trampilla superior de la góndola de acceso al techo de la góndola.

8. Antes de salir completamente sujetar el arnés de seguridad al cáncamo ubicado en el buje o en la góndola mediante la cuerda con disipador.

9. Salir al techo de la góndola. Abrir la tapa del buje y acceder al buje a través del orificio.

10. Una vez conseguida una posición estable y segura, sentado en la parte interior del buje, desenganchar el arnés de seguridad del cáncamo y sujetarlo en el interior.

Traducción - italiano
Visiera di protezione contro le scosse elettriche e guanti per protezione elettrica.

Il personale incaricato dei lavori di revisione, funzionamento o manutenzione dell'aerogeneratore deve utilizzare un'imbracatura di sicurezza; quest'ultima deve essere provvista di moschettone da fissare in diversi punti dell'aerogeneratore, mediante la corda di sicurezza con dissipatore, prestando sempre attenzione all'operazione da svolgere:

Per accedere al mozzo o al naso è necessario seguire le seguenti istruzioni:

ACCESSO AL MOZZO-NASO

 Non è consigliabile eseguire questa operazione con venti superiori ai 12 m/s.
 Questa operazione richiede la presenza di due operai.

Per realizzare questa azione con sicurezza sono necessari i seguenti materiali e attrezzi:

 Sistema di blocco dell'aerogeneratore.
 Una corda di sicurezza di 2 m con dissipatore.
 Un'imbracatura di sicurezza.
 Computer per collegarsi al controllo.




La sequenza illustrata di seguito descrive il modo per accedere al mozzo:

1. Nel controllo dell'aerogeneratore attivare una delle due modalità di manutenzione per segnalare la presenza di operai nell'aerogeneratore.

2. Arrestare l'aerogeneratore. Una volta fermato l'aerogeneratore le pale saranno a 86º.

3. Posizionare l'aerogeneratore in posizione Y.

4. Bloccare il rotore con la vite-attrezzo del sistema di blocco. Si consiglia di montare sempre il sistema di blocco dell'asse rapido. Riferimento IDM-0449 Utilizzo dei sistemi di blocco.

5. Dal controllo dell'aerogeneratore posizionare le pale a 2º. È la posizione più sicura del sistema di blocco dell'aerogeneratore.

6. Si consiglia, laddove possibile, di posizionare gli aerogeneratori orientati a 90º rispetto alla direzione principale del vento e se possibile con le pale a 2º e il sistema di blocco dell'asse rapido montato

7. Aprire la botola superiore della navicella per accedere al tetto della navicella.

8. Prima di uscire completamente, fissare l'imbracatura di sicurezza all'anello presente sul mozzo o alla navicella mediante la corda con dissipatore.

9. Uscire dal tetto della navicella. Aprire la copertura del mozzo e accedere attraverso l'apertura.

10. Una volta acquisita una posizione stabile e sicura, seduti nella parte interna del mozzo, sganciare l'imbracatura di sicurezza dall'anello e fissarla all'interno.

More
Master's degree - Istituto universitario orientale
Años de experiencia: 18 Registrado en ProZ.com: May 2003 Miembro desde Mar 2005
español a italiano (Istituto Universitario Orientale, verified)
inglés a italiano (Istituto Universitario Orientale, verified)
español a italiano (DELE superior - Istituto Cervantes, verified)

N/A
Catalyst, IBM CAT tool, memoQ, Microsoft Excel, Microsoft Word, Passolo, Powerpoint, SDL TRADOS, STAR Transit, Translation Workspace, Wordfast, XTM
inglés (PDF), inglés (DOC)
Training sessions attended
Valentina Cafiero apoya ProZ.com's Directrices profesionales (v1.0).
Bio
SERVICES:

Translation, editing, proofing, post-editing, localization, asseveration of administrative documents

LANGUAGES:

English into Italian and Spanish into Italian

CAT TOOLS:

Trados, SDL/Trados 2007, Star Transit XV, Wordfast 6 pro, Logoport, IBM CAT tool, Passolo, Catalyst

VOCABULARIES/GLOSSARIES:

English-Italian, Il Ragazzini, Zanichelli

English-Italian, Il nuovo Economics & Business, Fernando Picchi, Zanichelli

English-Italian, Dizionario tecnico, Giorgio Marolli, Hoepli

Spanish-Italian, Grande dizionario di spagnolo, Laura Tam, Hoepli

Spanish-Italian, Dizionario tecnico spagnolo, Hoepli

Specific tools for Microsoft glossaries

On-line resources

EXPERTISE: INFORMATION TECHNOLOGY

Software, hardware, Web pages, localization, user guides, helps on-line,

computers and data processing, networking

TECHNICAL-ENGINEERING

Technical manuals and documents, automotive, mechanical engineering, industrial equipments, alternative power systems, electronic devices, paper machines, CAD, sports equipments, gym machines

MARKETING AND BUSINESS

Press releases, articles, business promotion, business organization, footwear, sportswear, fashion products, leatherwear, hotels, tourism

OTHER

Medical devices and equipments, general and religious texts

Send me an e-mail to

[email protected]

Or talk to me with msn

[email protected]

and skype

valentina.cafiero

Este miembro obtuvo puntos KudoZ al ayudar a otros traductores a traducir términos de nivel PRO. Haga clic en total(es) de puntos para ver los términos traducidos.


Palabras clave: IBM translation manager, , logoport, , startransit, , logoport, , passolo, , tag editor, workbench, , multiterm, , english, , spanish, , italian, , localization, , calculator machines, handhelds, , surveys, , ancestry, , hearing protections, , pressure gauges, , temperature pressure gauges, , Bourdon, , headphones, phones, , grinding, , grinder, , turning machine, , Maintenance manuals, , conveyer belts, , food machinery, , 3D CAD, , ball bearings and all kind of bearings, , user manual, , installation manual, , feature guide, , stent, , cardiac resynchronization therapy, , pacer, , defibrillator, , plasma cutting, , camping tools, , switching, , switch, , networking, , IT, , information techonology, , help guide, , web site, , white paper, , data sheets, , press releases, , web storage management, , marketing campaigns, , office guides, , dialog windows, catalyst, , autocad, , GPS, , satellite navigator, , DVD decoder, , IT solutions, , technical specifications ancestry websites, , handhelds, , phones, headphones, , Operation manuals, , automation, mechanical automation, IT solutions, datasheets for software, , surveys, , wind turbine generators, , eolic parks, , hearing protections, , incubators, , monitor, hard disk, screen, , television sets, cars, automotive, , industrial vehicles, , Industry & Technology, , telecommunications, , welding, , power plants; turbines, , turbines; compressors; printers, , wind turbine generator, eolic paks, environment, , warehouse, stock, , alternative power systems, , photovoltaic, footewear, sportswear, leahterwear, sports machines, sports equipments, gym machines, , post-editing, translation, editing, proofing, , paper machines, hoteles, business promotion, business organization, advertising campaigns, , offshore platforms, , heating, air conditioning, , household appliances, , mechanical components español, italiano, castellano, inglés, aerogeneradores, turbinas, , parques eolicos, calculadoras, , palmares, , sondeos, , protecciones acústicas, , manómetros, , auricolares, cascos, , fresadoras, , moldeadoras, , protecciones acústicas, , rodamientos radiales, , cojinetas antifricción, , manuales usuarios, manuales instalación, equipamientos medicales, equipamientos camping, , red, redes, campañas de marketing, , solucciones IT, télefonos mobiles, automatización, , incubadora, , ingeniería mecánica, , localización, , tecnología, , coches, , manuales de operación, , transportador, , cinta transportadora, , soldadura, , impresora, , sistema de navegación por satélite, , interfaz, , elevadores, , almacenamiento, grúas mecánicas, fotovoltaico, , zapatos, ropa deportiva, equipamimentos gimnasio, productos de lujo, máquinas de papel, , hoteles, , calefacción, aire acondicionado, , equipamientos domesticos, , trucks italiano, , spagnolo, , inglese, , siti Web, , informatica, , calcolatrici, , palmari, , telefoni, , auricolari, , protezioni acustiche, , fresatrice, , molatrice, , manuale utente, , manuale di installazione, , taglio al plasma, , attrezzi da campeggio, , apparecchiature medicali, , ingegneria meccanica, , soluzioni IT, , reti, , guide on-line, , finestre di dialogo, , sondaggi, aerogeneratori, , turbine, , parchi eolici, , protezioni acustiche, , cuscinetti, cuscinetti a sfera, cuscinetti radiali, , incubatrice neonatale, , automazione meccanica, , localizzazione, industria e tecnologia, veicoli, auto, , manuali di funzionamento, , nastri trasportatori, manuali di manutenzione, , telecomunicazioni, saldatura, , stampanti, , ambiente, , interfacce, , specifiche tecniche, , software di grafica, , CAD, , ingegneria industriale, , industria e tecnologia, , pallet, , immagazzinaggio, , stampa, , stampanti, , gru meccaniche, , energia alternativa, , fotovoltaico, scarpe, accessori, abbigliamenti, sport, macchine da palestra, abbigliamento sportivo, abbigliamento tecnico, beni di lusso, macchine lavorazione carta, organizzazione aziendale, promozione aziendale, , riscaldamento, aria condizionata, , piccoli elettrodomestici, , componenti meccanici, ,
35 visitas durante el mes pasado,
de un total de 20 visitantes Este perfil ha recibido
Última actualización del perfil
May 29, 2019