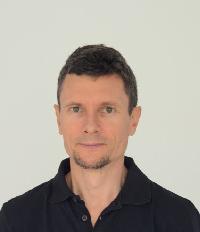 Miembro desde May '03
Idiomas de trabajo:
inglés a alemán
francés a alemán
español a alemán
portugués a alemán
alemán (monolingüe)
Olaf Reibedanz
Financial market specialist



Cali, Valle del Cauca, Colombia

Hora local:

11:19 COT (GMT-5)




Idioma materno

: alemán

Preferencia del traductor
para volver a trabajar (LWA)

Translation and project management in the areas of economics, business, marketing, and finance. Special focus: financial markets. Top quality. Quick turnaround. Able to work with a team of colleagues.
Profesional autónomo agencia/empresa,

Miembro con identidad verificada
This person has a SecurePRO™ card. Because this person is not a ProZ.com Plus subscriber, to view his or her SecurePRO™ card you must be a ProZ.com Business member or Plus subscriber.

This person is listed as an employee of:
Blue Board affiliation:
5.0
Translation, Editing/proofreading, Project management
Se especializa en

Economía

Finanzas (general)

Inversiones / Valores

Gobierno / Política

Mercadeo / Estudios de mercado

Derecho: contrato(s)

TI (Tecnología de la información)
More
EUR
Puntos de nivel PRO 6137, Preguntas respondidas: 2742, Preguntas formuladas: 8676
0 proyectos mencionados

38 comentarios



More
Muestras de traducción: 4
inglés a alemán: Travel magazine
Texto de origen - inglés
DUBAI

With many works in progress, Dubai is a city that yields new discoveries with each visit, and new ways to enjoy one of the most popular destinations in the Middle East.

Unusual Views

Sprawling construction sites have mushroomed in Dubai, often causing more detours than straight road, so getting around by car can be frustrating. With no foreseeable end to the traffic jams in sight, how is one to escape the chaos? If you've already seen Dubai from ground level, the next logical step is to get wings.

Flying School

One of the coolest ways to see the city is strapped into a two-seater plane, joystick in hand, looking with bird's-eye view down on the Creek, the Greens, and Madinat Jumeirah. The flight path followed by the instructors at the Emirates Flying School is like a motorway in the sky, tracing the path of Sheikh Zayed Road and then into specially allocated airspace around the Burj Al Arab, where you can travel up and down the shoreline freely. It's a superb chance to loop the loop, to circle above the Burj Al Arab, and to see what Palm Island really looks like. From above, the sprouting of building developments around the Greens and Ibn Battuta Mall look like blotched sand drifts on the parched landscape, putting Dubai's growth into perspective. In addition to their full training courses, the Emirates Flying School has one-hour taster lessons with friendly, well-trained instructors who will let you take off but assist you with the trickier act of landing the aircraft.

Traducción - alemán
DUBAI

In Dubai wird an allen Ecken und Enden gebaut. Bei jedem Besuch warten garantiert neue Überraschungen und Freizeitmöglichkeiten auf Sie – kein Wunder also, dass diese Stadt als eines der beliebtesten Ziele im Nahen Osten gilt.

Ungewöhnliche Aussichten

In den letzten Jahren sind in Dubai gigantische Baustellen wie Pilze aus dem Boden geschossen. Es gibt hier mehr Umleitungen als normal befahrbare Straßen, was jede Autofahrt zu einem Hindernisrennen werden lässt. Angesichts dieser Situation stellt sich die Frage, wie man dem Chaos entfliehen kann. Darauf gibt es nur eine logische Antwort: Lassen Sie sich Flügel wachsen.

Flugschule

Eine der beliebtesten Möglichkeiten zur Stadterkundung ist der Rundflug in einem selbst gesteuerten Zweisitzer-Flugzeug. Werden Sie ihr eigener Pilot und schauen Sie sich den Creek, die Greens und das Madinat Jumeirah aus der Vogelperspektive an! Die von den Fluglehrern der Emirates Flying School genutzte Flugroute gleicht einer Autobahn in den Wolken. Sie verläuft entlang der Sheikh Zayed Road und führt dann in einen speziell zugeordneten Luftraum um das Burj Al Arab, wo Sie ganz nach Gusto die Küste auf und ab fliegen können. Während Sie einen echten Looping drehen und über dem Burj Al Arab kreisen, können Sie sehen, wie Palm Island wirklich aussieht. Von oben aus muten die empor sprießenden Gebäude um die Greens und die Ibn Battuta Mall wie fleckige Sandgruben in der ausgedörrten Landschaft an und lassen die rasant wachsende Stadt noch immer klein erscheinen. Zusätzlich zu den normalen Flugkursen bietet die Emirates Flying School auch einstündige Schnupperflüge an, in denen Sie zwar selbst abheben dürfen, aber bei der schwierigeren Landung des Flugzeugs Unterstützung von professionell ausgebildeten Fluglehrern erhalten.

inglés a alemán: Business magazine
Texto de origen - inglés
Beyond the pill

Drugs firms are casting about for new business models

"THE future is not terribly bright for most drug companies," says a new report from Sanford Bernstein, a respected New York investment firm. Such blunt talk is unusual on Wall Street, but it is no exaggeration. Drugs firms, once rich and the favourites of investors, are urgently seeking cures to a variety of ailments.

One is the erosion of patent protection. Not only are the copy-cat manufacturers of cheaper generic drugs becoming emboldened by cost-conscious politicians and legal rulings in their favour, but big pharmaceutical companies are also facing an unprecedented wave of patent expirations over the next five years. Pfizer alone will lose some $13 billion in revenue a year when Lipitor, its blockbuster cholesterol drug, goes off-patent as early as 2010.

Traducción - alemán
Bittere Pille für Arzneimittelhersteller

Pharmaunternehmen suchen nach neuen Geschäftsmodellen

"Die Zukunft der meisten Pharmaunternehmen sieht nicht besonders rosig aus." Zu diesem Schluss kommt der neueste Bericht der angesehenen New Yorker Investmentfirma Sanford Bernstein. Derart deutliche Worte sind ungewöhnlich an der Wallstreet, allerdings in diesem Fall keineswegs übertrieben. Die Pharmaunternehmen, einst wirtschaftlich erfolgreich und bei Investoren begehrt, suchen dringend nach Heilmitteln für eine Vielzahl von Leiden.

Eines davon ist die Aushöhlung des Patentschutzes. Zum einen erhalten Hersteller preisgünstigerer Generika Rückendeckung von kostenbewussten Politikern und gerichtlichen Entscheidungen. Zum anderen steht den großen Pharmaunternehmen über die nächsten fünf Jahre eine beispiellose Welle von Patentausläufen bevor. Allein Pfizer wird etwa 13 Milliarden US-Dollar pro Jahr an Einkünften verlieren, wenn sein umsatzstärkstes Cholesterin-Medikament Lipitor 2010 seinen Patentschutz verliert.

inglés a alemán: Fund Fact Sheet
Texto de origen - inglés
Historical Performance Disclaimer: Certain of the historical performance included in this document is based on backtesting, i.e. calculations of how the index might have performed in the past if it had existed. Backtested performance information is purely hypothetical and is provided in this document solely for informational purposes. Backtested data does not represent actual performance and should not be interpreted as an indication of actual performance of the Index or the Fund. Index performance does not reflect the total expense ratio, transaction costs or expenses. Indexes are unmanaged and one cannot invest directly in an index.
Traducción - alemán
Haftungsausschluss in Bezug auf historische Performancedaten: Bestimmte in diesem Dokument ausgewiesene historische Performancedaten basieren auf Backtesting. Mit diesem Verfahren wird die historische Wertentwicklung des Index unter der Annahme berechnet, der Index hätte früher bereits existiert. Derartige Performancedaten sind rein hypothetischer Natur und werden in diesem Dokument ausschließlich zu Informationszwecken bereitgestellt. Durch Backtesting ermittelte Daten stellen nicht die tatsächliche Wertentwicklung dar und sind nicht als Hinweis darauf zu verstehen, wie sich der Index oder der Fonds tatsächlich entwickelt. Die Indexperformance bildet weder die Gesamtkostenquote (TER) noch Transaktionskosten und andere Ausgaben ab. Die Indizes werden nicht aktiv verwaltet und stehen für Direktanlagen nicht zur Verfügung.
francés a alemán: Stock market report
Texto de origen - francés
Conjoncture boursière:

Les indices boursiers actions ont connu une évolution négative au premier semestre 2008, malgré un léger rebond en avril et en mai.

Cette tendance baissière a particulièrement touché les valeurs immobilières et financières. Ces dernières, confrontées à une crise de liquidité et à la fonte de leur valorisation boursière ont subi une forte désaffection de la part des investisseurs. Des établissements bancaires de premier plan ont annoncé des dépréciations d'actifs record, alimentant la nervosité des opérateurs. Les interventions concertées des banques centrales et les baisses massives et successives des taux directeurs de la Réserve fédérale (Fed) n'ont pas complètement apaisé les craintes d'un assèchement du crédit.

Cette accumulation de mauvaises nouvelles a accéléré la baisse des marchés et engendré une vive remontée de la volatilité.

Globalement, la confiance des investisseurs est restée minée par la menace d'une résurgence inflationniste, consécutive à la flambée du cours du pétrole et des matières premières alors que les perspectives économiques restent moroses des deux côtés de l'Atlantique. Ces pressions inflationnistes ont réduit la marge de manœuvre des banques centrales dans l'assouplissement de leur politique monétaire.

Les marchés émergents qui connaissent une croissance plus dynamique, n'ont pas échappé à ce cycle baissier. L'Asie et la région Europe/Moyen-Orient/Afrique se sont ainsi inscrites dans le rouge, l'Amérique Latine s'en sortant sensiblement mieux que les autres. Les pays riches en ressources naturelles ont été favorisés par le contexte mondial de crise énergétique.

Traducción - alemán
Börsenumfeld:

Trotz leichter Kurserholungen im April und Mai entwickelten sich die Aktienindizes im ersten Halbjahr 2008 insgesamt negativ.

Von den Kursrückgängen betroffen waren insbesondere Titel aus dem Immobilien- und Finanzsektor. Sie wurden durch Liquiditätsengpässe und erhebliche Wertberichtigungen belastet, was zu einem massiven Rückzug der Anleger aus diesen Branchen führte. Als selbst renommierte Banken Abschreibungen in Rekordhöhe meldeten, nahm die Nervosität am Markt weiter zu. Weder die konzertierten Aktionen der Notenbanken noch mehrere deutliche Zinssenkungen durch die US Federal Reserve vermochten die Angst vor einer drastischen Kreditverknappung vollständig zu zerstreuen.

Die Häufung solcher Negativmeldungen beschleunigte den Abwärtstrend an den Märkten und verursachte eine deutliche Zunahme der Volatilität.

Der explosionsartige Anstieg der Öl- und Rohstoffpreise und die damit verbundenen Inflationsängste sorgten für eine weitere Eintrübung des Anlegervertrauens. Gleichzeitig blieben die Konjunkturaussichten auf beiden Seiten des Atlantiks düster. Der gestiegene Inflationsdruck schränkte zudem den Handlungsspielraum der Notenbanken für weitere Zinssenkungen deutlich ein.

Auch die Schwellenmärkte blieben trotz ihrer höheren Wachstumsdynamik vom Abschwung nicht verschont. So verzeichneten die Märkte in Asien und in der Region Europa/Nahost/Afrika kräftige Verluste, während sich Lateinamerika deutlich besser behaupten konnte. Die rohstoffreichen Länder profitierten vom Kontext der weltweiten Energiekrise.

More
Blockchain (English <> German), English <> German (financial markets), French <> German (financial markets), Spanish <> German (investment/securities)
Años de experiencia: 21 Registrado en ProZ.com: Jan 2003 Miembro desde May 2003
N/A
N/A
Finanzportal (DE-ES), Telecommunications Project, Wordforce-Finance, Wordforce-French, Wordforce-Marketing, German localization team, XR80, RIGHTS-R-US
Adobe Acrobat, DejaVu, memoQ, Microsoft Excel, Microsoft Word, Powerpoint, SDL TRADOS, SDLX
http://www.wordforce.com
CV will be submitted upon request
Training sessions attended
Powwows attended

Olaf Reibedanz apoya ProZ.com's Directrices profesionales (v1.0).
Bio
Services:

* Project management
* Translation
* Editing
* DTP



Software:

Excellent command of Microsoft Office (Word, Excel, PowerPoint).

To increase output and quality I work with the following Computer Assisted Translation tools: Déjà Vu X3, MemoQ 2014, and SDL Studio 2014.



Areas of expertise:

Blockchain and cryptocurrencies
...ICOs
...Technical analyses
...Trading platforms
...White papers

Corporate communication
...Annual reports
...Press releases

Financial markets
...Equity research
...Investment funds
...IPOs
...KIIDs
...Market reports

Management and finance
...Accounting
...Corporate governance
...Human resources
...Mergers and acquisitions

Marketing and market research
...Advertising copy
...Questionnaires and surveys
...Slogans and taglines 




Background:

I am a native German speaker fully at home in English, French, Portuguese and Spanish. Having spent more than 20 years in foreign countries (Britain, France, Brazil, Peru and Argentina), I possess an intimate understanding of how each language is embedded in its specific cultural context. Although I received my university education in the social sciences, I have gradually shifted my focus to the area of economics and finance, with particular emphasis on the financial markets.

My greatest assets are my research and writing skills, my desire for perfection, and my networking abilities. The result is accurate translations which flow as smoothly as the source texts.

Education:

M.A., Anthropology, University of Durham (England)
M.A., History, University of St. Andrews (Scotland)
B.A., History, University of Grenoble (France)



Contact information:

E-mail address: olaf @ wordforce.com
Username/ Skype: reibedanz
Time zone: Greenwich Mean Time -6 hours (March-October), -5 hours (October-March)



Este miembro obtuvo puntos KudoZ al ayudar a otros traductores a traducir términos de nivel PRO. Haga clic en total(es) de puntos para ver los términos traducidos.


Palabras clave: academic, academic papers, academic texts, academic translations, accuracy, accurate, adaptation, ad hoc, ad hoc statement, ad hoc statements, adhoc, adhoc statement, adhoc statements, advertising, advertising copy, advertising expert, advertising specialist, agreement, agreements, annual report, annual reports, anthropological, anthropology, arts, auditing, banking, business correspondence, business letters, business texts, business translations, business translator, CAT tool, CAT tools, city guide, city guides, collaboration agreement, collaboration contract, commercial correspondence, conference, conferences, contract, contracts, copy editing, copyediting, copywriter, copywriting, corporate finance, corporate governance, current affairs, customer relationships, Deja Vu, Deja Vu 3, Deja Vu X, Derivative, derivates, derivatives documentation, derivatives trading, Due Diligence, economics, editing, editing and proofreading, editor, editor and proofreader, ethnographic, ethnography, ethnology, electronic trading, electronic trading platforms, environment, EC, European Community, EG, EU, European Union, Europäische Gemeinschaft, Europäische Union, Europäische Wirtschaftsgemeinschaft, EWG, financial markets, financial newsletters, financial services, financial services industry, financial statements, fund prospectuses, Futures, futures and options, high quality, hotel website, hotel websites, HR, human resources, humanities, international organisations, Internetauftritt, Internet-Auftritt, internet presentation, internet presentations, investment fund, investment funds, investment fund prospectus, insurance, insurances, insurance industry, investment fund prospectuses, investor relations, Konferenz, Konferenzen, legal contracts, logistics, M&A, M & A, mergers and acquisitions, management, management theory, market research, marketing, marketing expert, marketing specialist, marketing texts, Marktbericht, Marktberichte, memos, Optionen, options, options and futures, Optionsscheine, pamphlet, pamphlets, philosophy, politics, popular science, presentation, presentations, press release, press releases, Pressemeldung, Pressemeldungen, Pressemitteilung, Pressemitteilungen, proofreader, product brochure, product brochures, proofreader and editor, proofreading, proofreading and editing, psychology, quality translations, questionnaire, questionnaires, reports, risk analysis, sales letter, sales letters, slogans, slogans and taglines, social anthropology, social sciences, SDLX, social anthropology, social sciences, sociology, stock exchange, stockmarket, stock market, structured products, tagline, taglines, tax, taxation, taxes, tender, tenders, tender documentation, Texter, Texterstellung, text generation, Textgenerierung, Textgestaltung, top quality, tourism, tourism and travel, translating, translations, translator, travel and tourism, travel literature, travel magazine, travel magazines, work contract, Webauftritt, Web-Auftritt, website, Werbetexte, Werbetexten, Werbetexter, Xetra
Última actualización del perfil
Mar 29