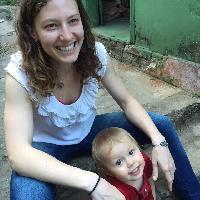 Idiomas de trabajo:
portugués a inglés
español a inglés
Elena Taylor
Marketing, Academic Texts, Resumes



São João del Rei, Minas Gerais, Brasil

Hora local:

08:21 BRT (GMT-3)




Idioma materno

: inglés
Traductor o intérprete autónomo
This person has a SecurePRO™ card. Because this person is not a ProZ.com Plus subscriber, to view his or her SecurePRO™ card you must be a ProZ.com Business member or Plus subscriber.

This person is not affiliated with any business or Blue Board record at ProZ.com.
Translation, Interpreting, Editing/proofreading, Software localization, Transcription
Se especializa en
Cocina / Gastronomía
Educación / Pedagogía
Geografía
Geología
Gobierno / Política
Nutrición
Ciencias (general)
Ciencias sociales, sociología, ética, etc.
Antropología
More
Muestras de traducción: 2
portugués a inglés: Effects of Industrialized Beverages on NAFLD (excerpt)
General field: Ciencias
Detailed field: Nutrición
Texto de origen - portugués
Doença hepática gordurosa não alcoólica (DHGNA) é condição clinico-patológica que abrange um espectro de alterações variáveis e pode se manifestar como esteatose simples, caracterizada por acúmulo de lipídios no parênquima hepático ou esteatohepatite não alcoólica (ENA) caracterizada por lesão dos hepatócitos (balonização), inflamação e fibrose com potencial progressão para cirrose[1].
A prevalência da DHGNA varia de acordo com o método diagnóstico utilizado, estimando-se que esta ocorra em 6 a 35% da população mundial[2]. A doença está fortemente associada à obesidade, diabetes mellitus e síndrome metabólica (SM). Estudos prévios estimam que a DHGNA acometa cerca de 75% dos obesos e a ENA mais de 20% desta população[3].
O aumento da prevalência da DHGNA observado nas últimas décadas pode estar associado, ao menos parcialmente, com o aumento do consumo de frutose observada na dieta ocidental[4]. O carboidrato predominantemente responsável pelo aumento do consumo calórico associado à dieta típica ocidental é a frutose, que é consumido tanto em sacarose (50% de frutose) ou xarope de milho com alto teor de frutose (42% ou 55% de frutose). Antes de 1900, norte-americanos consumiam aproximadamente 15g de frutose por dia (4% do total de calorias), principalmente por meio de frutas e vegetais. Antes da segunda guerra mundial, a ingestão de frutose aumentou para 24g por dia (5% do total de calorias); por volta de 1977, era de 37g por dia (7% do total de calorias); e em 1994, 55g por dia (10% das calorias totais)[5].O xarope de milho com alto teor de frutose é um adoçante utilizado amplamente pela indústria por sua capacidade em aumentar a vida de prateleira dos produtos e ser mais barato. Está presente nas bebidas industrializadas em geral.
Dados recentes de estudos nos quais se avaliou a associação entre o consumo excessivo desse adoçante e o desenvolvimento da DHGNA sugerem que esse consumo aumentado pode induzir resistência a insulina, hipertrigliceridemia pós-prandial e acúmulo de lipídios no fígado, principalmente em indivíduos com excesso de peso[6].
O objetivo deste estudo é investigar a relação entre o consumo do xarope de milho com alto teor de frutose presente em bebidas industrializadas, fatores de risco para DHGNA e fatores metabólicos associados à doença.

Traducción - inglés
Nonalcoholic fatty liver disease (NAFLD) is a pathological clinical condition that includes a spectrum of changing variables and can manifest as simple steatosis, characterized by accumulation of lipids in the liver's parenchyma; or non-alcoholic steatohepatitis (NASH), characterized by damage to the hepatocytes (ballooning degeneration), inflammation and fibrosis with potential progression to cirrhosis[1].
The prevalence of NAFLD, which affects 6 to 35% of the world population, varies according to the diagnostic method utilized[2]. The disease is strongly associated with obesity, diabetes mellitus and metabolic syndrome (MS). Previous studies estimate NAFLD strikes nearly 75% of obese people and NASH more than 20% of this population[3].
The increase in the prevalence of NAFLD observed in the past decades can be associated, at least partially, with the increase in consumption of fructose observed in the Western diet[4]. Fructose is the carbohydrate predominantly responsible for the increase in calorie consumption associated with the typical Western diet, and is consumed both in sucrose (50% fructose) or in high fructose corn syrup (42% or 55% fructose). Before the 1900s, North Americans consumed approximately 15g of fructose per day (4% of total calories), mainly through fruits and vegetables. Before World War II, the intake of fructose went up to 24g per day (5% of total calories); around 1977, it was 37g per day (7% of total calories); and in 1994, 55g per day (10% of total calories)[5]. High fructose corn syrup is a sweetener amply utilized by the industry for its capacity to prolong the shelf life of products and its low cost. It is commonly present in industrialized beverages.
Recent data from studies which evaluated the association between the excessive consumption of this sweetener and the development of NAFLD suggest that this increased consumption, especially for overweight individuals, can induce insulin resistance, postprandial hypertriglyceridemia and lipid accumulation in the liver.[6].
The objective of the study is to investigate the relationship between high fructose corn syrup present in industrialized beverages, risk factors for NAFLD and metabolic factors associated with the disease.

portugués a inglés: Importance of Corporal Language in Primary Education (Abstract)
General field: Otros
Detailed field: Educación / Pedagogía
Texto de origen - portugués
Este trabalho teve como base de pesquisa compreender a importância da relação de escuta do professor quanto às linguagens das crianças e as implicações no desenvolvimento da aprendizagem. O princípio de pesquisa foi o estudo de base teórica acerca do tema e período de observação e entrevistas com as crianças e professora regente de uma turma bisseriada com idade entre quatro e cinco anos, localizada em uma escola situada na zona rural de São João del- Rei. As reflexões e discussões teóricas se basearam nos estudos de Borba (2007), Duarte Júnior (2000); Ferreira e Falkembach (2012); Gaio (2015); Nista-Piccolo e Moreira (2012); Pereira (2010); Pereira (2015); Rocha (2008), entre outros, permitindo alternativas pra o esclarecimento de dúvidas e o levantamento de caminhos para o trabalho com o corpo e as diferentes linguagens da criança pequena. O método de pesquisa utilizado foi a investigação qualitativa, no qual a uma preocupação com o todo do processo e não simplesmente com o resultado. O período de observação permitiu que fossem analisadas as expressões das crianças no dia a dia escolar, além das relações que se estabelecem na sala de aula e a relação de escuta da professora para com as crianças. As entrevistas propiciaram a participação efetiva das crianças e evidenciaram que os momentos de atividades com o corpo são momentos de prazer para as crianças e configuram destaque em suas preferências. Ficou evidenciada a necessidade de uma possível mudança de postura profissional no que tange o trabalho com crianças pequenas, destacando-se a importância da escuta sensível e do fato de considerar a criança como sujeito histórico, de direitos e que produz cultura. A pesquisa aponta que há possibilidade de se auxiliar o processo de aprendizagem, quando se valoriza e estimula o trabalho com as diferentes linguagens da criança, enfatizando a linguagem corporal como instrumento lúdico.
Traducción - inglés
This work was based on research in understanding the importance of the relationship between teacher listening to the language of children and the implications on the development of learning. This study is grounded in theoretical research on the topic, a period of observation, and interviews with the children and regent professor in a biseriate class of students between the ages of four and five years old, located in an school situated in a rural zone of São João del-Rei. The reflections and theoretical discussions are based on the studies of Borba (2007), Duarte Júnior (2000); Ferreira and Falkembach (2012); Gaio (2015); Nista-Piccolo e Moreira (2012); Pereira (2010); Pereira (2015); Rocha (2008), among others. Extensive theoretical research allows for diverse perspectives and alternatives to clear the path for work with the body and the different languages of small children. The research method utilized was qualitative investigation, with primary concern for the whole process and not simply the result. The observation period allowed the expressions of the children to be analyzed in day to day school life, including factors such as relationships established in the classroom and the manner in which the teacher listened to the children. The interviews propitiated the effective participation of the children and revealed that moments of corporal activity are moments of pleasure for the children and are a preferred classroom element. It became evident the need for a possible shift in professional attitude in reference to work with small children, highlighting the importance of sensitive listening and the matter of considering the child as a historic subject, who has rights and who produces culture. The study shows that there is a possibility to assist the learning process when it appreciates and encourages work with different languages of the child, and emphasizes body language as a playful instrument.
More
Años de experiencia: 6 Registrado en ProZ.com: Jan 2017
N/A
N/A
N/A
OmegaT, Wordfast
CV available upon request
Bio
I have always loved language and as an American foreigner living in Brazil, working with language has been a fulfilling line of work. As a graduate of a North American university with a background in science, I have read many academic papers for my coursework. I offer my skills as a high-quality translator of Portuguese to English, Spanish to English and as a reviser of the English language.

I specialize in resumes, academic texts, and texts from the area of marketing.
Palabras clave: portuguese, science, academic, scientific, social science, geography, english, food, nutrition
Última actualización del perfil
Sep 28, 2018