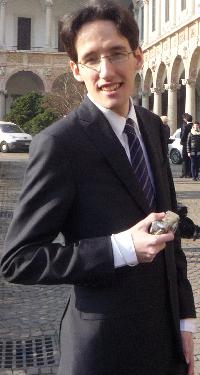 Idiomas de trabajo:
inglés a italiano
español a italiano
italiano (monolingüe)
Availability today:
| | | |
| --- | --- | --- |
| | April 2021 | |
S
M
T
W
T
F
S
1
2
3
4
5
6
7
8
9
10
11
12
13
14
15
16
17
18
19
20
21
22
23
24
25
26
27
28
29
30
Luca Colangelo
Traducción con Pasión y Precisión



Milano, Lombardia, Italia

Hora local:

14:31 CEST (GMT+2)




Idioma materno

: italiano (Variant: Standard-Italy)
"Translation is one of the few human activities in which the impossible occurs by principle" / "La traduzione è una delle poche attività umane in cui per principio accade l'impossibile" - Mariano Antolín Rato
Traductor o intérprete autónomo,

Identidad verificada
This person has a SecurePRO™ card. Because this person is not a ProZ.com Plus subscriber, to view his or her SecurePRO™ card you must be a ProZ.com Business member or Plus subscriber.

This person is not affiliated with any business or Blue Board record at ProZ.com.
Transcreation, Translation, Website localization, Software localization, Subtitling, Copywriting, Training, Editing/proofreading, MT post-editing, Transcription, Project management, Vendor management
Se especializa en
Viajes y turismo
Alimentos y bebidas
Cine, películas, TV, teatro
Informática: Programas
Juegos / Videojuegos / Apuestas / Casino
Periodismo
TI (Tecnología de la información)
Mercadeo / Estudios de mercado
Medios / Multimedia
Publicidad / Relaciones públicas
More
EUR
161 proyectos mencionados

3 comentarios positivos de clientes
Detalles de proyectos
Resumen de proyectos
Corroboración

Copywriting
Volumen: 8750 words
Completado el: Apr 2021
Languages:
italiano
Food Containers Description



Nutrición, Internet, comercio-e, Alimentos y bebidas
No hay comentarios.

Editing/proofreading
Volumen: 610 words
Completado el: Mar 2021
Languages:
italiano
Money-back Guarantee



Mercadeo / Estudios de mercado, Viajes y turismo, Transporte / Fletes
No hay comentarios.

Editing/proofreading
Volumen: 40000 words
Completado el: Mar 2021
Languages:
inglés a italiano
Hardware and Software Components



Informática: Programas
No hay comentarios.

Editing/proofreading
Volumen: 500 words
Completado el: Mar 2021
Languages:

inglés a italiano
Fishing Game



Informática: Programas, Piscifactoría, pesca, Juegos / Videojuegos / Apuestas / Casino
No hay comentarios.

Editing/proofreading
Volumen: 3300 words
Completado el: Feb 2021
Languages:
inglés a italiano
Marketing Strategy



Alimentos y bebidas, Internet, comercio-e, Mercadeo / Estudios de mercado
No hay comentarios.

Editing/proofreading
Volumen: 281 words
Completado el: Feb 2021
Languages:
inglés a italiano
Corporate Videos



Ganadería / Cría de animales, Medios / Multimedia, Nutrición
No hay comentarios.

Translation
Volumen: 500 words
Completado el: Dec 2020
Languages:
inglés a italiano
Coffee Machine



Periodismo, Muebles / Aparatos domésticos, Alimentos y bebidas
No hay comentarios.

Editing/proofreading
Volumen: 3750 words
Completado el: Nov 2020
Languages:
italiano
Isolation and Quarantine Process



Seguridad, Psicología, Medicina (general)
No hay comentarios.

Editing/proofreading
Volumen: 1000 words
Completado el: Oct 2020
Languages:
italiano
CV and References Letter



Nombres (persona, empresa), Medicina (general), General / Conversación / Saludos / Cartas
No hay comentarios.

Editing/proofreading
Volumen: 10000 words
Completado el: Oct 2020
Languages:
inglés a italiano
Sun Protections



Viajes y turismo, Medioambiente y ecología, Cosméticos / Belleza
No hay comentarios.

Editing/proofreading
Volumen: 1650 words
Completado el: Sep 2020
Languages:
italiano
Institutional Commemoration



Derecho: (general), Nombres (persona, empresa), Gobierno / Política
No hay comentarios.

Editing/proofreading
Volumen: 3240 words
Completado el: Sep 2020
Languages:
inglés a italiano
Dog and Cat Kibble



Ganadería / Cría de animales, Alimentos y bebidas, Nutrición
No hay comentarios.

Editing/proofreading
Volumen: 2900 words
Completado el: Aug 2020
Languages:
inglés a italiano
Chocolate Guide



Alimentos y bebidas, Internet, comercio-e, Mercadeo / Estudios de mercado
No hay comentarios.

Editing/proofreading
Volumen: 250 words
Completado el: Jul 2020
Languages:
italiano
Declaration of Suitability



Alimentos y bebidas, Derecho: patentes, marcas registradas, derechos de autor, Seguridad
No hay comentarios.

Transcreation
Volumen: 250 words
Completado el: Jul 2020
Languages:
inglés a italiano
Touristic Banners



Mercadeo / Estudios de mercado, Viajes y turismo, Transporte / Fletes
No hay comentarios.

Editing/proofreading
Volumen: 1000 words
Completado el: Jun 2020
Languages:
italiano
Safety Guidelines



Medicina (general), Seguridad, Viajes y turismo
No hay comentarios.

Editing/proofreading
Volumen: 525 words
Completado el: May 2020
Languages:
italiano
Hygienic-Sanitary Standards



Mercadeo / Estudios de mercado, Medicina: Salud, Viajes y turismo
No hay comentarios.

Editing/proofreading
Volumen: 375 words
Completado el: Apr 2020
Languages:
inglés a italiano
Holiday Voucher



Alimentos y bebidas, Viajes y turismo, Transporte / Fletes
No hay comentarios.

Editing/proofreading
Volumen: 1162 words
Completado el: Apr 2020
Languages:
italiano
Cookie Policy



Vino / Enología / Viticultura, Internet, comercio-e, TI (Tecnología de la información)
No hay comentarios.

Editing/proofreading
Volumen: 9772 words
Completado el: Apr 2020
Languages:
inglés a italiano
Boat Equipment



Mecánica / Ing. mecánica, Viajes y turismo, Transporte / Fletes
No hay comentarios.

Editing/proofreading
Volumen: 10000 words
Completado el: Mar 2020
Languages:
italiano
Blender and Mixer



Cocina / Gastronomía, Nutrición, Automatización y robótica
No hay comentarios.

Editing/proofreading
Volumen: 1500 words
Completado el: Dec 2019
Languages:
inglés a italiano
Mattress and Pillow Details



Publicidad / Relaciones públicas, Mercadeo / Estudios de mercado, Viajes y turismo
No hay comentarios.

Translation
Volumen: 500 words
Completado el: Nov 2019
Languages:
inglés a italiano
Videogames Requirements



Informática: Programas, Juegos / Videojuegos / Apuestas / Casino, Internet, comercio-e
No hay comentarios.

Editing/proofreading
Volumen: 900 words
Completado el: Nov 2019
Languages:
inglés a italiano
Perfumes Titles and Descriptions



Cosméticos / Belleza, Internet, comercio-e, Medios / Multimedia
No hay comentarios.

Translation
Volumen: 480 words
Completado el: Sep 2019
Languages:
inglés a italiano
Food Equipment



Ingeniería: industrial, Alimentos y bebidas, Mercadeo / Estudios de mercado
No hay comentarios.

Editing/proofreading
Volumen: 7000 words
Completado el: Aug 2019
Languages:
inglés a italiano
Quiz Game



Cine, películas, TV, teatro, Juegos / Videojuegos / Apuestas / Casino, Internet, comercio-e
No hay comentarios.

Editing/proofreading
Volumen: 3500 words
Completado el: Jul 2019
Languages:
italiano
Wines Taste



Alimentos y bebidas, Viajes y turismo, Vino / Enología / Viticultura
No hay comentarios.

Editing/proofreading
Volumen: 1000 words
Completado el: Jul 2019
Languages:
italiano
Escape Room Games



Juegos / Videojuegos / Apuestas / Casino, Mercadeo / Estudios de mercado, Viajes y turismo
No hay comentarios.

Translation
Volumen: 800 words
Completado el: Jul 2019
Languages:
inglés a italiano
Card Game



Poesía y literatura, Internet, comercio-e, Juegos / Videojuegos / Apuestas / Casino
No hay comentarios.

Translation
Volumen: 310 words
Completado el: May 2019
Languages:
inglés a italiano
Sustainability Policy



Medioambiente y ecología, Mercadeo / Estudios de mercado, Viajes y turismo
No hay comentarios.

Translation
Volumen: 1000 words
Completado el: Mar 2019
Languages:
italiano
Museum Guidebook



Arquitectura, Arte, artes manuales, pintura, Viajes y turismo
No hay comentarios.

Editing/proofreading
Volumen: 1110 words
Completado el: Mar 2019
Languages:
italiano
Agritourism Menus



Folklore, Alimentos y bebidas, Viajes y turismo
No hay comentarios.

Translation
Volumen: 1200 words
Completado el: Feb 2019
Languages:
inglés a italiano
User Guide



Informática: Hardware, Juegos / Videojuegos / Apuestas / Casino, Internet, comercio-e
No hay comentarios.

Editing/proofreading
Volumen: 2 pages
Completado el: Feb 2019
Languages:
italiano
Sauna Regulations



Cosméticos / Belleza, Medicina (general), Viajes y turismo
No hay comentarios.

Editing/proofreading
Volumen: 2000 words
Completado el: Feb 2019
Languages:
italiano
Exhibition Catalogue



Arquitectura, Arte, artes manuales, pintura, Periodismo
No hay comentarios.

Editing/proofreading
Volumen: 1250 words
Completado el: Jan 2019
Languages:
italiano
Dermotherapy Treatment



Viajes y turismo, Medicina (general), Cosméticos / Belleza
No hay comentarios.

Editing/proofreading
Volumen: 1000 words
Completado el: Jan 2019
Languages:
italiano
Horses and Stud Organization



Negocios / Comercio (general), Deportes / Ejercitación / Recreo, Viajes y turismo
No hay comentarios.

Editing/proofreading
Volumen: 2000 words
Completado el: Jan 2019
Languages:
italiano
Loyalty Program



Publicidad / Relaciones públicas, Mercadeo / Estudios de mercado, Viajes y turismo
No hay comentarios.

Editing/proofreading
Volumen: 7250 words
Completado el: Dec 2018
Languages:
italiano
Hotel and Resort Catalogue



Viajes y turismo, Periodismo, Internet, comercio-e
No hay comentarios.

Editing/proofreading
Volumen: 5200 words
Completado el: Nov 2018
Languages:
italiano
Camping and Glamping Guidebook



Viajes y turismo, Periodismo, Internet, comercio-e
No hay comentarios.

Translation
Volumen: 8491 words
Completado el: Oct 2018
Languages:
inglés a italiano
Annual Report



Gobierno / Política, Org./Desarr./Coop. Internacional, Nombres (persona, empresa)
No hay comentarios.

Editing/proofreading
Volumen: 2 pages
Completado el: Oct 2018
Languages:
italiano
Cosmetics Product Line



Publicidad / Relaciones públicas, Cosméticos / Belleza, Viajes y turismo
No hay comentarios.

Translation
Volumen: 255 words
Completado el: Oct 2018
Languages:
inglés a italiano
Release Note



Poesía y literatura, Internet, comercio-e, Informática: Hardware
No hay comentarios.

Translation
Volumen: 1800 words
Completado el: Oct 2018
Languages:
inglés a italiano
Recycling Systems



Informática: Sistemas, redes, Ingeniería: industrial, Medioambiente y ecología
No hay comentarios.

Editing/proofreading
Volumen: 1000 words
Completado el: Oct 2018
Languages:
italiano
Food Instagram Stories



Folklore, Alimentos y bebidas, Internet, comercio-e
No hay comentarios.

Editing/proofreading
Volumen: 750 words
Completado el: Sep 2018
Languages:
italiano
Food Product Descriptions



Cocina / Gastronomía, Alimentos y bebidas, Nutrición
No hay comentarios.

Translation
Volumen: 4 pages
Completado el: Sep 2018
Languages:
italiano
Blogger Interviews



Periodismo, Nombres (persona, empresa), Viajes y turismo
No hay comentarios.

Editing/proofreading
Volumen: 3025 words
Completado el: Sep 2018
Languages:
italiano
Anti-alcoholism Program



Ciencias sociales, sociología, ética, etc., Medicina (general), Medios / Multimedia
No hay comentarios.

Editing/proofreading
Volumen: 3 pages
Completado el: Aug 2018
Languages:
italiano
Monograph



Poesía y literatura, Deportes / Ejercitación / Recreo, Viajes y turismo
No hay comentarios.

Editing/proofreading
Volumen: 500 words
Completado el: Aug 2018
Languages:
italiano
Yoga Program



Medioambiente y ecología, Deportes / Ejercitación / Recreo, Viajes y turismo
No hay comentarios.

Editing/proofreading
Volumen: 150 words
Completado el: Jul 2018
Languages:
italiano
Letter of Compliant



Transporte / Fletes, Nombres (persona, empresa), General / Conversación / Saludos / Cartas
No hay comentarios.

Editing/proofreading
Volumen: 4 pages
Completado el: Jul 2018
Languages:
italiano
Game Show



Deportes / Ejercitación / Recreo, Encuestas, Viajes y turismo
No hay comentarios.

Translation
Volumen: 1925 words
Completado el: Jul 2018
Languages:
inglés a italiano
SEO - DKM Analysis



TI (Tecnología de la información), Internet, comercio-e, Mercadeo / Estudios de mercado
No hay comentarios.

Editing/proofreading
Volumen: 3250 words
Completado el: Jul 2018
Languages:
italiano
Climbing Tours



Medioambiente y ecología, Geología, Viajes y turismo
No hay comentarios.

Editing/proofreading
Volumen: 120 words
Completado el: Jul 2018
Languages:
italiano
Vegetarian and Vegan Menu



Cocina / Gastronomía, Alimentos y bebidas, Viajes y turismo
No hay comentarios.

Editing/proofreading
Volumen: 4000 words
Completado el: Jul 2018
Languages:
italiano
Credit Agreement



Finanzas (general), Negocios / Comercio (general), Derecho: contrato(s)
No hay comentarios.

Editing/proofreading
Volumen: 750 words
Completado el: Jun 2018
Languages:
italiano
Bike Rental



Transporte / Fletes, Deportes / Ejercitación / Recreo, Nombres (persona, empresa)
No hay comentarios.

Editing/proofreading
Volumen: 1500 words
Completado el: Jun 2018
Languages:
italiano
VAT and Tax



Derecho: impuestos y aduanas, TI (Tecnología de la información), Finanzas (general)
No hay comentarios.

Editing/proofreading
Volumen: 200 words
Completado el: Jun 2018
Languages:
italiano
Memory Card Game



Juegos / Videojuegos / Apuestas / Casino, Fotografía/Imagen (y artes gráficas), Medios / Multimedia
No hay comentarios.

Translation
Volumen: 3807 words
Completado el: Jun 2018
Languages:
inglés a italiano
Pass and Tickets



Viajes y turismo, Mercadeo / Estudios de mercado, Publicidad / Relaciones públicas
No hay comentarios.

Editing/proofreading
Volumen: 4 pages
Completado el: Jun 2018
Languages:
italiano
Institutional Speech



Org./Desarr./Coop. Internacional, Periodismo, Nombres (persona, empresa)
No hay comentarios.

Editing/proofreading
Volumen: 1750 words
Completado el: May 2018
Languages:
italiano
Thermal Baths



Cosméticos / Belleza, Medicina (general), Viajes y turismo
No hay comentarios.

Transcreation
Volumen: 200 words
Completado el: May 2018
Languages:
inglés a italiano
Ads and Trailer Games



Mercadeo / Estudios de mercado, Juegos / Videojuegos / Apuestas / Casino, Publicidad / Relaciones públicas
No hay comentarios.

Editing/proofreading
Volumen: 5000 words
Completado el: May 2018
Languages:

italiano
Privacy Policy



Automóviles / Camiones, Informática: Programas, Derecho: (general)
No hay comentarios.

Editing/proofreading
Volumen: 1 pages
Completado el: May 2018
Languages:
italiano
Little Poem



Lingüística, Poesía y literatura, Viajes y turismo
No hay comentarios.

Editing/proofreading
Volumen: 3 pages
Completado el: May 2018
Languages:
italiano

Data Collection/Processing Forms



Encuestas, Nombres (persona, empresa), TI (Tecnología de la información)
No hay comentarios.

Translation
Volumen: 236 words
Completado el: Apr 2018
Languages:
inglés a italiano
Free Trial Audiobooks



Poesía y literatura, Medios / Multimedia, Internet, comercio-e
No hay comentarios.

Editing/proofreading
Volumen: 1500 words
Completado el: Apr 2018
Languages:
italiano
Facebook Comments



Internet, comercio-e, Encuestas, Viajes y turismo
No hay comentarios.

Editing/proofreading
Volumen: 500 words
Completado el: Mar 2018
Languages:
italiano
Sauna and SPA



Viajes y turismo, Mercadeo / Estudios de mercado, Cosméticos / Belleza
No hay comentarios.

Translation
Volumen: 500 words
Completado el: Mar 2018
Languages:
inglés a italiano
Blackjack and Roulette Game



Informática: Programas, Juegos / Videojuegos / Apuestas / Casino, TI (Tecnología de la información)
No hay comentarios.

Translation
Volumen: 2955 words
Completado el: Mar 2018
Languages:
inglés a italiano
Booking and Reaccommodation



Publicidad / Relaciones públicas, Viajes y turismo, Transporte / Fletes
No hay comentarios.

Editing/proofreading
Volumen: 385 words
Completado el: Mar 2018
Languages:
italiano
Waste Decree



Derecho: (general), Materiales (plástico, cerámica, etc.), Nutrición
No hay comentarios.

Editing/proofreading
Volumen: 760 words
Completado el: Mar 2018
Languages:
inglés a italiano
Architecture Exhibition Press Release



Medios / Multimedia, Arquitectura, Publicidad / Relaciones públicas
No hay comentarios.

Editing/proofreading
Volumen: 385 words
Completado el: Mar 2018
Languages:
italiano
Rent House Rules



Bienes inmuebles, Seguridad, Viajes y turismo
No hay comentarios.

Transcreation
Volumen: 1725 words
Completado el: Mar 2018
Languages:
inglés a italiano
Social Network News



Ciencias sociales, sociología, ética, etc., Periodismo, Internet, comercio-e
No hay comentarios.

Editing/proofreading
Volumen: 305 words
Completado el: Mar 2018
Languages:
italiano
Registration Form



Publicidad / Relaciones públicas, Nombres (persona, empresa), Transporte / Fletes
No hay comentarios.

Editing/proofreading
Volumen: 670 words
Completado el: Mar 2018
Languages:
inglés a italiano
Account Manager Personalisation



Administración, Mercadeo / Estudios de mercado, Nombres (persona, empresa)
No hay comentarios.

Editing/proofreading
Volumen: 350 words
Completado el: Mar 2018
Languages:
italiano
Tea Blends and Infusions



Cocina / Gastronomía, Alimentos y bebidas, Nutrición
No hay comentarios.

Translation
Volumen: 649 words
Completado el: Feb 2018
Languages:
inglés a italiano
Seafood Control



Cocina / Gastronomía, Encuestas, Viajes y turismo
No hay comentarios.

Translation
Volumen: 399 words
Completado el: Feb 2018
Languages:
inglés a italiano
Rebranding Company



Negocios / Comercio (general), Energía / Producción energética, Mercadeo / Estudios de mercado
No hay comentarios.

Translation
Volumen: 1950 words
Completado el: Feb 2018
Languages:
inglés a italiano
Motorcycle Tour



Cocina / Gastronomía, Viajes y turismo, Transporte / Fletes
No hay comentarios.

Editing/proofreading
Volumen: 729 words
Completado el: Jan 2018
Languages:
inglés a italiano
Tourism Survey



Encuestas, Nombres (persona, empresa), Viajes y turismo
No hay comentarios.

Editing/proofreading
Volumen: 2750 words
Completado el: Jan 2018
Languages:
italiano
Contract Application



Derecho: contrato(s), Construcción / Ingeniería civil, Contabilidad
No hay comentarios.

Translation
Volumen: 3103 words
Completado el: Jan 2018
Languages:
inglés a italiano
Videoconference System



Publicidad / Relaciones públicas, Mercadeo / Estudios de mercado, Internet, comercio-e
No hay comentarios.

Editing/proofreading
Volumen: 900 words
Completado el: Jan 2018
Languages:
italiano
Unguents Website



Cosméticos / Belleza, Internet, comercio-e, Botánica
No hay comentarios.

Editing/proofreading
Volumen: 500 words
Completado el: Dec 2017
Languages:
italiano
Riding Track Price List



Mercadeo / Estudios de mercado, Publicidad / Relaciones públicas, Zoología
No hay comentarios.

Editing/proofreading
Volumen: 125 words
Completado el: Dec 2017
Languages:
inglés a italiano
Dental Slogans



Publicidad / Relaciones públicas, Medicina: Odontología, Mercadeo / Estudios de mercado
No hay comentarios.

Editing/proofreading
Volumen: 770 words
Completado el: Dec 2017
Languages:
italiano
Airline Press Release



Nombres (persona, empresa), Recursos humanos, Transporte / Fletes
No hay comentarios.

Editing/proofreading
Volumen: 500 words
Completado el: Nov 2017
Languages:
inglés a italiano
Roulette Gaming Machine



Informática: Programas, Juegos / Videojuegos / Apuestas / Casino, Medios / Multimedia
No hay comentarios.

Translation
Volumen: 3490 words
Completado el: Nov 2017
Languages:
inglés a italiano
Guest Room Recycling



Mercadeo / Estudios de mercado, Publicidad / Relaciones públicas, Viajes y turismo
No hay comentarios.

Translation
Volumen: 146 words
Completado el: Nov 2017
Languages:
inglés a italiano
Notices for Airport



Nombres (persona, empresa), Transporte / Fletes, Viajes y turismo
No hay comentarios.

Editing/proofreading
Volumen: 1146 words
Completado el: Nov 2017
Languages:
inglés a italiano
Pet-Friendly Campsites



Ganadería / Cría de animales, Viajes y turismo, Zoología
No hay comentarios.

Editing/proofreading
Volumen: 9850 words
Completado el: Nov 2017
Languages:
inglés a italiano
Tourism Ebook



Internet, comercio-e, Imprenta y publicación, Viajes y turismo
No hay comentarios.

Editing/proofreading
Volumen: 21000 words
Completado el: Oct 2017
Languages:
inglés a italiano
App and Website Localisation



Transporte / Fletes, TI (Tecnología de la información), Informática: Programas
No hay comentarios.

Editing/proofreading
Volumen: 2500 words
Completado el: Oct 2017
Languages:
italiano
Sales Contract



Certificados, diplomas, títulos, CV, Construcción / Ingeniería civil, Derecho: contrato(s)
No hay comentarios.

Editing/proofreading
Volumen: 1000 words
Completado el: Oct 2017
Languages:
inglés a italiano
Contract for Donation



Arte, artes manuales, pintura, Derecho: (general), Derecho: contrato(s)
No hay comentarios.

Editing/proofreading
Volumen: 600 words
Completado el: Oct 2017
Languages:
italiano
Wedding Locations



Cocina / Gastronomía, Periodismo, Viajes y turismo
No hay comentarios.

Editing/proofreading
Volumen: 1750 words
Completado el: Oct 2017
Languages:
italiano
Civil Liability Insurance



Negocios / Comercio (general), Derecho: (general), Derecho: contrato(s)
No hay comentarios.

Editing/proofreading
Volumen: 556 words
Completado el: Sep 2017
Languages:
italiano
Quality Policy



Nombres (persona, empresa), Encuestas, Recursos humanos
No hay comentarios.

Editing/proofreading
Volumen: 4334 words
Completado el: Sep 2017
Languages:
italiano
Street Furniture



Medioambiente y ecología, Muebles / Aparatos domésticos, Automatización y robótica
No hay comentarios.

Editing/proofreading
Volumen: 150 words
Completado el: Aug 2017
Languages:
italiano
Gala Dinner Invitation



Cocina / Gastronomía, Viajes y turismo, Vino / Enología / Viticultura
No hay comentarios.

Translation
Volumen: 123 words
Completado el: Jul 2017
Languages:
inglés a italiano
Clock Manual



Muebles / Aparatos domésticos, Internet, comercio-e, Medios / Multimedia
No hay comentarios.

Copywriting
Volumen: 2000 words
Completado el: Jul 2017
Languages:
italiano
Website Content



Internet, comercio-e, Derecho: (general), Medios / Multimedia

positiva


TranslationsIn London: No hay comentarios.

Editing/proofreading
Volumen: 1875 words
Completado el: Jun 2017
Languages:
italiano
Fashion Show Presentation



Cosméticos / Belleza, Periodismo, Textil / Ropa / Moda
No hay comentarios.

Editing/proofreading
Volumen: 15 pages
Completado el: Jun 2017
Languages:
italiano
Allergies and Food Recipes



Medicina (general), Cocina / Gastronomía, Alimentos y bebidas
No hay comentarios.

Editing/proofreading
Volumen: 6000 words
Completado el: Jun 2017
Languages:
italiano
FAQ Section



Venta al detalle, Cosméticos / Belleza, Internet, comercio-e
No hay comentarios.

Editing/proofreading
Volumen: 242 words
Completado el: Jun 2017
Languages:
inglés a italiano
Spices Mix Ingredients



Cocina / Gastronomía, Venta al detalle, Alimentos y bebidas
No hay comentarios.

Editing/proofreading
Volumen: 483 words
Completado el: Jun 2017
Languages:
inglés a italiano
Motorcycles and Tires Press Release



Automóviles / Camiones, Mercadeo / Estudios de mercado, Publicidad / Relaciones públicas
No hay comentarios.

Editing/proofreading
Volumen: 1240 words
Completado el: May 2017
Languages:
inglés a italiano
Face and Teeth Products



Medicina (general), Internet, comercio-e, Cosméticos / Belleza
No hay comentarios.

Editing/proofreading
Volumen: 2 pages
Completado el: May 2017
Languages:
italiano
Hair Pigments



Arte, artes manuales, pintura, Cosméticos / Belleza, Textil / Ropa / Moda
No hay comentarios.

Translation
Volumen: 123 pages
Completado el: May 2017
Languages:
italiano
Hotel and Resort Websites



Mercadeo / Estudios de mercado, Publicidad / Relaciones públicas, Viajes y turismo
No hay comentarios.

Editing/proofreading
Volumen: 306 words
Completado el: May 2017
Languages:
italiano
Limitation of Liability



Informática (general), TI (Tecnología de la información), Derecho: (general)
No hay comentarios.

Editing/proofreading
Volumen: 2 pages
Completado el: May 2017
Languages:
italiano
Municipal Press Release



Arquitectura, Periodismo, Nombres (persona, empresa)
No hay comentarios.

Editing/proofreading
Volumen: 158 pages
Completado el: May 2017
Languages:
italiano
Telecommunications Contracts



Informática: Sistemas, redes, Derecho: contrato(s), Telecomunicaciones
No hay comentarios.

Translation
Volumen: 176 words
Completado el: May 2017
Languages:
inglés a italiano
Snowmobile Presentation



Viajes y turismo, Transporte / Fletes, Medios / Multimedia
No hay comentarios.

Translation
Volumen: 7 pages
Completado el: May 2017
Languages:
italiano
Manual and Warranty Faucet



Muebles / Aparatos domésticos, Derecho: (general), Nombres (persona, empresa)
No hay comentarios.

Copywriting
Volumen: 690 lines
Completado el: May 2017
Languages:
italiano
Text Composition



Medios / Multimedia, TI (Tecnología de la información), Informática: Programas
No hay comentarios.

Editing/proofreading
Volumen: 11 pages
Completado el: May 2017
Languages:
italiano
Touristic Brochures



Arte, artes manuales, pintura, Cocina / Gastronomía, Viajes y turismo
No hay comentarios.

Editing/proofreading
Volumen: 500 words
Completado el: May 2017
Languages:
italiano
Fiscal Certificate



Certificados, diplomas, títulos, CV, Contabilidad, Derecho: impuestos y aduanas
No hay comentarios.

Editing/proofreading
Volumen: 2500 words
Completado el: May 2017
Languages:
inglés a italiano
Subtitles for Documentaries



Cine, películas, TV, teatro, Periodismo, Historia
No hay comentarios.

Editing/proofreading
Volumen: 2 pages
Completado el: Apr 2017
Languages:
italiano
Business Collaboration Agreement



Negocios / Comercio (general), Derecho: contrato(s), Nombres (persona, empresa)
No hay comentarios.

Editing/proofreading
Volumen: 1472 words
Completado el: Apr 2017
Languages:
italiano
Brief History of Ice-Houses



Muebles / Aparatos domésticos, Periodismo, Historia
No hay comentarios.

Editing/proofreading
Volumen: 1021 words
Completado el: Apr 2017
Languages:
italiano
Villa Website



Alimentos y bebidas, Folklore, Viajes y turismo
No hay comentarios.

Editing/proofreading
Volumen: 250 words
Completado el: Apr 2017
Languages:
italiano
Supermarket Posters



Alimentos y bebidas, Mercadeo / Estudios de mercado, Publicidad / Relaciones públicas
No hay comentarios.

Editing/proofreading
Volumen: 2900 words
Completado el: Apr 2017
Languages:
italiano
Food Brochure



Alimentos y bebidas, Cocina / Gastronomía, Periodismo
No hay comentarios.

Editing/proofreading
Volumen: 14 pages
Completado el: Apr 2017
Languages:
italiano
Lace Festival



Arte, artes manuales, pintura, Folklore, Textil / Ropa / Moda
No hay comentarios.

Editing/proofreading
Volumen: 5 pages
Completado el: Mar 2017
Languages:
italiano
Restaurant Menu



Vino / Enología / Viticultura, Cocina / Gastronomía
No hay comentarios.

Editing/proofreading
Volumen: 3717 words
Completado el: Mar 2017
Languages:
italiano
Material Contract



Derecho: contrato(s), Derecho: (general), Negocios / Comercio (general)
No hay comentarios.

Editing/proofreading
Volumen: 3 pages
Completado el: Mar 2017
Languages:
italiano
Cosmetics Advertising



Cosméticos / Belleza, Mercadeo / Estudios de mercado, Publicidad / Relaciones públicas
No hay comentarios.

Translation
Volumen: 42 words
Completado el: Mar 2017
Languages:
inglés a italiano
Musical Ads



Cine, películas, TV, teatro, Periodismo, Música
No hay comentarios.

Editing/proofreading
Volumen: 2480 words
Completado el: Mar 2017
Languages:
inglés a italiano
Ayurvedic Food Recipes



Vino / Enología / Viticultura, Cocina / Gastronomía, Alimentos y bebidas
No hay comentarios.

Translation
Volumen: 209 words
Completado el: Mar 2017
Languages:
inglés a italiano
Strings and Dialog Boxes



Informática: Programas, TI (Tecnología de la información), Medios / Multimedia

positiva


inWhatLanguage: No hay comentarios.

Editing/proofreading
Volumen: 468 words
Completado el: Feb 2017
Languages:
italiano
Contract for Goods



Negocios / Comercio (general), Derecho: contrato(s), Nombres (persona, empresa)
No hay comentarios.

Editing/proofreading
Volumen: 3000 words
Completado el: Feb 2017
Languages:
italiano
Stove and Biomass Boiler



Muebles / Aparatos domésticos, Internet, comercio-e, Manufactura
No hay comentarios.

Editing/proofreading
Volumen: 1004 words
Completado el: Feb 2017
Languages:
italiano
Career Days



Mercadeo / Estudios de mercado, Publicidad / Relaciones públicas, Recursos humanos
No hay comentarios.

Transcription
Volumen: 5600 words
Completado el: Feb 2017
Languages:
italiano
Audio Messages



TI (Tecnología de la información), Medios / Multimedia, Telecomunicaciones
No hay comentarios.

Editing/proofreading
Volumen: 2037 words
Completado el: Jan 2017
Languages:
inglés a italiano
Apartaments and Mobile Homes Presentation



Publicidad / Relaciones públicas, Deportes / Ejercitación / Recreo, Viajes y turismo
No hay comentarios.

Editing/proofreading
Volumen: 9065 words
Completado el: Jan 2017
Languages:
italiano
Operating Manual



Transporte / Fletes, Materiales (plástico, cerámica, etc.), Automóviles / Camiones
No hay comentarios.

Editing/proofreading
Volumen: 579 words
Completado el: Jan 2017
Languages:
inglés a italiano
Family Holidays



Viajes y turismo, Deportes / Ejercitación / Recreo, Mercadeo / Estudios de mercado
No hay comentarios.

Editing/proofreading
Volumen: 3508 words
Completado el: Jan 2017
Languages:
italiano
Application Forms and Guides



Certificados, diplomas, títulos, CV, Contabilidad, Mercadeo / Estudios de mercado
No hay comentarios.

Editing/proofreading
Volumen: 23 pages
Completado el: Jan 2017
Languages:
italiano
Blog and Fashion Column



Publicidad / Relaciones públicas, Textil / Ropa / Moda, Cosméticos / Belleza
No hay comentarios.

Editing/proofreading
Volumen: 2 pages
Completado el: Jan 2017
Languages:
italiano
Artistic Brochure



Arte, artes manuales, pintura, Folklore, Música
No hay comentarios.

Transcription
Volumen: 2426 words
Completado el: Dec 2016
Languages:
italiano
Quality Assurance Specialist - Italy



Telecomunicaciones, General / Conversación / Saludos / Cartas, Informática: Programas
No hay comentarios.

Editing/proofreading
Volumen: 7 pages
Completado el: Dec 2016
Languages:
italiano
Real Estate



Derecho: (general), Bienes inmuebles, Negocios / Comercio (general)
No hay comentarios.

Editing/proofreading
Volumen: 3 pages
Completado el: Dec 2016
Languages:
italiano
Hotel and Resort Ads



Internet, comercio-e, Mercadeo / Estudios de mercado, Viajes y turismo
No hay comentarios.

Editing/proofreading
Volumen: 3224 words
Completado el: Nov 2016
Languages:
inglés a italiano
Terms and Conditions - Mobile App



Informática: Programas, TI (Tecnología de la información), Internet, comercio-e

positiva


Same Day Translations, LLC.: No hay comentarios.

Editing/proofreading
Volumen: 30 pages
Completado el: Oct 2016
Languages:
italiano
Toll Newsletter



Viajes y turismo, Mercadeo / Estudios de mercado, Automóviles / Camiones
No hay comentarios.

Editing/proofreading
Volumen: 2 pages
Completado el: Oct 2016
Languages:
italiano
Short Refund Form



Automóviles / Camiones, Mercadeo / Estudios de mercado, Transporte / Fletes
No hay comentarios.

Editing/proofreading
Volumen: 2 hours
Completado el: Oct 2016
Languages:
italiano
School Certificates



Educación / Pedagogía, Certificados, diplomas, títulos, CV, Arquitectura
No hay comentarios.

Editing/proofreading
Volumen: 1680 words
Completado el: Oct 2016
Languages:
inglés a italiano
Videogame Products



Juegos / Videojuegos / Apuestas / Casino, Internet, comercio-e, Publicidad / Relaciones públicas
No hay comentarios.

Editing/proofreading
Volumen: 3 pages
Completado el: Sep 2016
Languages:
italiano
Holiday Package



Cocina / Gastronomía, Viajes y turismo, Vino / Enología / Viticultura
No hay comentarios.

Editing/proofreading
Volumen: 148 words
Completado el: Sep 2016
Languages:
inglés a italiano
Little Brochure



Mecánica / Ing. mecánica, Nutrición, Publicidad / Relaciones públicas
No hay comentarios.

Editing/proofreading
Volumen: 1 pages
Completado el: Sep 2016
Languages:
italiano
Accommodation List



Viajes y turismo, Publicidad / Relaciones públicas, Folklore
No hay comentarios.

Editing/proofreading
Volumen: 1 pages
Completado el: Sep 2016
Languages:
italiano
Little Price List



Cosméticos / Belleza, Mercadeo / Estudios de mercado, Publicidad / Relaciones públicas
No hay comentarios.

Editing/proofreading
Volumen: 30 pages
Completado el: Sep 2016
Languages:
italiano
Toll Stickers (First Part)



Publicidad / Relaciones públicas, Mercadeo / Estudios de mercado, Automóviles / Camiones
No hay comentarios.

Editing/proofreading
Volumen: 30 pages
Completado el: Sep 2016
Languages:
italiano
Toll Stickers (Second Part)



Automóviles / Camiones, Mercadeo / Estudios de mercado, Publicidad / Relaciones públicas
No hay comentarios.

Editing/proofreading
Volumen: 15 pages
Completado el: Aug 2016
Languages:
italiano
Geopark Program



Medioambiente y ecología, Mercadeo / Estudios de mercado, Viajes y turismo
No hay comentarios.

Editing/proofreading
Volumen: 12 pages
Completado el: Jul 2016
Languages:
italiano
Wellness Centre and Price List



Deportes / Ejercitación / Recreo, Viajes y turismo, Publicidad / Relaciones públicas
No hay comentarios.

Copywriting
Volumen: 3 days
Completado el: Jul 2016
Languages:
italiano
Short Summaries



Poesía y literatura, Lingüística, Historia
No hay comentarios.

Editing/proofreading
Volumen: 2 pages
Completado el: May 2016
Languages:
italiano
News and Articles



Deportes / Ejercitación / Recreo, Periodismo
No hay comentarios.

Editing/proofreading
Volumen: 24 hours
Completado el: Feb 2016
Languages:
italiano
Advertising and Products



Publicidad / Relaciones públicas, Mercadeo / Estudios de mercado
No hay comentarios.
More
17 comentarios



More
Visa, MasterCard, PayPal, Transferencia electrónica, American Express
Muestras de traducción: 4


More
Abbreviations, Cinesint, GlossarioMarketing.it
Other - European Master in Audiovisual Translation (Postgraduate - II Level) > Master Europeo in Traduzione Audiovisiva (Post-laurea - II Livello)
Años de experiencia: 6 Registrado en ProZ.com: Jul 2015
italiano (Università degli Studi di Milan, verified)
inglés a italiano (Università degli Studi di Parma, verified)

N/A
Across, Adobe Acrobat, Aegisub, Catalyst, DejaVu, Dreamweaver, EZTitles, Google Translator Toolkit, memoQ, MemSource Cloud, Microsoft Excel, Microsoft Office Pro, Microsoft Word, Passolo, Powerpoint, ProZ.com Translation Center, SDL TRADOS, Smartling, Subtitle Edit, Subtitle Workshop, Wincaps Q4, Wordbee
https://www.lucacolangelo.com
CV available upon request
Luca Colangelo apoya ProZ.com's Directrices profesionales.
Bio


Traductor, revisor de estilo, recensor y cafeinómano: cuatro personalidades distintas que convergen en un único profesional nacido en Milán, ciudad que lo ha visto crecer. ¡Hola, soy Luca Colangelo!


Antes de licenciarme en Artes Escénicas, tuve la oportunidad de conocer a profesionales del mundo de la actuación y del doblaje como guionistas y adaptadores que me enseñaron el amor por la escritura dramática (teatro), de guiones (cine) y lenguaje publicitario.

En el intento de compaginar mis conocimientos en ámbito cultural y mi interés por las lenguas extranjeras, decidí realizar el Máster Europeo de Traducción Audiovisual (METAV) por la Universidad de Parma y la Universidad Autónoma de Barcelona que me dio las herramientas necesarias para especializarme en traducción para doblajes, subtítulos para oyentes y sordos, videojuegos, software y localización de páginas web.


Trabajando para varias agencias como Adapt Worldwide, Alkemist Translation Company, Aguará Solutions, Future Group y Same Day Translations y contribuyendo en varias publicaciones en línea como Cultweek, Blog Sik-Sik del Teatro Franco Parenti y Eatinero, he podido perfeccionar mis destrezas lingüísticas y he ampliado mis campos de especialización: enogastronomía, periodismo (artículos, reseñas y entrevistas), marketing y publicidad, teatro (dramaturgia, ensayo y sobretítulos), viajes y turismo.


Gracias a mis habilidades culturales y lingüísticas, asesoro a mis clientes en la creación y adaptación de una amplia gama de contenidos para que alcancen sus objetivos en el campo de la comunicación y de los negocios.


"Si le hablas a un hombre en un idioma que entiende, llegarás a su cabeza. Si le hablas en su idioma, llegarás a su corazón" - Nelson Mandela
Palabras clave: English, Spanish, Italian, Transcreation, Translation, Technical Translation, Proofreading, Editing, Transcription, Copywriting, Journalism, Articles, Reviews, Interviews, Press Release, File, Presentations, Microsoft Office, Open Office, Adobe Reader, Food and Beverage, Cooking, Drama, Theatre, Literary Essays, Study, Surtitling, Audiovisual, Cinema, Television, Screenplays, Film, Movies, Documentiaries, Series, Dubbing, Subtitling, Subtitling for Hearing Impaired, Voice Over, Localization, Websites, Videogames, Games, Media, Multimedia, Marketing, Advertising, Merchandising, Shopping, Calendar, Customers, Products, Brand, Survey, Questionnaire, IT, Google, Android, iOS, Apple, Technology, Mobile, Web, Internet, Connection, Online, Server, Cloud, e-Commerce, E-Mail, Computer, Hardware, Software, App, Windows, HTML, Sound, Video, SDL Trados Studio, memoQ, Alchemy Catalyst, Déjà Vu, Terminology, Manual, User, User Guide, User Interface, User Experience, Facebook, Messenger, LinkedIn, Instagram, Twitter, Pinterest, Google Plus, Youtube, Channel, Multichannel, Slang, Idioms, Poetry, Literature, Linguistics, Public Relations, Music, Photography, Art, Painting, Religion, Science, Sports, History, Fashion, Clothing, Geography, Environment, Ecology, Anthropology, Education, Travel, Tourism, General, Conversation, Greetings, Letters, Thermal Baths, Ads, Trailer, Privacy Policy, Cookie Policy, Quality Policy, Poem, Data Collection, Processing Form, Audiobooks, Books, Comments, Sauna, SPA, Blackjack, Roulette, Exbition, Rules, News, Account Manager, Blends, Seafood Control, Rebranding Company, Motorcycle Tour, Contract, Application, Videoconference System, Unguents, Tea, Coffee, Riding Track, Price List, Dental Slogan, Guest Room Recycling, Notices, Airport, Pet-Friendly Campsites, E-Book, Sales Contract, Donation, Wedding Locations, Street Furniture, Gala Dinner, Invitation, Web Content, Allergens, Allergies, Food Recipes, FAQ, Spices Mix, Ingredients, Tires, Face and Teeth, Hair Pigments, Resort, Limitation of Liability, Municipal, Snowmobiles, Warranty, Text Composition, Brochures, Certificate, Business Collaboration Agreement, Ice-Houses, Supermarket, Poster, Festival, Menu, Cosmetic, Musical, Ayuverdic, String, Dialog Boxes, Goods, Stove, Biomass Boiler, Career Day, Messages, Apartaments, Mobile Home, Operating, Family, Guides, Application Form, Blog, Column, Quality Assurance, Real Estate, Terms and Conditions, Terms of Use, Toll, Newsletter, Refunds, School, University, Packages, Stickers, Geopark Program, Wellness Centre, Summaries, Accomodation List, Memory Card, VAT, Bike, Rental, Pass, Ticket, Institutional Speech, Complaint, Massages, Game Show, Partner, Partnership, Instructions, SEO, DKM, Climbing, Vegan, Vegetarian, Credit Agreement, Monograph, Gift Voucher, Offer, Yoga, Contest, Descriptions, Blogger, Anti-alcoholism Program, GDPR, Report, Line, Disclaimer, Suggestions, Tips, Release Note, Recycling Systems, Stories, Discounts, Camping, Glamping, Guidebook, Proxy, Catalogue, Dermotherapy, Social Media, Stud, Naturism, Loyalty Program, Sauna Regulations, Dishes, Insurance, Museum, Portal, Agritourism, Highway, Tavern, Pets, Mansion, Airline, Street Art, Performer, Band, Artist, Sustainability, Charity, Bus, Wines Taste, Energy-Saving Homes, Escape Rooms, Quiz, Tour Leader, Board Games, Food Equipment, Environmental Impact, SMS, CTA, Buttons, Requirements, Ranking, Titles, Perfumes, Mattresses, Pillows, Supplements, Claim, Restructuring, Summit, Blender, Boat, Certification, Hygienic-Sanitary Standards, Healthcare, Beer, Hand Sanitizer, Beach, Beach Resort, Safety, Embassy, Consulate, Speech, Pitch, Delivery, Horse Breeding, HACCP, Declaration of Suitability, SUP, Banner, Vehicle, Wedding, Chocolate, Flavours, Seasons, Commemoration, Kibble, Nutrition, Dog, Cat, References, CV, Sun Protection, Treasure Hunt, Charity, Booking, Early Booking, Quarantine, Isolation, Recognition, Digitalization, Strategy, Corporate Videos, Component, Fishing, Golf, Container - Inglés, Español, Italiano, Transcreación, Traducción, Traducción Técnica, Correción Borradores, Revisión, Transcripción, Copywriting, Periodismo, Artículos, Reseñas, Entrevistas, Comunicado de Prensa, File, Presentaciones, Microsoft Office, Open Office, Adobe Reader, Enogastronomía, Cocina, Dramaturgia, Teatro, Ensayo, Estudio, Sobretítulos, Audiovisual, Cine, Televisión, Guiones, Películas, Documentales, Series, Doblajes, Subtítulos, Subtítulos para Sordos, Voice Over, Localización, Páginas Web, Videojuegos, Juegos, Medios, Multimedia, Marketing, Publicidad, Comercialización, Compras, Calendario, Clientes, Productos, Marca, Encuesta, Cuestionario, TI, Google, Android, iOS, Apple, Tecnologías, Mobile, Web, Internet, Conexión, Online, Server, Cloud, Comercio-e, Correo Electrónico, Ordenador, Hardware, Software, App, Windows, HTML, Sonido, Vídeo, SDL Trados Studio, memoQ, Alchemy Catalyst, Déjà Vu, Terminología, Manual, Usuario, Guía del Usuario, Interfaz del Usuario, Experiencia del Usuario, Facebook, Messenger, LinkedIn, Instagram, Twitter, Pinterest, Google Plus, Youtube, Canal, Multicanal, Jergas, Expresiones, Poesía, Literatura, Lingüística, Relaciones Públicas, Música, Fotografía, Arte, Pintura, Religión, Ciencia, Deportes, Historia, Moda, Ropa, Geografía, Ambiente, Ecología, Antropología, Educación, Viajes, Turismo, General, Conversación, Saludos, Cartas, Baños Termales, Anuncios, Tráiler, Política de Privacidad, Política de Cookies, Política de Calidad, Poesía, Recolección de Datos, Formulario de Procesamiento, Audiolibros, Libros, Comentarios, Sauna, SPA, Blackjack, Ruleta, Exposición, Reglas, Noticias, Gerente de Cuentas, Mezclas, Control del Pescado, Rebranding, Tours en Moto, Contratos, Aplicación, Sistema de Videoconferencia, Ungüentos, Té, Café, Rastro de Caballos, Lista de Precios, Eslogan Dental, Reciclaje de Habitación, Avisos, Aeropuerto, Campamento de Animales, E-Book, Contrato de Venta, Donación, Lugar de Boda, Muebles Urbanos, Cena de Gala, Invitaciones, Contenidos Web, Alérgenos, Alergias, Recetas, Preguntas Frecuentes, Mezcla de Especias, Ingredientes, Neumáticos, Cara y Dientes, Pigmentos de Pelo, Resort, Limitación de Responsabilidad, Comune, Moto de Nieve, Garantía, Textos, Folletos, Certificado, Acuerdo de Colaboración Comercial, Ice-Houses, Supermercado, Cartel, Festival, Menú, Cosméticos, Musical, Ayuverda, Cadena, Ventanas de Diálogo, Bienes, Estufa, Caldera de Biomasa, Día de la Carrera, Mensajes, Apartamentos, Casas Móviles, Administración, Familia, Guías, Formulario de Solicitud, Blog, Agenda, Aseguramiento de Calidad, Bienes Raíces, Términos y Condiciones, Términos de Uso, Peaje, Boletín, Reembolsos, Escuela, Universidad, Paquetes, Pegatinas, Programa de Geoparque, Centro de Bienestar, Resúmenes, Lista de Hoteles y Alojamientos, Tarjeta de Memoria, IVA, Bicicletas, Alquiler, Pase, Billetes, Discurso Institucional, Reclamación, Masajes, Juego de Premios, Aliado, Sociedad, Instrucciones, SEO, DKM, Alpinismo, Vegano, Vegetariano, Contrato de Crédito, Monografía, Cupón de Regalo, Oferta, Yoga, Concurso, Descripciones, Bloguero, Programa Antialcoholismo, RGPD, Informe, Línea, Descargo de Responsabilidad, Sugerencias, Consejos, Info de Release, Sistemas de Reciclaje, Historias, Rebajas, Campamento, Glamping, Guía, Delegación, Catálogo, Dermoterapia, Redes Sociales, Establo, Naturismo, Programa de Fidelización, Regulación de Sauna, Platos, Seguro, Museo, Portal, Agroturismo, Autovía, Taberna, Animales Domésticos, Mansión, Compañía Aérea, Arte Urbano, Intérprete, Banda, Artista, Sostenibilidad, Beneficencia, Autobús, Degustación de Vinos, Casas de Ahorro Energético, Salas de Escape, Juego, Responsable de Viaje, Juegos de Mesa, Equipos para Alimentos, Impacto Ambiental, Mensajes SMS, CTA, Botones, Requisitos, Clasificación, Denominación, Fragrancias, Colchónes, Almohadas, Suplementos, Compensación, Renovación, Cumbre, Licuadora, Barco, Certificación, Normas Higiénicas-Sanitarias, Asistencia Sanitaria, Cerveza, Gel Antibacterial, Playa, Establecimiento Balneario, Seguridad, Embajada, Consulado, Discurso, Parcela, Entrega, Cría de Caballos, HACCP, Declaración de Idoneidad, Stand Up Paddle, Banner, Vehículo, Boda, Chocolate, Sabores, Temporadas, Conmemoración, Croquetas, Alimentación, Perros, Gatos, Referencias, Currículum, Protección Solar, Búsqueda del Tesoro, Beneficencia, Reserva, Reserva Anticipada, Cuarentena, Aislamiento, Reconocimiento, Digitalización, Estrategia, Vídeos de Empresa, Elemento, Pesca, Golf, Recipiente - Inglese, Spagnolo, Italiano, Transcreation, Traduzione, Traduzione Tecnica, Correzione Bozze, Revisione, Trascrizione, Copywriting, Giornalismo, Articoli, Recensioni, Interviste, Comunicati Stampa, File, Presentazioni, Microsoft Office, Open Office, Adobe Reader, Cibo e Bevande, Cucina, Opera, Teatro, Copioni, Drammaturgie, Saggistica, Studi, Sopratitoli, Audiovisivo, Cinema, Sceneggiature, Film, Telefilm, Documentari, Serie, Televisione, Doppiaggio, Sottotitolazione, Sottotitolazione per Non Udenti, Voice Over, Localizzazione, Siti Web, Videogiochi, Giochi, Media, Multimedia, Marketing, Pubblicità, Merchandising, Acquisti, Calendario, Agenda, Clienti, Prodotti, Marche, Sondaggi, Questionari, IT, Google, Android, iOS, Apple, Tecnologia, Mobile, Web, Internet, Connessione, Online, Server, Cloud, e-Commerce, E-Mail, Computer, Hardware, Software, App, Windows, HTML, Audio, Video, SDL Trados Studio, memoQ, Alchemy Catalyst, Déjà Vu, Terminologia, Manuali, Utente, Guida Utente, Interfaccia Utente, Esperienza Utente, Facebook, Messenger, LinkedIn, Instagram, Twitter, Pinterest, Google Plus, Youtube, Canale, Multicanale, Gergo, Idiomi, Poesia, Letteratura, Linguistica, Pubbliche Relazioni, Musica, Fotografia, Arte, Pittura, Religione, Scienze, Sport, Storia, Moda, Abbigliamento, Geografia, Ambiente, Ecologia, Antropologia, Istruzione, Viaggi, Turismo, Generale, Conversazione, Saluti, Lettere, Terme, Annunci, Trailer, Politica sulla Privacy, Politica sui Cookie, Politica sulla Qualità, Poesia, Raccolta Dati, Modulo di Elaborazione, Audiolibri, Libri, Commenti, Sauna, SPA, Blackjack, Roulette, Mostra, Regole, News, Account Manager, Miscele, Controllo del Pesce, Rebranding, Tour in Moto, Contratti, Applicazione, Sistema di Videoconferenza, Unguenti, Tè, Caffè, Percorso Ippico, Listino Prezzi, Slogan Dentale, Riciclaggio in Camera, Avvisi, Aeroporto, Campeggi per Animali, E-Book, Contratto di Vendita, Donazione, Luoghi per Nozze, Arredo Urbano, Cena di Gala, Inviti, Contenuti Web, Allergeni, Allergie, Ricette, FAQ, Miscela di Spezie, Ingredienti, Pneumatici, Viso e Denti, Pigmenti per Capelli, Resort, Limitazione di Responsabilità, Comune, Motoslitta, Garanzia, Composizione Testi, Brochure, Certificato, Contratto di Collaborazione Commerciale, Ice-House, Supermercato, Poster, Festival, Menù, Cosmetica, Musical, Ayuverda, Stringhe, Finestre di Dialogo, Beni, Stufa, Caldaia a Biomassa, Career Day, Messaggi, Appartamenti, Case Mobili, Gestione, Famiglia, Guide, Modulo Candidatura, Blog, Rubrica, Assicurazione Qualità, Immobile, Termini e Condizioni, Condizioni d'Uso, Pedaggio, Newsletter, Rimborsi, Scuola, Università, Pacchetti, Adesivi, Programma Geopark, Centro Benessere, Sommari, Lista Hotel e Alloggi, Scheda di Memoria, IVA, Biciclette, Noleggio, Pass, Biglietti, Discorso Istituzionale, Reclamo, Massaggi, Gioco a Premi, Socio, Collaborazione, Istruzioni, SEO, DKM, Arrampicata, Vegano, Vegeteriano, Contratto di Credito, Monografia, Buono Regalo, Offerta, Yoga, Concorso, Descrizioni, Blogger, Programma Antialcolismo, RGPD, Resoconto, Linea, Dichiarazione di Non Responsabilità, Suggerimenti, Consigli, Nota di Rilascio, Sistemi di Riciclo, Storie, Sconti, Campeggio, Glamping, Guida, Delega, Catalogo, Dermoterapia, Social, Scuderia, Naturismo, Programma Fedeltà, Regolamento Sauna, Piatti, Assicurazione, Museo, Portale, Agriturismo, Autostrada, Osteria, Animali Domestici, Villa, Compagnia Aerea, Arte di Strada, Performer, Gruppi, Artista, Sostenibilità, Beneficenza, Pullman, Degustazione Vini, Case a Risparmio Energetico, Escape Room, Quiz, Responsabile Tour, Giochi da Tavolo, Apparecchiature per Alimenti, Impatto Ambientale, SMS, CTA, Pulsanti, Requisiti, Classifica, Titoli, Profumi, Materassi, Cuscini, Integratori, Risarcimento, Ristrutturazione, Vertice, Frullatore, Imbarcazione, Certificazione, Standard Igienico-Sanitari, Assistenza Sanitaria, Birra, Gel Igienizzante, Spiaggia, Stabilimento Balneare, Sicurezza, Ambasciata, Consolato, Discorso, Piazzola, Consegna, Allevamento Cavalli, HACCP, Dichiarazione di Idoneità, Stand Up Paddle, Banner, Veicolo, Nozze, Cioccolato, Aromi, Stagioni, Commemorazione, Croccantini, Alimentazione, Cani, Gatti, Referenze, Curriculum, Protezione Solare, Caccia al Tesoro, Beneficenza, Prenotazione, Prenotazione Anticipata, Quarantena, Isolamento, Riconoscimento, Digitalizzazione, Strategia, Video Aziendali, Componente, Pesca, Golf, Contenitore
99 visitas durante el mes pasado,
de un total de 27 visitantes Este perfil ha recibido
Última actualización del perfil
Apr 14