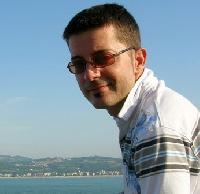 Miembro desde Aug '11
Idiomas de trabajo:
alemán a español
inglés a español
Fabio Gutiérrez
Travel, Marketing, HR, Education, Photo



Teruel, Aragon, España

Hora local:

00:45 CEST (GMT+2)




Idioma materno

: español (Variant: Standard-Spain)

PayPal accepted
Erfahrener, qualitätsorientierter DE>ES Übersetzer und Lokalisierungsexperte aus Spanien für Touristik, Marketing, Wirtschaft, Bildung, Fotografie – M.A. in Fachübersetzung – https://www.gut3.eu
Traductor o intérprete autónomo,

Miembro con identidad verificada
This person has a SecurePRO™ card. Because this person is not a ProZ.com Plus subscriber, to view his or her SecurePRO™ card you must be a ProZ.com Business member or Plus subscriber.

Translation, Transcreation, Website localization, Software localization
Se especializa en

Viajes y turismo

Mercadeo / Estudios de mercado

Negocios / Comercio (general)

Recursos humanos

Transporte / Fletes

Educación / Pedagogía

Fotografía/Imagen (y artes gráficas)
More
Puntos de nivel PRO 516, Preguntas respondidas: 255, Preguntas formuladas: 32
10 comentarios



More
Transferencia electrónica, PayPal
Muestras de traducción: 5
inglés a español: (Successful) translation test for a large international company
General field: Negocios/Finanzas
Detailed field: Viajes y turismo
Texto de origen - inglés
Rates, Taxes, & Service Fees
• The Hotel Fees may include, but are not limited to, hotel taxes owed by Operator
to hotel, sales and use taxes, occupancy taxes, room taxes, excise taxes, value
added taxes, and other similar taxes as well as service charges related to Operator's service and fulfillment of your reservation. The Supplier, not the Operator, collects and remits hotel taxes to the applicable tax authorities wherever applicable.
• Air ticket prices are per individual and the aggregate of all air taxes as well as service charges (aggregately "Flight Fees") are disclosed to you at the time of booking your reservation. All service fees are non-refundable and may appear as a
separate charge from the Operator on your credit card statement. The following
service shall apply as applicable:
o Online booking fee:€4.50 per ticket;
o Bookings made via telephone:€20.00 per ticket
o Change or cancellation fee:€22.00 per ticket in addition to airline penalties/fees;
o Third party credit card payment fee:€25.00 per reservation (credit card authorization form required); and o Paper ticket shipping fees:
a. €20.50 Second business day delivery
b. €40.00 Express - next business day delivery
c. €60.00 International delivery (outside the U.K.)
• Generally, restrictions apply to children and minors travelling alone, and Suppliers' rules may forbid such travel. It is your obligation to check the information on the Site before making a reservation for an individual traveling alone who is under the age of 21.
• Fees assessed by payers' credit card processer, including international credit card
transactions fees, will not be refunded by Operator. Note that Operator may use
credit card processors that process the credit card payment transaction outside your local area.
Traducción - español
Tarifas, impuestos y cargos por servicio
• Las tarifas de hotel podrán incluir, entre otros conceptos, los impuestos hoteleros
que el operador debe abonar directamente al hotel, impuestos sobre ventas y uso,
impuestos y tasas municipales por pernoctación, impuestos al consumo,
impuestos sobre el valor añadido y otros impuestos de índole parecida, así como
los cargos por servicio relacionados con la actividad del operador y con el cierre
de su reserva. Será el proveedor, y no el operador, quien percibirá los impuestos
hoteleros y los tramitará a las correspondientes autoridades tributarias, de acuerdo con la normativa aplicable.
• Los precios de los billetes de avión se ofrecen por persona; en el momento de
efectuar su reserva se le mostrará la suma de todos los impuestos sobre el transporte aéreo, así como los cargos por servicio (en su conjunto, "cargos por transporte aéreo"). Los cargos por servicio del operador podrán aparecer aparte en el extracto de su tarjeta de crédito y no son reembolsables. Serán de aplicación, en su caso, alguno/s de los siguientes cargos por servicio:
o Cargo por reserva en Internet: 4,50 € por billete.
o Reservas realizadas por teléfono: 20,00 € por billete.
o Cargo por cambio o cancelación: 22,00 € por billete, además de la penalización o tasa que aplique la compañía aérea.
o Cargo por abono con tarjeta de crédito de otra entidad: 25,00 € por reserva (se requiere rellenar la autorización de cargo en la tarjeta de crédito).
o Cargo por envío de billetes en papel:
a. 20,50 €, por entrega en el plazo de dos días laborables
b. 40,00 €, por entrega urgente el siguiente día laborable
c. 60,00 €, por envío internacional (fuera del Reino Unido).
• Existen restricciones que, con carácter general, son de aplicación a los niños y
menores que viajan solos; es posible que las normas del proveedor no permitan esta modalidad de viaje. Deberá revisar la información contenida en este sitio web
antes de realizar una reserva para una persona menor de 21 años que viaje sola.
• El operador no reembolsará las comisiones de la entidad que procesa el pago con
tarjeta de crédito, incluidas las relativas a transacciones internacionales con tarjeta
de crédito. Tenga en cuenta que el operador podrá utilizar los servicios de una entidad procesadora de pagos situada en un país diferente al suyo para procesar la transacción de su pago con tarjeta de crédito.
inglés a español: Sample translation for a major International translation agency
General field: Mercadeo
Detailed field: Mercadeo / Estudios de mercado
Texto de origen - inglés
Why Palm webOS is a big deal

The Palm Pre runs Palm webOS and all future Palm handsets will too. Palm webOS has been designed specifically for easier multi-tasking and to make Palm products as easy to use as a web browser. As it is just like using a computer, it allows you to keep multiple applications open as activity cards and move easily between them instead of having to open and close each application every time. Palm webOS also means the Pre can use Palm Synergy to pull your Microsoft Outlook, Google and Facebook® calendars into one easy view and put all your contacts from different sources in the same place.

© 2009 Palm, Inc. Palm, Pre, Synergy, and webOS are trademarks of Palm, Inc. Facebook is a registered trademark of Facebook, Inc. Microsoft, ActiveSync and Outlook are trademarks of the Microsoft group of companies. All screen images simulated.


Traducción - español
¿Por qué Palm webOS es una idea redonda?

Palm Pre utiliza el sistema operativo Palm webOS, la base de todos los dispositivos Palm a partir de ahora. Palm webOS ha sido diseñado específicamente para facilitar el funcionamiento multitarea y conseguir que los productos Palm sean tan fáciles de usar como un navegador de Internet. Al igual que sucede en un ordenador, le permite mantener abiertas a la vez múltiples aplicaciones a modo de tarjetas de actividad, y moverse fácilmente entre ellas sin tener que andar abriendo y cerrando cada aplicación una y otra vez. Gracias a Palm webOS, el Pre también puede usar Palm Synergy para refundir fácilmente en una sola vista sus agendas de Microsoft Outlook, Google y Facebook® y conservar todos sus contactos en el mismo lugar, independientemente de su origen.

© 2009 Palm, Inc., Palm Pre, Synergy y webOS son marcas registradas de Palm, Inc. Facebook es una marca registrada de Facebook, Inc. Microsoft, ActiveSync y Outlook son marcas registradas del grupo de empresas Microsoft. Las capturas de pantalla contienen imágenes simuladas.

inglés a español: Sample translation for a company brochure
General field: Negocios/Finanzas
Detailed field: Negocios / Comercio (general)
Texto de origen - inglés
The way we are

We started out in 1988 as a dynamic small family business. And we still want to maintain that quality of the fast, visionary entrepreneurs who set up the company. At the same time, we aim to be the most efficient European supplies distributor by offering you a perfect mix of competitive pricing, a wide product range, great product availability, reliable deliveries, superior IT solutions and excellent after-sales services. We've come a long way together.

How did we get here?
In the last two decades we've transformed ourselves into a major European supplies distributor. By the turn of the new millennium our assortment had expanded rapidly. We had 2,000 customers and 10,000 items in stock — and these numbers were growing each month.

By about 2005, our office and 7,000 m² warehouse in Maastricht (in the south of the Netherlands) were bursting at the seams. We looked over the borders and we've since expanded into six other European countries. We changed our distribution model by combining centralized with decentralized elements and our physical presence in the Benelux, Germany, Greece, Italy, Spain, Switzerland and the United Kingdom contributed strongly to our European growth and reputation. Our current total warehouse capacity exceeds 20,000 m².

Today we're a half-billion-euro enterprise and in the past five years we've moved into the top five in our sector in Europe. We maintain strong relationships with most of the major original equipment manufacturers and our customers include well-known market leaders in the contract stationer, mail order, buying group, traditional reseller and e-commerce segments.


Traducción - español
Nuestra manera de ser

Nuestra empresa comenzó en 1988 como un pequeño y dinámico negocio familiar, y pretendemos seguir manteniendo ese espíritu sagaz y visionario de los emprendedores que la pusieron en marcha. A la vez, queremos ser el distribuidor europeo de consumibles y material de oficina más eficiente, ofreciéndole una combinación perfecta de precios competitivos, un amplio catálogo de productos, una óptima disponibilidad de los mismos, fiabilidad en las entregas, soluciones TIC de vanguardia y un servicio postventa excelente. Juntos, hemos recorrido un largo camino.

¿Cómo hemos llegado hasta aquí?
A lo largo de las últimas dos décadas nos hemos ido convirtiendo en uno de los Mayoristas de equipos y material de oficina líderes en Europa. Con el inicio del nuevo milenio, nuestro catálogo se había ampliado considerablemente. Teníamos ya 2.000 clientes y 10.000 artículos en stock, unas cifras que iban aumentando con el transcurso de cada mes.

Llegado el año 2005, nuestra oficina y almacén de 7.000 m² situados en Maastricht (al sur de Holanda) no daban ya más de sí. Dispuestos a traspasar fronteras, desde entonces nos hemos implantado en otros seis países de Europa. Hemos evolucionado nuestro modelo de distribución mediante la combinación de elementos centralizados y descentralizados, lo que unido a nuestra presencia física en el Benelux, Alemania, Grecia, Italia, España, Suiza y el Reino Unido ha contribuido considerablemente a nuestro crecimiento y reputación a escala europea. La extensión total de nuestros almacenes supera en la actualidad los 20.000 m2.

Hoy en día, somos una empresa con un volumen de facturación superior a los 500 millones de euros, lo que nos ha posicionado en los últimos cinco años en el top-5 a nivel europeo dentro de nuestro sector. Mantenemos una sólida relación con la mayoría de los principales fabricantes de nuestro sector. Por otra parte, entre nuestros clientes figuran líderes muy conocidos de los sectores de papelería mayorista, venta por catálogo, centrales de compras, distribución tradicional y comercio electrónico.

alemán a español: Beispiel: Ehrenamtliche Übersetzung in 2010
General field: Otros
Detailed field: Org./Desarr./Coop. Internacional
Texto de origen - alemán
http://visozial.org/projekte/bolivien/gemeinde-titicacasee/
Traducción - español
http://es.visozial.org/proyectos/bolivia/comunidad-lago-titicaca
alemán a español: Probetext für Teilnahme an einer Ausschreibung der EU
General field: Otros
Detailed field: Gobierno / Política
Texto de origen - alemán
Freizügigkeit und Diskriminierungen:
AdR zieht gemischte Bilanz zur Unionsbürgerschaft
"Vor dem neuen multikulturellen Hintergrund ist die Unionsbürgerschaft künftig nicht mehr nur als bloßer Schutz der Identität und der Zugehörigkeit zu definieren, sondern als ein Schritt zur sozialen Integration".
Dies ist eine der Botschaften, die Viviane Reding, für Justiz, Grundrechte und Unionsbürgerschaft zuständiges Kommissionsmitglied, auf der AdR-Plenartagung am 31. März zur Kenntnis nahm.
An diesem Tag debattierten die AdR-Mitglieder über die Unionsbürgerschaft auf der Grundlage eines Stellungnahmeentwurfs, den Roberto Pella (IT/EVP), Mitglied des Gemeinderates von Valdengo, zum Bericht über die Unionsbürgerschaft 2010 erarbeitet hatte.
Zum Auftakt der Debatte erinnerte der Berichterstatter daran, dass "es die Unionsbürgerschaft jedem erlaubt, unabhängig von der jeweiligen Staatsangehörigkeit die gleiche rechtliche Behandlung zu genießen".
Die Mitgliedstaaten seien durch die Gründungsverträge gehalten, "die Werte zu achten und zur Geltung zu bringen, auf die sich die Union gründet, nämlich: die Achtung der Menschenwürde, Freiheit, Demokratie, Gleichheit, Rechtsstaatlichkeit und die Wahrung der Menschenrechte, einschließlich der Minderheitenrechte".
Roberto Pella weist gleichwohl darauf hin, dass "die Rechte, um die es in diesem Bericht geht, zum einen Rechte sind, die ausschließlich von Unionsbürgern in Anspruch genommen werden können, zum anderen aber auch Grundrechte, die folglich auch für Drittstaatsangehörige gelten".
Und er geht sogar noch weiter, wenn er moniert, dass der Zugang zu den sozialen Rechten derzeit an Kriterien und Anforderungen geknüpft werde, die diskriminierende Züge aufwiesen:
"Dies verstößt gegen das im Gemeinschaftsrecht verankerte Prinzip der Gleichstellung und Gleichbehandlung von Bürgern anderer EU-Mitgliedstaaten".
Nach Ansicht von Kommissarin Reding sind "die lokalen und regionalen Gebietskörperschaften zentrale Akteure, wenn es darum geht, die Probleme ausfindig zu machen, auf die Unionsbürger bei der Wahrnehmung ihrer Rechte im Alltag stoßen.
Sie sind es, die an vorderster Stelle dafür sorgen können, dass die Beamten, die für die Umsetzung der Unionsbürgerrechte zuständig sind, eine angemessene Kenntnis von den geltenden EU-Vorschriften haben."
Und sie fügt hinzu:
"Europa wird in Brüssel beschlossen, aber bei Euch gemacht.
Deshalb ist es in meinen Augen unverzichtbar, einen direkten Dialog zwischen der Kommission, dem AdR und den Verbänden der Regionen und Kommunen über Fragen der Unionsbürgerschaft herzustellen.
Wir müssen uns bei Ihnen die Ideen holen, die funktionieren, und wir müssen uns Ihren Sachverstand vor Ort zu Nutze machen".

Traducción - español
Libertad de circulación y discriminaciones:
el CdR traza un balance desigual sobre la ciudadanía europea
«Ante el nuevo marco multicultural, la ciudadanía europea ya no podrá definirse como mera protección de la identidad y de la pertenencia, sino como paso hacia la integración social».
Este es uno de los mensajes que Viviane Reding, la Comisaria de Justicia, Derechos fundamentales y Ciudadanía, recibió durante la sesión plenaria del CdR el 31 de marzo.
Ese día, los miembros del CdR debatían acerca de la ciudadanía europea en base a un proyecto de dictamen elaborado por Roberto Pella (IT/PPE), miembro del consejo municipal de Valdengo, a propósito del Informe sobre la ciudadanía de la UE 2010.
Al comienzo del debate, el ponente recordó que «la ciudadanía europea permite a todos los ciudadanos disfrutar del mismo tratamiento legal, independientemente de su nacionalidad».
Los países miembros están obligados en virtud de los Tratados constitutivos a «preservar e impulsar los valores en los que se basa la Unión, en concreto, el respeto a la dignidad humana, la libertad, la democracia, la igualdad, la prevalencia del Estado de Derecho y la defensa de los derechos humanos, incluidos los de las minorías».
Roberto Pella indicó, asimismo, que «los derechos a los que se refiere este informe son, por un lado, derechos que solo pueden ser reclamados por los ciudadanos de la Unión, aunque a la vez constituyen derechos fundamentales que rigen también para ciudadanos de terceros países».
Y fue aún más lejos al criticar que el acceso a los derechos sociales en la actualidad se supedite a criterios y exigencias que muestran rasgos discriminatorios:
«Esto viola el principio, consagrado en el Derecho comunitario, de equidad e igualdad de trato a los ciudadanos de otros Estados miembros de la UE».
En opinión de la Comisaria Reding: «Las autoridades locales y regionales desempeñan un papel clave a la hora de identificar los problemas a los que se enfrentan a diario los ciudadanos de la Unión en la salvaguarda de sus derechos.
Son ellas quienes deben asegurarse en primera instancia de que los funcionarios responsables de la aplicación de los derechos de ciudadanía posean un conocimiento adecuado de la normativa vigente de la UE.»
Asimismo, agregó:
«Europa se decide en Bruselas, pero se hace con ustedes.
Por ello resulta indispensable, en mi opinión, establecer un diálogo directo en temas de ciudadanía europea entre la Comisión, el CdR y las asociaciones de regiones y municipios.
Tenemos que recabar de ustedes las ideas que funcionan y beneficiarnos así de sus conocimientos sobre el terreno».

More
Master's degree - University of Zaragoza, Spain
Años de experiencia: 11 Registrado en ProZ.com: Jul 2010 Miembro desde Aug 2011
alemán a español (Germany: Goethe Institut, Oberstufe C2, verified)
inglés a español (Canada: Toronto University Translation Certificate, verified)
inglés a español (Spain: Univ. Zaragoza M.A. Specialized Translation, verified)
alemán a español (Spain: Universidad de Zaragoza, M.A. Specialized Translation)
inglés a español (Upper-advanced English (Ryerson University, Toronto, Canada))




More
BDÜ, ITIA
Adobe Acrobat, MemSource Cloud, Microsoft Excel, Microsoft Office Pro, Microsoft Word, Open Office, Powerpoint, SDL TRADOS, Smartling, Wordfast
https://www.gut3.es
CV available upon request
Fabio Gutiérrez apoya ProZ.com's Directrices profesionales.
Bio
Senior English & German to Spanish translator and transcreation specialist
Travel, Marketing, Business, Education, Photography
M.A. in Specialized Translation | 20+ years of experience
Member of BDÜ and ITIA
Native of Spain
https://www.gut3.es
...................................................................................................................................................


I have been an independent Spanish linguist since 2009. A natural progression, as I spent the preceding 11 years translating within my capacity as international relations officer at a top Economics & Business School in Spain. Also useful were my other positions on the education and travel sectors.
Employing extensive experience and my dedication to smooth, fluent, reader-friendly texts, I provide European Spanish translation, transcreation and website localization services to end clients and LSPs within the below FIELDS OF EXPERTISE:
TOURISM, TRAVEL, HOSPITALITY
My linguistic education and practice merges with my professional travel industry track record to produce quality Spanish travel translations for both descriptive and promotional purposes. I can easily switch from accurately rendering air carriage terms and conditions to composing an appealing, customer-focused transcreation approach for your hotel landing page.


Extensive travel & tourism expertise from A to Z: accommodation T&C, air travel bonus programs, airline magazine articles, airport transfers, balloon tours, car rentals, city guides, cruises, destination marketing, hotel loyalty campaigns, internet content for travel agencies, LGTB travel, MICE brochures, online booking forms, tour itineraries, tourist attraction visitor info, travel product descriptions, vacation rental apps, web localization for transportation companies, and more.

Millions of words translated for some of the biggest airlines, cruise companies and hotel chains worldwide, major American and European tour operators, official tourist boards & iconic sites from Germany, United Kingdom, Australia and other countries.
MARKETING AND TRANSCREATION
Whether B2B or B2C, whether hard-copy or digital marketing, I clearly convey your source message – its impact, its intent and certainly its creative and emotional style – to your desired target audience in Spain. Your brochures, flyers, press releases, newsletters, social media content, promotional presentations, advertising copies and product web pages will read as if originally written in Spanish.


Marketing translation and transcreation proficiency in industries such as automotive (Japanese and German car brands, tires, batteries, lighting), transportation devices, food and beverages, finance services, IT cloud solutions, school stationery, business location promotion, sport gear, sports betting and travel (above).

Fluent in website localization terms and in procedures involving CMS, tags, variables, character limitations and SEO keywords.
BUSINESS/HR/TRANSPORT
My professional background and translation experience have enabled me to gather a wealth of knowledge in specific areas of the business world:


Corporate Communications — Company profiles, compliance procedures, codes of conduct, customer and supplier communications, stakeholder communiqués, corporate policies…
Human Resources and Training — Application forms, job ads, position descriptions, recruitment strategies, HR selection tools & tests, employee magazine articles, staff assessment, incentive plans, training and e-learning programs covering data protection, sales, corporate values, anti-bribery policies, driver safety…
Transportation & Logistics — Freight documents, ground transport, shipping instructions, supply chain management, airport facilities, sea cargo…
EDUCATION
Before making my career move into translation, I worked a total of 20 years in various university departments. Applying my accrued fluency in the unique language of Spanish education, I skillfully handle topics such as marketing communications, international student recruitment, language course details, online info for students and stakeholders, exam regulations, study program descriptions, exchange/visiting student documentation, etc.

Translation services delivered to educational and research institutions in Switzerland, Germany and Australia.
PHOTOGRAPHY/IMAGING/SPORT OPTICS
Since 2012, ongoing EN>ES translation for two major Japanese camera manufacturers. Plus, DE>ES for a renowned German firm, well known for their rangefinder cameras.

Hands-on experience with website content, product brochures, video script localization, e-learning courses, press releases and other technical marketing materials on a wide array of camera and optical devices: DSLR, compact, bridge and mirrorless cameras; prime, zoom and telephoto lenses; sport optics (binoculars, laser rangefinders, fieldscopes), apps, and more.

I have attended online and on-site DSLR photography courses to reinforce my skills and terminology knowledge.
Other projects: Software/IT, international organizations and NGOs (pro-bono).
I obtained my Master's degree in Specialized Translation in Spain (2010) and a Certificate in Professional Translation EN>ES in Canada (2008). In addition, I have a Bachelor's degree in Tourism Management (1990).
Member of the national linguist associations in Germany (BDÜ) and Ireland (ITIA).
CAT software tools: Trados Studio (certified) and Wordfast Pro.
EN>ES specialized translation rates begin at EUR 0.08/source word. Inquiries with a lower budget will not be considered.

Résumé and portfolio of publicly available translations as well as a comprehensive list of rates are available upon request.
» More information: https://www.gut3.es
» Client testimonials on my website

Article proofread in English by Ramey Rieger
(since Feb 12, 2011)
Palabras clave: gut3.es, gut3.eu, Translator, Übersetzer, BDÜ, Proofreader, Korrekturlesen, Translator German Spanish, Translator English Spanish, Übersetzer Deutsch Spanisch, Übersetzer Englisch Spanisch, traductor alemán español, traductor inglés español, spanisch übersetzungen, deutsch spanisch übersetzungen, übersetzungen deutsch spanisch, übersetzung von deutsch auf spanisch, deutsch auf spanisch übersetzung, Übersetzungsdienst Spanisch, Übersetzungsservice Spanisch, Business translator English Spanish, Wirtschaft Fachübersetzer Spanisch, Marketing translator English Spanisch, Marketing Fachübersetzer Spanisch, Tourism translator Spanish, Tourismus Übersetzer Spanisch, Touristik Übersetzer quality, state-of-the-art translator, top-Qualitäts Übersetzungen, Tourism translations, Tourismus Übersetzungen, Touristik Übersetzungen, Travel translations, Hotel Übersetzungen, Hotel translations, Travel Agency translations, Reisebüro Übersetzungen, Cruises translations, Cruising translations, Kreuzfahrt Übersetzungen, Air Travel translations, Airport translations, Flughafen Übersetzungen, Gay Travel translations, Marketing translations, Business translations, Commerce translations, Handel Übersetzungen, Wirtschaft Übersetzungen, Betriebwirtschaft Übersetzungen, Volkswirtschaft Übersetzungen, Higher Education translations, University translations, Hochschulwesen Übersetzungen, Universitätswesen Übersetzungen, Human Resources translations, Personalwesen Übersetzungen, Photography translations, Fotografie Übersetzungen
Última actualización del perfil
Dec 11, 2020