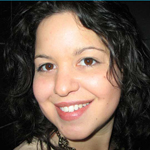 Idiomas de trabajo:
neerlandés a inglés
inglés (monolingüe)
español a inglés
Megan K. Martin
service + marketing + passion



Voorburg, Zuid-Holland, Países Bajos

Hora local:

17:26 CEST (GMT+2)




Idioma materno

: inglés

Feedback from
clients and colleagues
on Willingness to Work Again

1

positive review
Let's bring the world your words - at their best.
Traductor o intérprete autónomo,

Identidad verificada
This person has a SecurePRO™ card. Because this person is not a ProZ.com Plus subscriber, to view his or her SecurePRO™ card you must be a ProZ.com Business member or Plus subscriber.

This person is not affiliated with any business or Blue Board record at ProZ.com.
Translation, Editing/proofreading
Se especializa en
Mercadeo / Estudios de mercado
Publicidad / Relaciones públicas
Negocios / Comercio (general)
Venta al detalle
Educación / Pedagogía
Textil / Ropa / Moda
More
neerlandés a inglés - Tarifas: 0.08 - 0.10 EUR por palabra / 25 - 40 EUR por hora
español a inglés - Tarifas: 0.08 - 0.10 EUR por palabra / 25 - 40 EUR por hora

Muestras de traducción: 5
neerlandés a inglés: Poetry in marketing: Mission statement for Albert Heijn
Texto de origen - neerlandés
Mission Statement:

Albert Heijn maakt het alledaagse betaalbaar en het bijzondere bereikbaar.
Traducción - inglés
Mission Statement:

Albert Heijn makes the everyday affordable and the extraordinary attainable.
neerlandés a inglés: Stylishly stated: Fashion collection intro for Jottum
Texto de origen - neerlandés
Hip of romantisch, kleurrijk of ingetogen, stoer of lief

DE JOTTUM ZOMERCOLLECTIE 2009 HEEFT HET ALLEMAAL!

Amsterdam, mei 2008 - Voor zomer 2009 brengt Jottum haar nieuwe collectie uit met verschillende inspirerende thema's. De unieke Jottum stijl is altijd herkenbaar aan de mooie stoffen, originele dessins, fantasievolle details en fraaie afwerking. Binnen de collectie Flowers full of Joy maakt Jottum gebruik van de frisse zomerse combinatie fel groen/oranje en binnen Chic antique wordt de combinatie zwart/wit op een stijlvolle manier toegepast. Tijdloos en stijlvol, romantisch en echt, ingetogen maar ook uitbundig, zorgvuldig en blijmoedig tegelijk. Helemaal Jottum dus!

Opposites attract
De hoofdcollectie bestaat uit frisse en open dessins van bloemen
Traducción - inglés
Hip or romantic, colourful or understated, tough or sweet

THE JOTTUM SUMMER 2009 COLLECTION HAS IT ALL!

Amsterdam, May 2008 - For summer 2009, Jottum debuts a new collection with several inspiring themes. The unique Jottum style is always recognisable in the beautiful materials, original designs, fanciful details and fine finishing. Within the Flowers Full of Joy collection, Jottum makes use of fresh, summery combinations of vivid green and orange. In Chic Antique, black and white are modishly applied. Timeless and stylish, romantic and real, modest but also exuberant, careful and carefree at the same time. Totally Jottum!

Opposites Attract
The primary collection consists of fresh, unfettered designs of flowers and herbs in dark blue on white, also reversed in white on dark blue. Two-tone cuff buttons add charming detail. Key looks are a dress with a predominantly white front and blue back, and a skirt with beads shaped like upside-down blossoms. This collection keeps mini girls in mind, too.

Mix
neerlandés a inglés: Just right for retail: Catalogue text for Salotto
Texto de origen - neerlandés
VALIGIE - THE ULTIMATE TRAVELPARTNER

Reizen zit ons in het bloed. En we reizen steeds meer, vaker en verder.

Zakelijk of privé, per auto, per trein of boot en natuurlijk met het vliegtuig. We moeten er op uit. En dan hebben we natuurlijk bagage mee want naakt reizen is ook niet alles. En daar hebben we direct de uitdaging. Nemen we een reistas mee of een rugzak. Of hebben we veel meer mee en is zelfs een trolley (natuurlijk cabin sized) niet eens voldoende. Moet het fashionable of klassiek. Hoeveel wielen is beter. Horizontaal of vertikaal. Kunststof of leder. Een vracht aan keuzes die gedaan moeten worden. En dan hebben we alle accessoires nog niets eens behandeld waar alleen al bij Paolo Salotto zoveel keuze is dat we er een complete wand aan moeten wijden!

Daarom hebben we in onze Travel Goods Store op Schiphol Plaza een keur aan specialisten die samen met u uw vragen willen beantwoorden. Die de juiste adviezen kunnen geven gebaseerd op goede training en produktkennis. Die precies weten welke koffer voor u geschikt is.

En dat ze een goede training krijgen van onze partnermerken en natuurlijk binnen onze organisatie is van cruciaal belang. Want wij voeren zoveel merken en ook nog eens per merk vaan zo'n uitgebreide range dan ze niet zonder kunnen.

En u als consument weet ook steeds meer. De Tumi fan weet precies welke trolley hij wil omdat deze moet passen bij de rest van zijn Tumi produkten. De Samsonite consument is dermate internationaal georiënteerd dat hij wellicht in Londen of Singapore al het laatste nieuwe model heeft gezien. De Rimowa reiziger hoeven we niets wijs te maken. De Kipling klant kent echt de nieuwste kleuren. De Claudio Ferrici vrouw kent praktisch ieder model. De Globe-Trotter traveller kent alle negen kleuren binnen het assortiment. Omdat veel merken een grote schare fans kent, met zeer veel kennis van hun merk is de primaire reden dat we zoveel tijd steken in onze verkoopadviseurs.

Omdat er ook nog consumenten zijn die nog niet precies weten wat ze willen hebben. Die niet weten welke maat cabin sized trolley door iedere airline geaccepteerd wordt. Die niet weten dat sommige airlines minder gewicht toestaan. Die niet weten dat niet op alle vluchten een headset of een nekkussen verstrekt wordt. Of die gewoon een goed advies erg op prijs stellen omdat ze dat ook (mogen) verwachten van Travel Goods store op een internationale luchthaven. Ook als ze een keer niet per vliegtuig reizen maar gewoon met de boot of de auto of de trein. Of deze keer gewoon een land te voet doortrekken.

Waar de reis ook naar toegaat, hoe u ook gaat reizen, of het zakelijk is of privé, voor een weekend of voor een maand wij staan u graag bij met goede adviezen.

En dat geldt voor al onze merken in deze prachtige verbouwde winkel. Voor Samsonite, Tumi, Rimowa, Victorinox, Jump, Kipling, Tony Perotti, Globe-Trotter, GoDesign, Olily, Claudio Ferrici, JanSport, of ons eigen label Paolo Salotto.

We wensen u alvast een goede reis. Aan uw bagage zal het niet liggen.
Traducción - inglés
VALIGIE - THE ULTIMATE TRAVELPARTNER
Travel is in our blood. And we are travelling increasingly often, and farther.

We travel for business or pleasure, by car, train or boat and – of course – by airplane. We need to get out and explore. So of course we bring luggage, because travelling naked isn't all it's cracked up to be. And therein lies the challenge. Shall we take an overnight bag or a backpack? Or are we taking much more along, so that just a trolley (carry-on size, of course) isn't enough? Should it be fashionable or traditional? How many wheels are best? Horizontal or vertical? Synthetic or leather? Those are just a few of the choices that have to be made. And that's not to mention accessories – only at Paolo Salotto are there so many choices that we have to dedicate a whole wall to them!

That's why in our Travel Goods Store at Schiphol Plaza we have a team of specialists who will gladly work with you to answer these questions. They can make the correct recommendations, based on training and product knowledge. They know exactly which suitcase is just right for you.

The fact that they receive good training from our partner brands as well as within our organization is of vital importance. Because we carry so many brands and such an extensive product range within each brand that our associates couldn't give exceptional service without that training.

And you, as a consumer, know more and more. The Tumi fan knows exactly which trolley they want, because it has to match the rest of their Tumi products. The Samsonite consumer is so internationally oriented that they very well may have seen the latest new model in London or Singapore. We really don't have to inform the Rimowa traveller. The Kipling client is up to date on the latest colours. The Claudio Ferrici woman has practically every model. The Globe Trotter traveller is familiar with all nine colours in the assortment. The fact that many brands have such a big fan base is the primary reason that we invest so much time in our sales associates.

But there are also many consumers who don't know precisely what they want. They may not know which size carry-on trolley is accepted by every airline. Some aren't necessarily aware that certain airlines have different weight restrictions. They may not know that headsets and pillows aren't provided on all flights. Or, they just highly value good advice because that is what they might expect from a Travel Goods store in an international airport. The same applies when they travel by boat, auto or train instead of by air. Or even whether this time they're trekking through a country on foot.

Wherever you're going, however you're travelling, whether it's for business or pleasure, for a weekend or for a month – we're right here to give you the best advice.

And that goes for all our brands in this splendidly outfitted store: Samsonite, Tumi, Rimowa, Victorinox, Jump, Kipling, Tony Perotti, Globe-Trotter, GoDesign, Olily, Claudio Ferrici, JanSport, as well as our private label, Paolo Salotto.

We wish you a good trip in advance. If not, it won't be your luggage's fault.
español a inglés: Banking on the right words: Press release for ATOS Origin
Texto de origen - español
Atos Origin invertirá 3,5 millones de euros en la oferta 'SAP for Banking' como estrategia para el sector financiero en España

Une capacidades y conocimiento con SAP y Fujitsu-Siemens para liderar en España los procesos de modernización de los cores bancarios y sus plataformas tecnológicas
Atos Origin ha definido una estrategia para los próximos 4 años para acompañar a las entidades financieras españolas tanto en la transformación de sus procesos internos de negocio como en la modernización de sus sistemas y plataformas tecnológicas. Dicha estrategia pasa por una decidida apuesta por las soluciones estándar de la compañía alemana SAP como la mejor opción para estas entidades a la hora de solucionar las necesidades de optimización de sus propios recursos, incrementar la eficiencia en sus costes operativos y mejorar el servicio a sus clientes. Para ello, Atos Origin ha puesto en marcha un ambicioso plan estratégico en el que invertirá 3,5 millones de euros conjuntamente con SAP España y Fujitsu-Siemens.
El Plan Estratégico SAP for Banking 2009-2012 posicionará a las 3 multinacionales como oferta ganadora end-to-end en proyectos que tengan como objetivo mejorar los ratios de rentabilidad y calidad de servicio en el sector financiero español. Al basar estos proyectos en soluciones estándar, se añade como ventaja competitiva los beneficios de unos costes predecibles, la evolución tecnológica de la solución garantizada por SAP, la suma de las mejores prácticas tanto del propio sector como de otras industrias y, sobre todo, un mejor "total cost of ownership" (TCO) comparado con los tradicionales y grandes desarrollos a medida.

SAP for Banking es una suite de productos de software estándar para banca que permite a una entidad financiera disponer de una solución de gestión global, optimizando sus operaciones de gestión comercial, gestión de riesgo y otros procesos bancarios. Además, SAP for Banking acompasa su evolución con los cambios regulatorios de cada país y acorta el plazo de lanzamiento al mercado de productos o servicios financieros.

La experiencia de Atos Origin en el sector financiero se basa en dos pilares fundamentales: por un lado, un equipo de más de 1.700 consultores en España que desarrollan su actividad en entidades financieras, con una larga trayectoria de más de 25 años en proyectos realizados en clientes del sector banca y seguros, a lo que se añade, por otra parte, su política de trabajar como socios de importantes entidades financieras a través de sociedades conjuntas constituidas con ellas.

El plan diseñado por Atos Origin incluye inversiones significativas en la formación cualificada de 50 consultores de banca, que en su mayoría proceden de grandes proyectos de desarrollo e integración de soluciones a medida dentro del sector financiero, para lanzar en 2009 este plan estratégico. El objetivo final es contar con cerca de 250 consultores certificados en SAP for Banking para atender proyectos tanto en España como en otros mercados, fundamentalmente Europa, América Latina y Asía Pacífico.

Al mismo tiempo, en el Centro de Negocio e Innovación de Atos Origin en Madrid se ha creado, conjuntamente con SAP y Fujitsu-Siemens, un entorno real en el que se podrán realizar simulaciones completas, adaptadas a cada problemática de negocio, del funcionamiento, ventajas y valor aportado por la solución.

Luis Pérez Castilla, Director Corporativo de Desarrollo de Negocio de Atos Origin, asegura: "La solución para banca de SAP le convierte en el socio ideal para abordar conjuntamente nuestro plan estratégico para el sector bancario, ya que, junto con nuestra apuesta por Fujitsu-Siemens, nos permitirá acompañar a nuestros clientes en sus proyectos de transformación de sus procesos de negocio gracias a una tecnología probada y a unos partners comprometidos con nuestra estrategia. La presencia de soluciones estándar en el sector bancario va a ser una realidad en los próximos años, y estamos decididos a seguir jugando un papel fundamental en el desarrollo de este mercado en España".
Traducción - inglés
Atos Origin to invest 3.5 million euros in the 'SAP for Banking' offer as strategy for the financial sector in Spain

The company unites capacities and knowledge with SAP and Fujitsu-Siemens to lead the modernisation processes of core banks and their technology platforms in Spain
Atos Origin has defined a strategy for the next four years to support Spanish financial entities in the transformation of their internal business processes as well as in the modernisation of their Systems and technology platforms. This strategy represents definite support for the standardised solutions of German company SAP as the best option for these entities when it comes to handling the need for optimisation of their own resources, increasing efficiency in operating costs and improving service for clients. To that end, Atos Origin has initiated an ambitious strategic plan in which the company will invest 3.5 million euros jointly with SAP Spain and Fujitsu Siemens.
The Strategic Plan 2009-2012, SAP for Banking, will position the three multinationals as a winning end-to-end provider on projects aimed at improving the profitability and quality of service in the Spanish financial sector. Basing these projects on standardised solutions adds the competitive advantages of some predictable costs, technological evolution of the solution guaranteed by SAP, the sum of the best practices in the private sector as well as other industries and, above all, an improved total cost of ownership (TCO) compared to traditional, large-scale custom-made developments.

SAP for Banking is a standard suite of software products for banking that permits a financial entity access to a global management solution, optimising its commerical and risk management operations as well as other banking processes. In addition, SAP for Banking synchronises its evolution with regulatory changes in each country and shortens the time to market for financial products and services.

Atos Origin's experience in the financial sector is based on two fundamental pillars: expertise and partnership. The company has a team of more than 1,700 consultants carrying out their activities at financial entities in Spain, with a long history of more than 25 years realising projects with clients in the banking and insurance sectors. Added to that expertise is the company's continued commitment to working as partners in joint ventures with influential financial entities .

The plan designed by Atos Origin includes significant investments in the certified training of 50 banking consultants, who will primarily work on projects in development and inegration of tailored solutions within the financial sections, in order to launch the strategic plan in 2009. The ultimate goal is to include almost 250 certified consultants in SAP for Banking to handle projects in Spain as well as in other markets – fundamentally Europe, Latin America and Asia Pacific.

At the same time, SAP and Fujitsu Siemens have joined forces with the company in the Atos Origin Business and Innovation Centre in Madrid, creating a real-time environment in which the solution can realise and adapt complete simulations to any business, operation, or sales problem, adding real value.

Luis Pérez Castilla, Business Development Director at Atos Origin, affirms: "The SAP banking solution becomes the ideal partner for jointly undertaking our strategic plan for the banking sector because, in conjunction with our support from Fujitsu-Siemens, it will allow us to accompany our clients on their business process transformation projects. This is all thanks to proven technology and several partners who are committed to our strategy. The presence of standardised solutions in the banking sector will become a reality in the next few years, and we are determined to continue to play a fundamental role in the development of this market in Spain."
inglés: Copywriting that cares: Creative, concise and convincing
Texto de origen - inglés
This is original copywriting work I did for a socially responsible small business.

The full range of pieces included their catalog, sales support materials, product tags and more.
Traducción - inglés
About Chilean Treasures

Chilean Treasures' mission is to share the wonders of Chile through its art work and handicrafts. Since 2001, we've taken a very personal approach to this mission by spending time with Chilean artisans, learning about their lives and meeting their families. By visiting workshops, we also ensure that the products we offer to you are made by adults, under good working conditions, for fair pay.

As we explore Chile and meet more artisan families, we expand our product line to highlight their talents and traditions. Clay bakeware, carved wooden bowls, platters and kitchen utensils are just a few of the high-quality handcrafted household items available. Choose from beautiful copper and bronze holiday ornaments, hand-knitted dolls, framed art, woodcrafts and more for unique gift ideas.

We're committed to building a business based on respect and appreciation for cultural heritage and family values. A new era for Chilean Treasures began in 2003 with the founding of the Chilean Treasures Children's Fund. The fund was established to help Chilean children who face financial hardship due to medical or educational expenses. A percentage of all our gross sales is contributed to the Fund.

In addition to direct retail and wholesale, Chilean Treasures also offers a strong fundraising program. Consider a traditional style fundraiser with handmade copper and bronze holiday ornaments, or hand-carved wooden kitchen utensils. For private fundraising events, we can bring a mobile gift shop to your location. Purchases made will benefit the organization of your choice, as well as the Chilean Treasures Children's Fund.

For more information or to request a catalog, please call 717-583-2983, or email [email protected]
More
Años de experiencia: 23 Registrado en ProZ.com: Feb 2005
N/A
N/A
N/A
Adobe Acrobat, Microsoft Excel, Microsoft Word, Pagemaker, Powerpoint
inglés (PDF)
Bio
At the start of every project, regardless of the sector it pertains to, I ask myself:
"Who is my client's audience or customer?"size=3>

From annual reports to dissertations, from operating manuals to marketing copy - your audience matters. My marketing and business strengths lend a unique edge to my work, because I know every message must compete for attention.

Let's bring the world your words - at their best.
Palabras clave: marketing, advertising, sales, human resources, operations, manual, employees, benefits, HR, communications, PR, public relations, marketing research, education, fashion, retail, government, policy, health, health care, assisted living, retirement, elderly, senior citizens, aging, news, media, television, radio, messaging, translator, proofreader, editor, copywriter, unique, resourceful, wholesale, consumer, consumers, textiles, el marketing, la publicidad, las ventas, los recursos humanos, las operaciones, el manual, los empleados, los beneficios, HORA, comunicaciones, PR, las relaciones públicas, vendiendo investigación, la educación, la moda, la venta al por menor, al por menor, al por mayor, la venta al por mayor, el gobierno, la política, la salud, la asistencia médica, vivir ayudado, la jubilación, personas mayores, los personas de la terceras edades, envejecimiento, las noticias, los medios, televisión, la radio, la mensajería, el traductor, el corrector, el redactor, el escritor de material publicitario, extraordinario, ingenioso, textiles, consumidor, consumidores, Marketing, reclame, verkoop, personeel, operaties, handboek, werknemers, voordelen, HR, communicatie, PR, openbare relaties, die op de marktonderzoek, opvoeding, mode, brengen verkoop in het klein, regering, beleid, gezondheid, gezondheidszorg, geholpen leven, pensionering, bejaarde, belangrijke burgers, verouderend, nieuws, media, televisie, radio, overbrengen, vertaler, corrector, redacteur, tekstschrijver, unieke vindingrijke groothandel, consument, consumenten, textielproducten
Última actualización del perfil
Feb 18, 2009