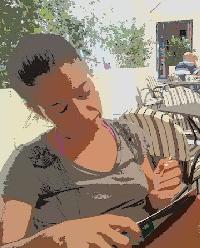 Miembro desde Jul '05
Idiomas de trabajo:
inglés a italiano
español a italiano
Federica D'Alessio
Your Marketing copywriter into Italian



Italia

Hora local:

08:48 CET (GMT+1)




Feedback from
clients and colleagues
on Willingness to Work Again

9

positive reviews

(1 unidentified)


Your feedback
Traductor o intérprete autónomo
This person has a SecurePRO™ card. Because this person is not a ProZ.com Plus subscriber, to view his or her SecurePRO™ card you must be a ProZ.com Business member or Plus subscriber.

This person is not affiliated with any business or Blue Board record at ProZ.com.
Translation, Editing/proofreading, Website localization, Subtitling, Transcription, Copywriting
Se especializa en

Publicidad / Relaciones públicas

Mercadeo / Estudios de mercado

Periodismo

Medios / Multimedia

Cine, películas, TV, teatro

Viajes y turismo

Ciencias sociales, sociología, ética, etc.

Recursos humanos

Poesía y literatura

Juegos / Videojuegos / Apuestas / Casino
More
Puntos de nivel PRO 532, Preguntas respondidas: 263, Preguntas formuladas: 32
Muestras de traducción: 4
inglés a italiano: Gaming - Poker newsletter
General field: Otros
Detailed field: Juegos / Videojuegos / Apuestas / Casino
Texto de origen - inglés
XXX Poker Exclusive 40% Rakeback Deal

XXXPoker has presented an uppgraded Rakeback offer with 40% rakeback available to all players who rake more than £1,500 (or generate an equivalent of 30,000 XXX Poker points) monthly.
This promotion will be available for a period of 3 months - from February to April 2009.
• New players are automatically included in this promotion.
• Existing players with a current XXX Rakeback.com account need to contact XXX Poker helpdesk directly at [email protected] and ask to be included in the 40% rakeback promotion.
Bi-monthly rakeback payments are also introduced at XXX - one main rakeback payment at the end of the month and one top-up rakeback payment at mid-month. XXX has also upgraded their poker client on Wednesday 28th January 2009 with extra features and languages.
Get XXX Poker Exclusive 40% Rakeback Deal Until April

Traducción - italiano
In esclusiva da XXX Poker, rakeback del 40%
XXX Poker presenta un'offerta rakeback aggiornata, con un rakeback del 40% disponibile per tutti i giocatori che collezionano un rake superiore a 1500 £ (o l'equivalente di 30mila punti poker XXX) mensili.
La promozione sarà disponibile per un periodo di 3 mesi, da febbraio ad aprile 2009.
I nuovi giocatori saranno automaticamente inclusi nella promozione.
I giocatori attualmente in possesso di un conto XXX Rakeback.com possono contattare direttamente l'helpdesk di XXX Poker all'indirizzo e-mail [email protected], e chiedere di essere inclusi nella promozione Rakeback del 40%.
XXX dà il via anche ai pagamenti quindicinali rakeback. Un pagamento principale alla fine del mese, una ricarica di pagamento rakeback a metà del mese. Il 28 gennaio 2009, XXX ha inoltre aggiornato il suo poker client, con l'aggiunta di nuove caratteristiche e nuove lingue.
Non fatevi scappare l'offerta esclusiva XXX, un rakeback del 40% fino ad aprile.

inglés a italiano: Art catalogue
General field: Arte/Literatura
Detailed field: Arte, artes manuales, pintura
Texto de origen - inglés
These are all-too-familiar, historic images, but the veil of illusion has been torn off to reveal them reborn as something is new. It's like seeing an old friend smile in a way that you have never seen before, a peculiar fusion of déjà vu and a totally fresh sensibility. The brain is stimulated, perception is sharpened. A powerful seduction draws our gaze into a fascinating world of images we've never seen before.

For Reversed Renaissance, Pignatelli has selected masterpieces of Renaissance art. All incorporate established motifs: the Annunciation, the Virgin and Child, the Last Supper. All address religious themes, have been renowned for centuries, and have been scrutinized by innumerable eyes. What they also share is the cumulative grime of interpretation, amassed through the passage of time.

The reputations of these and so many other historic paintings are now so firmly established that they seem unshakeable. Encountering their world, we find ourselves imprisoned by conventional thinking. Struggle as we might to free our senses and sensibilities, we are slaves to an academicism that has tacitly imposed its seal of approval, its received interpretation. Today, shackled by information and knowledge, we find it difficult indeed to free ourselves from conventional concepts in viewing our artistic heritage. Is the act of gazing at those images with brand new eyes enough to restore the purity of our vision?

The Mona Lisa is Leonardo da Vinci's most famous painting. Famous for the riddles that surround it, it offers plenty to stimulate our imaginations. Was there an actual model? Who was she? What was her relationship to the artist? Why is she smiling so enigmatically? What is the real meaning of that smile?

Traducción - italiano
Immagini come queste sono storiche e fin troppo familiari, ma qualcuno ne ha sollevato il velo dell'illusione per mostrarle rinate, come qualcosa di nuovo. È come notare un vecchio amico sorridere in un modo che non conoscevamo; un intreccio originale fra il déjà vu e un'emozione pura. Stimola il cervello, affila la percezione. Sedotto da questo potere, il nostro sguardo è trascinato in un affascinante mondo di immagini mai viste prima.

Per Reversed Renaissance, Pignatelli ha scelto i capolavori dell'arte rinascimentale, e le sue icone più celebri: l'Annunciazione, la Madonna col Bambino, l'Ultima Cena. Sono opere d'argomento religioso, rinomate da secoli, tutte già scrutate da infinite paia di occhi. Ma ad unirle c'è anche un cumulo di sporcizia: la polvere dell'interpretazione, accumulatasi col passare del tempo.

La reputazione di queste e tante altre pitture storiche è ormai così affermata da sembrare intoccabile. Avvicinandoci a loro, il nostro pensiero si ritrova imprigionato nelle convenzioni. Per quanto lottiamo per liberare i nostri sensi e la nostra sensibilità, rimaniamo schiavi di un accademicismo che ha tacitamente imposto il suo sigillo d'approvazione, la sua lettura istituzionale. Oggi, incatenati come siamo all'informazione e alla conoscenza, paradossalmente è difficile per noi guardare al nostro patrimonio artistico in modo libero dalle convenzioni. Basterà osservare queste immagini con occhi nuovi, per ridare purezza a ciò che vediamo?

Monna Lisa è il dipinto più conosciuto di Leonardo da Vinci. Famoso per i quesiti che vi aleggiano attorno, non smette mai di stimolare la nostra immaginazione. Si trattava di una modella vera? Chi era? Che legame aveva con l'artista? Perché sorride in modo tanto enigmatico? Cosa significa davvero quel sorriso?

inglés a italiano: Social Science
General field: Ciencias sociales
Detailed field: Ciencias sociales, sociología, ética, etc.
Texto de origen - inglés
Psychological Antecedents of Strategic Choice

In conflict situations, negative attitudes toward the other party (Kinzel & Fisher, 1993) and seeing the other as a group member (Rothbart and Hallmark, 1988) encourage the use of contentious tactics and escalation. So, too, does dehumanization of the other party (Kelman & Hamilton, 1989). One source of dehumanization is the sense that the other party rejects values that are important to oneselvef (Robinson & Friedman, 1995; Struch & Schwartz, 1989). An extreme form of dehumanization, which often underlies escalation, involves a view of the other as demonic (Rouhana & Kelman, 1994) or as a diabolical enemy (White, 1984). Contentious tactics also become more likely when the other party is deindividuated, in the sense of not being perceived as a separate individual (Worchel & Andreoli, 1978). Deindividuation may explain why heavily escalated tactics are more likely when the other is at a physical (Milgram, 1992) or social (Ransford, 1968; Struch & Schwarz, 1989) distance from the actor.

Several studies have looked at the psychological antecedents of negative reciprocity. Negative reciprocity (e.g., respondig to criticism with criticism) is especially likely if one blames the other party rather than oneself, for the other's party behavior (Bradbury & Finchman, 1992; Mikolic, Parker, & Pruitt, 1997; Sillars, 1981). Internal, stable and global attributions about the other's behavior also encourage negative reciprocity (Bradbury & Finchman, 1992; Felson, 1982). Blame of the other and negative reciprocity arise if it appears that the other party could have foreseen the negative consequences of the behavior in question (Ferguson & Rule, 1983) or if that behavior is seen asv intentiona, selfish or nonnormative (Arnold & Carnevale, 1997; Bradbury & Finchman, 1992; Dyck & Rule, 1978; Remland, Jones, & Brown, 1994). Blame of the other also tends to arise from negative attitudes and distrust (Blumenthal et al., 1972). Happy moods encourage blame of the other, while sad moods encourage self-blame (Forgas, 1994).
Traducción - italiano
Antecedenti psicologici delle scelte strategiche

In situazioni di conflitto, atteggiamenti negativi verso l'altro (Kinzel & Fisher, 1993), e la visione dell'altro come membro di un gruppo estraneo (Rothbart & Hallmark, 1998), incoraggiano l'uso di tattiche di scontro e l'escalation del conflitto stesso. Un effetto simile è prodotto anche dalla deumanizzazione dell'altro (Kelman & Hamilton, 1989). Una delle cause della deumanizzazione è l'idea che l'altro rifiuti valori che sono per noi importanti (Robinson & Friedman, 1985; Struch & Schwartz, 1989). Una forma estrema di deumanizzazione, spesso alla radice dell'escalation, è legata a una visione dell'altro come essere demoniaco (Rouhana & Kelman,1994) o come un nemico diabolico (White, 1984). Le tattiche di scontro divengono inoltre più possibili quando l'altro è deindividualizzato, vale a dire che non è più percepito come un singolo individuo (Worchel & Andreoli, 1978). La deindivindualizzazione ci può spiegare per quale ragione tattiche di escalation intensa sono più probabili quando l'altro è distante dall'attore in senso fisico (Milgram, 1992) o sociale (Ransford, 1968; Struch & Schwartz, 1989).

Diversi studi hanno indagato gli antecedenti psicologici alla reciprocità negativa. La reciprocità negativa (ad es. rispondere ad una critica con una critica) ha maggiori probabilità di realizzarsi quando si colpevolizza l'altro per il suo comportamento, più che se stessi (Bradbury & Fincham, 1992; Mikolic, Parker & Pruitt, 1997; Sillars, 1981). Anche l'attribuzione del comportamento dell'altro a caratteristiche intrinseche, generali e statiche incoraggia la reciprocità negativa (Bradbury & Fincham, 1992; Felson, 1982). La colpevolizzazione dell'altro e la reciprocità negativa crescono se ci sembra che l'altro abbia previsto le conseguenze negative dell'atteggiamento in questione (Ferguson & Rule, 1983) o se detto atteggiamento è percepito come intenzionale, egoistico, o contro le regole (Arnold & Carnevale, 1997; Bradbury & Fincham, 1992; Dyck & Rule, 1978; Remland, Jones, & Brown, 1994). La colpevolizzazione dell'altro tende anche a derivare dai comportamenti negativi e dalla diffidenza (Blumenthal et. al., 1972). Gli stati d'animo positivi dell'altro incoraggiano la colpevolizzazione, mentre quelli tristi incoraggiano l'auto-colpevolizzazione (Forgas, 1994).


inglés a italiano: Bora Bora guide
General field: Mercadeo
Detailed field: Viajes y turismo
Texto de origen - inglés
Town/ City Name
Bora Bora

Short history of Town
Bora Bora is one of the Leeward Society Islands of French Polynesia which include Rai'atea, Huahine, Maupiti, Tahaa, Maiao, Maupihaa, Tupai, Manuae and Motu One. It is believed to have been first inhabited by Polynesian settlers that sailed through the Teavanui Pass (the only break in the coral wall surrounding the island) in the 9th century. The first settlers called it Vavau, meaning first born as ancient legends suggest that this land was the first to rise from the water when the supreme god Taaroa summoned it from the ocean. It then became known as Pora Pora. In 1769 that intrepid explorer Captain Cook misheard the first explanation and subsequently called it Bola Bola, although the letter B does not exist in the Polynesian language.

Other Europeans laid claim to the island during the 18th century. These were the Englishman Samuel Wallis and Louis Antoine de Bougainville, the French navigator. The French prevailed but the locals resisted colonisation until 1888. In 1946 Polynesia became an overseas territory of France and by 1958 was renamed French Polynesia. Today the ties with France are still strong although the region has its own elected government.

Tahitian and French are the official languages but most locals can manage quite well in English too as the island was an important strategic point for the Americans during the second world war. They spent a considerable amount modernising the infrastructure, including the airport and throughout the island there are numerous artillery remnants dating back to that period.

Useful Information
Surface Area 44 sq km.
Population 7700 inhabitants

Location: Geographic situation and distance from Capital
Bora Bora is an island, part of French Polynesia, a member of the Leeward Society islands. It is located 260 km northwest of Papeete, the capital of Tahiti, on the main island.
Distance in km from:
London 15375 , Paris 15708, Madrid 15944 Berlin 15792, Vienna 16316, Zurich 16125, Rome 16803

Climate:
Average temp in Summer 28 º C/Winter 26 º C
Average rainfall 1800mm

Main Tourist Sites/ Monuments
The Lagoonarium, a natural aquarium
The American cannons from WW2
The coral garden at Taurere
The white sand beach of Matira
Sea turtle protection centre at Le Méridien Hotel
The Marine Museum in Faanui
Hiro's Bells, the echoing rocks

How to get there:
The plane journey from Tahiti Faa's international airport takes about 45 minutes. The airport at Bora Bora is on a small islet or motu and Air Tahiti operates a boat service to transport passengers to Vaitape, the main village. The journey takes about 15 minutes.

Getting around
With only 32km of paved road, one of the easiest ways of getting around is by open bus. There are taxis, but they need to be called. The 4X4 tours are popular for seeing the island. Bicycles, cars and scooters are also available for hire. There are plenty of boats for hire to tour the coast.

Main Events and Annual Celebrations
May
Tahiti Pearl Regatta
An international regatta in the Leeward Islands
June/July
Heiva I Bora Bora
Very popular cultural festival with singing, dancing, arts and crafts.
October
Hawaiki Nui Va'a
Over 100 international teams of outrigger canoeists compete in an open ocean race between the islands.

Local Food and Drink
While French-inspired menus are prolific, the traditional cuisine of Polynesia is firmly based on local ingredients. The national dish is ia ota also known as poisson cru. Chopped vegetables are added to the freshest raw fish, marinated in lime juice and then soaked in delicious coconut milk. Little freshwater shrimp called chevrettes are eaten throughout the islands, often served curried.
Seafood features heavily on most menus, with parrot fish, mahi mahi and many others, traditionally cooked with delicate home grown vanilla and fresh coconut-milk. In fact vanilla, coconut and lime are the mainstays of the cuisine for both sweet and savoury dishes. Indigenous staples such as bread fruit, manioc, taro and sweet potatoes are also popular.

Authentic feasts called tamaaraa are a great opportunity to sample local food and soak up the culture, where visitors can enjoy a night's entertainment with singing, dancing and a wealth of exotic local dishes. Fish, pork and chicken are roasted in a special underground oven, the ahimaa. For dessert, why not try poe, a taro root pudding that is flavoured with papaya, pumpkin, banana or vanilla.

As expected of a previous French colony, fresh bread is an important part of the daily diet and delicious croissants are perfect for breakfast with coffee flavoured with vanilla and served with coconut cream and sugar.
For some super fast super cheap food, the roulettes or rolling restaurants are usually positioned at Vaitape harbour, to take advantage of the cruise ship visitors, disembarking for some shopping. Here hungry tourists can choose from chow mein, pizza, roast pork or French pancakes. A world of food on a little island.



Traducción - italiano
Nome della città
Bora Bora

Breve storia della città
Bora Bora è una delle Isole Sottovento della Polinesia francese, che comprendono Raiatea, Huahine, Maupiti, Tahaa, Maiao, Maupihaa, Tupai, Manuae e Motu One. Si ritiene che i suoi primi abitanti siano stati coloni polinesiani giunti qui via mare attraverso il passaggio di Teavanui (l'unica breccia nella barriera corallina che circonda l'isola) nel IX secolo. I primi colonizzatori la chiamarono Vavau, che vuol dire "primogenita", secondo l'antica leggenda per cui l'isola fu la prima a emergere dalle acque quando il dio supremo Taaroa la invocò dall'oceano. In seguito divenne nota come Pora Pora. Nel 1769, l'intrepido esploratore Capitan Cook ne fraintese il nome e la chiamò quindi Bola Bola, sebbene la lettera B non esista nel linguaggio polinesiano.

Durante il XVIII secolo altri europei si contesero il possesso dell'isola: l'inglese Samuel Wallis e il navigatore francese Louis Antoine de Bougainville. I francesi prevalsero, ma incontrarono la resistenza della popolazione locale, che si oppose alla colonizzazione fino al 1888. Nel 1946 la Polinesia divenne territorio francese oltreoceano, e nel 1958 fu rinominata Polinesia Francese. Nonostante la regione abbia un suo governo eletto in proprio, i legami con la Francia sono tuttora molto forti.

Le lingue ufficiali sono il tahitiano e il francese, ma molti nativi conoscono abbastanza bene l'inglese, poiché durante la Seconda Guerra Mondiale l'isola è stata un presidio strategico importante per gli americani. Questi ultimi si sono spesi molto nella modernizzazione delle infrastrutture, compreso nell'apertura dell'aeroporto, e lungo tutta l'isola rimangono diversi resti di artiglieria risalenti a quel periodo.

Informazioni utili
Superficie: 44 km2
Popolazione: 7700 abitanti

Ubicazione: situazione geografica e distanza dalla capitale
Bora Bora è un'isola, parte dell'arcipelago della Polinesia Francese e delle Isole sottovento. Si trova 260 km a nord-ovest di Papeete, capitale di Tahiti, l'isola principale.
Distanza in km da:
Londra 15.375, Parigi 15.708, Madrid 15.944, Berlino 15.792, Vienna 16.316, Zurigo 16.125, Roma 16.803
Clima
Temperatura estiva media: 28° C/Invernale 26° C
Media annuale delle precipitazioni: 1800mm

Siti turistici principali/Monumenti
Il Lagunario, un acquario naturale
I cannoni americani della Seconda Guerra Mondiale
Il giardino corallino di Taurere
La spiaggia di sabbia bianca di Matira
Il centro di protezione della tartaruga di mare all'Hotel Le Méridien
Il Museo Marino di Faanui
L'eco montana delle Campane di Hiro

Come arrivare:
Il viaggio in aereo dall'aeroporto internazionale di Tahiti Faa dura circa 45 minuti. L'aeroporto di Bora Bora si trova su una piccola isoletta, o "motu", e Air Tahiti mette a disposizione un servizio di trasporto passeggeri in barca fino a Vaitape, il villaggio principale. Il viaggio dura circa 15 minuti.

Come muoversi
Uno dei modi più semplici per muoversi lungo i 32 km di strada asfaltata è utilizzare i bus scoperti. I taxi sono disponibili su chiamata. Molto apprezzati per esplorare l'isola anche i tour in 4x4. È possibile noleggiare biciclette, auto e scooter. Per fare un giro della costa ci sono invece molte barche disponibili a noleggio.

Eventi principali e celebrazioni annuali
Maggio
Regata della Perla di Tahiti
Una regata internazionale nelle Isole Sottovento
Giugno/Luglio
Heiva I Bora Bora
Festival di cultura popolare molto conosciuto, con canti, danze, arte e artigianato.
Ottobre
Hawaiki Nui Va'a
Più di 100 squadre internazionali di canoa a bilanciere si affrontano in una corsa in pieno oceano fra le isole.

Cibo e bevande locali
I menù d'ispirazione francese abbondano, ma la cucina tradizionale polinesiana si basa fermamente sugli ingredienti del luogo. Il piatto nazionale è lo ia ota, o alla francese poisson cru. È un piatto di verdure tritate abbinate a pesce crudo freschissimo, marinato in succo di lime e dunque imbevuto in delizioso latte di cocco. Molto comuni in tutta l'isola i gamberetti d'acqua dolce detti chevrettes, spesso serviti con curry.
I frutti di mare sono abbondantemente presenti in tutti i menù, insieme al pesce pappagallo, al mahi mahi e a molti altri, preparati tradizionalmente con delicata vaniglia domestica e latte di cocco fresco. Vaniglia, cocco e lime sono i veri pilastri della cucina locale, tanto nei piatti dolci quanto in quelli salati. Molto popolari anche prodotti indigeni come il frutto dell'albero del pane, la manioca, il taro e le patate dolci.

Le feste tipiche, dette tamaaraa, sono una grande opportunità per assaggiare il cibo e assorbire la cultura locale. Agli ospiti sono riservate piacevoli notti di divertimento tra canti, balli, e un'abbondanza di cibi locali. Pesce, maiale e pollo vengono arrostiti in un forno speciale interrato, l'ahimaa. Per dessert consigliamo di provare il poe, un budino di taro insaporito con papaya, zucca, banana o vaniglia.

Come ci si può aspettare dato l'importante passato coloniale francese, il pane fresco è una parte importante della dieta giornaliera, e i croissant sono una scelta deliziosa e perfetta per la colazione, insieme al caffè aromatizzato alla vaniglia e servito con crema di cocco e zucchero.
Se cercate cibo super-rapido o super-economico le roulettes o ristoranti ambulanti si trovano di solito al porto di Vaitape, dove incrociano i visitatori in crociera che scendono a terra per fare shopping. I turisti affamati potranno scegliere fra spaghetti cinesi, pizza, maiale arrostito o frittelle francesi. Cibo del mondo, a disposizione in una piccola isola.



More
EN>ES, EN>IT, ES>EN, ES>IT, Human Resources, IT>EN, IT>ES, PT>IT, Slang
Master's degree - University of Bologna, Italia
Años de experiencia: 20 Registrado en ProZ.com: Jul 2004 Miembro desde Jul 2005
inglés a italiano (University of Bologna)
español a italiano (University of Bologna)

Biblit
Adobe Acrobat, Adobe Illustrator, Adobe Photoshop, Dreamweaver, Frontpage, Indesign, memoQ, Microsoft Excel, Microsoft Word, InDesign, Pagemaker, Passolo, Powerpoint, QuarkXPress, SDL TRADOS, SDLX, Wordfast
http://www.federicadalessio.wordpress.com
CV available upon request
Federica D'Alessio apoya ProZ.com's Directrices profesionales (v1.1).
Bio
YOUR ITALIAN MARKETING TRANSLATIONS AND TRANSCREATIONS
Follow my activity also on my
professional blog

Education and Qualifications:

2009 Accredited as a Journalist by the Italian Ordine dei giornalisti.

2004 Executive Master Degree in Marketing and Communications, Stogea Institute, Bologna, Italia.

2003 Degree in Communications, University of Bologna, Italia.

1995 High School Diploma (Liceo Scientifico), Chieti, Italia.

Working Languages:

ITALIAN: Mothertongue.
SPANISH: Source Language. Formally mothertongue (Spanish mothertongue father). Lived in Spain 3 years.
ENGLISH: Source Language. Excellent skills in both reading and writing.

Computer Tools:
Windows 7/Mac Os X
ADSL Wifi connection
Office (Word, Excel, Powerpoint, Publisher, Access)
Adobe Creative Suite (Reader, Illustrator,Indesign)
Cat tools: Trados 7.0, Wordfast Pro, MemoQ
SEO tools: Google Adwords, Google Webmaster Tools, CMSs

Main experience and Expertise

TRANSCREATION- COPY EDITING - COPYWRITING:
Since 2003, I've been working with many international agencies for the copywriting of many Advertising campaigns. I've edited and translated punchlines, frontlines, bodycopies, pay offs, brochures, packages, fliers and creative contents for such huge operators in the following markets:
AUTOMOTIVE/MOBILE COMMUNICATIONS/IT/PRINTERS/
FASHION & SPORTS/TOURISM/FOOD AND DAIRIES and more...
I've been dealing with communications B2B, B2C, internal communications, press, web, TV and billboards.

MARKETING, BUSINESS, SALES, HUMAN RESOURCES:
Since 2000, I've been collaborating as a freelancer or in house translator with some multinational companies for translations regarding:
- Business issues: reports, studies, market researches and surveys, business courses.
- Human resources and training courses: manuals, human resources politics, training courses, e-learning programmes and manuals.
- Marketing and Advertising: brochures, claims, press releases.

TOURISM:
I've been translating millions of words in this field; any kind of reviews and tourist guides about hotels, newsletters and website contents for online travel agencies, online travel communities and so on. I've been also collaborating as a freelancer with many companies for translation of hotels websites, tourism brochures, short books, advertising and press releases regarding tourism and marketing for tourism, and subtitles for a TV programme about the best Hotels in the world.

GAMING:
Since 2005 I translate and directly produce contents for poker and casino websites, online gaming companies, press releases and a huge amount of Gaming international news about events (e.g. World Poker Tour etc.), conferences and expos.
Among my end clients: Full Tilt Poker, 888.it, Sportingbet.com, Chartwell Casinos, Betfair.com.
I'm a journalist and PR in the field, that's why I've a deep understanding of gaming vocabulary and concepts.

SUBTITLING:
From 2004 to present: I've been collaborating with several agencies for translation and subtitling from English to Italian of cartoons, sit-coms, trailers, documentaries, movies and more for various channels such as Sony Pictures, Disney Channel, Fox, Discovery Channel, History Channel, BBC Network, Fox Life, E!Entertainment, MTV.
Up today I've translated at least 10 thousands minutes of TV.

PUBLISHED TRANSLATIONS:
In 2007 I translated my first novel, Eclipse from Stephenie Meyer (co-translation), by Fazi Editore. In 2008, I co-translated even Breaking Dawn, last Meyer's bestseller. I collaborated with the Spanish publisher "Editorial La Mascara" and its Italian partner "Logos Edizioni" for translation, from Spanish
to Italian, of short books about rock bands and musicians. From 2003 to present I've been collaborating with many publishers and galleries for translation of Art Catalogues, Brochures and also subtitling of many TV Art documentaries to be seen on History Channel (Sky Network).

JOURNALISM:
Since 2006 I'm an accredited journalist and I've been particularly writing for the main Gambling dedicated Italian press agencies; my articles and news have been published in all the main Italian newspapers and magazines.
My last project in journalism: www.bibliocartina.it
Palabras clave: marketing translations italian, transcreations italian, english to italian marketing translator, english to italian SEO translator, english to italian copywriting, english to italian copy editing, web marketing translations, english to italian web marketing translations, spanish to italian translator, spanish to italian marketing translator, spanish to italian marketing transcreator
9 visitas durante el mes pasado,
de un total de 9 visitantes Este perfil ha recibido
Última actualización del perfil
Jan 16, 2019