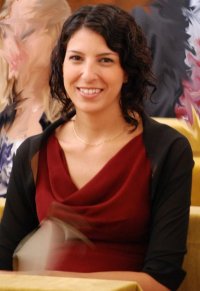 Miembro desde Jun '10
Idiomas de trabajo:
inglés a italiano
español a italiano
italiano (monolingüe)
Availability today:
| | | |
| --- | --- | --- |
| | February 2021 | |
S
M
T
W
T
F
S
1
2
3
4
5
6
7
8
9
10
11
12
13
14
15
16
17
18
19
20
21
22
23
24
25
26
27
28
Simona Sgro
Buy words that sell!



Rome, Lazio, Italia

Hora local:

02:53 CET (GMT+1)




Idioma materno

: italiano

PayPal accepted
Translator, transcreator & copywriter.. with direct experience in fields!
Traductor o intérprete autónomo,

Miembro con identidad verificada
This person has a SecurePRO™ card. Because this person is not a ProZ.com Plus subscriber, to view his or her SecurePRO™ card you must be a ProZ.com Business member or Plus subscriber.

This person is not affiliated with any business or Blue Board record at ProZ.com.
Translation, Editing/proofreading, Website localization, Training, Copywriting
Se especializa en

Cosméticos / Belleza

Viajes y turismo

Venta al detalle

Internet, comercio-e

Publicidad / Relaciones públicas

Mercadeo / Estudios de mercado

Cocina / Gastronomía
Informática (general)

Informática: Programas
More
inglés a italiano - Tarifas: 0.07 - 0.10 EUR por palabra / 18 - 25 EUR por hora
español a italiano - Tarifas: 0.07 - 0.10 EUR por palabra / 18 - 25 EUR por hora

PayPal, Transferencia electrónica, Marque | Send a payment via ProZ*Pay
Muestras de traducción: 8
inglés a italiano: Sample from Make-up Catalogue
General field: Mercadeo
Detailed field: Cosméticos / Belleza
Texto de origen - inglés
MAKE-UP / GET THE LOOK
LIMITED EDITION
Get The Look

Think enchanting elegance this season with our new Spring Make-Up Collection. It's limited edition so make sure you don't miss out!

Create a natural-looking, radiant glow with XXX Glow Enhancer. Colour eyelids with Shimmer Duo and sweep cheeks with Blushing XXXX. Finally, slick lips with Lip XXXX for a gorgeously shiny pout.

The look of spring. Enchanting. Shimmering. Fabulous.

Traducción - italiano
MAKE-UP / CREA IL LOOK
EDIZIONE LIMITATA
Crea il look

Una seducente eleganza caratterizza questa stagione grazie alla nostra nuova collezione Make-Up primaverile. E' in edizione limitata: non lasciartela sfuggire!

Sfoggia un colorito naturale e radioso con l'Illuminante Viso XXX. Accendi di colore le palpebre con l'Ombretto Duo Scintillante ed evidenzia gli zigomi con il Fard XXX. Per un sorriso ultra sexy e luminoso, non dimenticare infine di stendere il Gloss
XXX sulle labbra.

Il look della Primavera. Seducente. Scintillante. Straordinario.

inglés a italiano: Sample from Xmas catalogue
General field: Mercadeo
Detailed field: Cosméticos / Belleza
Texto de origen - inglés
The holidays are finally here! And you'll find XXXXXX is the natural place to shop. We've got everything you need for the ones you love – from inspired gifts to luxurious goodies, made with great natural ingredients.
Look out for our fabulous seasonal specials to bring the natural warmth of the holidays into your bath-time. Or our captivating fragrances and Special Edition winter trend make-up, to help you sparkle all season long.
If you can't find what you're looking for, why not pick one of our seasonal bags or boxes and Create Your Own Gift with all your favourite products.

Got your gift list ready? Start ticking!

Traducción - italiano
Le feste sono finalmente arrivate e XXXX costituisce la scelta più naturale per i tuoi acquisti natalizi. Ti offriamo tutto ciò che desideri per i tuoi cari: regali esclusivi, seducenti e ricchi di straordinari ingredienti naturali.
Vieni a scoprire le nostre festose linee bagno & corpo natalizie: ti catapulteranno immediatamente nella calda ed avvolgente atmosfera natalizia. Le nostre accattivanti fragranze ed il trucco per l'Inverno 2006 in edizione Speciale ti faranno brillare durante le feste.
E se non riesci a trovare ciò che cerchi, scegli uno dei nostri sacchetti o una scatola e crea una confezione regalo personalizzata con i tuoi prodotti preferiti.

Hai preparato la lista dei regali? Allora comincia a scegliere tra le nostre favolose proposte!

inglés a italiano: sample from Home Fragrance catalogue
General field: Mercadeo
Detailed field: Cosméticos / Belleza
Texto de origen - inglés
HOME FRAGRANCE/ BURNERS AND OILS
Of all our senses, smell is perhaps the most evocative – summoning to mind past pleasures and future promises as effortlessly as a perfume reflects our mood. Your home already expresses you. And thanks to our home fragrance range its scent can do the same

An ancient custom, warming drops of precious oil over a low flame is still the most evocative way of releasing the magic of fragrance into a room. Be your home rustic, romantic, minimalist or modern, we have the burner to suit your style.
Traducción - italiano
PROFUMAMBIENTE/ OLI E DIFFUSORI
Tra i sensi l'olfatto è senza dubbio il più suggestivo: evoca ricordi del passato e promesse di futuri piaceri, così come un profumo riflette il nostro stato d'animo. Anche la tua casa ti rispecchia. Sentila ancora più tua con la nostra linea di fragranze per la casa.

Antica e diffusa tradizione, quello di scaldare oli profumati su di una fiamma è ancora oggi il modo più suggestivo di avvolgere una stanza in una piacevole fragranza. Che la tua casa sia rustica, romantica, minimalista o moderna, abbiamo il diffusore e l'aroma adatto al tuo stile.
inglés a italiano: sample from training manual for staff on skincare
General field: Mercadeo
Detailed field: Cosméticos / Belleza
Texto de origen - inglés
The hypodermis, the bottom layer of the skin, acts as a thermal insulator and shock absorber for the body. It contains fat and muscles.

The dermis, or middle layer, has several functions. Most importantly, it delivers nutrients to the epidermis, and supports the skin with collagen and elastin. Collagen and elastin are substances that support your skin and keeps it flexible. Think of them as the pillars that support a building. Over time, age, free radical damage and sun damage cause the pillars to weaken and crumble. As the pillars collapse, they are unable to support the skin, resulting in sagging and wrinkling.

The Epidermis is the outer layer of the skin, the one you can see and touch. Remember, this is the layer where our skin care products work. You know that this layer is made of skin cells that are produced and die off about every 28 days, and that's why it takes about that time to see best results from your skin care regime.
Traducción - italiano
L'ipoderma, lo strato più profondo della pelle, che ospita grasso e muscoli, agisce come un isolante termico ed un ammortizzatore.

Il derma, lo strato mediano, svolge diverse funzioni. In primo luogo apporta all'epidermide il nutrimento necessario e sostiene la pelle attraverso le sostanze che lo compongono, il collagene e l'elastina. Queste mantengono la pelle elastica e la sorreggono come colonne portanti con un edificio. Con il passare del tempo, l'età, i radicali liberi ed i danni causati dal sole indeboliscono e sgretolano i pilastri. Collassando, essi non sono più in grado di sostenere la pelle, causando perdita di tono e rughe.

L'epidermide è lo strato più superficiale della pelle, quello che possiamo osservare e toccare e quello sul quale agiscono i nostri prodotti. Già sai che questo strato è costituito di cellule che hanno una vita di circa 28 giorni, periodo necessario dunque per ottenere risultati apprezzabili dal proprio programma viso quotidiano.
inglés a italiano: Sample - tourism & travel
General field: Mercadeo
Detailed field: Viajes y turismo
Texto de origen - inglés
Camellias Festival, Locarno: 29.03 – 02.04.06
An event for the public at large, and lovers of camellias in particular, to pay tribute to this charming symbolic flower whose ideal habitat is the region around Lake Maggiore. Over 300 varieties on show, imaginative displays created by professional gardeners, folk music, enchanting tea ceremonies and Ikebana displays will lead you into a world of springtime dreams. Come and join us in Locarno for a celebration of camellias and springtime, in the grounds of the Società Elettrica Sopracenerina in Piazza Grande!
For real enthusiasts of camellias and magnolias, we also recommend a visit to the Botanic Gardens of Gambarogno.

Traducción - italiano
Festa delle Camelie, Locarno: 29.03 – 02.04.06
Un evento dedicato al grande pubblico ed agli amanti delle camelie in particolare, che celebra questo fiore simbolico ed affascinante il cui habitat ideale è rappresentato dall'area attorno al Lago Maggiore. Più di 300 varietà in mostra, allestimenti fantasiosi realizzati da giardinieri professionisti, musica folcloristica, seducenti cerimonie del tè ed esposizioni di Ikebana ti condurranno in un mondo di sogni immersi nella Primavera. Vieni a trovarci a Locarno: celebreremo insieme le camelie e la Primavera nei locali della Società Elettrica Sopracenerina nella Piazza Grande!
Ai veri appassionati di camelie e magnolie, raccomandiamo anche la visita dei Giardini Botanici di Gambarogno

inglés a italiano: Brand Storytelling
General field: Mercadeo
Detailed field: Publicidad / Relaciones públicas
Texto de origen - inglés
[Product name] began one cold, dark winter night when we realised that no one made a gin-filled Advent calendar. To resolve the deplorable absence of our precious juniper spirit during the season of festivities, we designed, crafted and installed a 2 x 2 metre calendar in a central London bar and each day opened a new door. We celebrated the gin inside by serving up G&Ts and cocktails, as well as hosting tastings and generally sharing the gin love.
The calendar was an instant hit and we were flooded with requests to miniaturise it in order to spread the festive cheer by making it available for all to enjoy in their homes. Not everyone can get to London, apparently, and this was an idea that needed to be democratised. The rest, as they say, is history and five years on the [Product name] Calendars have gone global…
[Product name] calendars are representative of [distributor]'s core mission: to celebrate Gin and help drinkers find their perfect tipple. [Product name] is a central pillar on which we further this aim, and to accomplish this we dedicate months of each year to discussing the exact right gins and plotting ways to bring the calendars to life.

Traducción - italiano
Era una buia notte d'inverno quando ci rendemmo conto che nessuno aveva mai pensato a creare un calendario dell'Avvento con piccole bottiglie di gin. Fu così che nacque [Product name]. Al fine di rimediare alla deplorevole assenza del prezioso distillato di ginepro durante il periodo natalizio, ideammo, realizzammo e installammo un calendario di 2 metri per 2 in un bar nel centro di Londra, aprendo ogni giorno una nuova finestra. Celebrammo il protagonista del calendario servendo gin tonic e cocktail, offrendo degustazioni e, in generale, condividendo l'amore per il gin.
Il calendario fu un successo immediato e fummo sommersi dalle richieste di miniaturizzarlo in modo che lo spirito di festa potesse entrare nelle case di tutti. A quanto pare non tutti possono arrivare fino a Londra e questa era un'idea che andava democratizzata. Il resto, come si suole dire, è storia e cinque anni più tardi i Calendari [Product name] sono oggi disponibili a livello globale…
I Calendari [Product name] sono emblematici della missione principale di [distributor]: valorizzare il Gin e aiutare i consumatori di alcolici a scoprire il bicchierino perfetto per loro. [Product name] costituisce un pilastro centrale attraverso cui perseguiamo questo obiettivo, e per raggiungerlo dedichiamo diversi mesi ogni anno a discutere su quali siano i gin più adatti e la rappresentazione grafica ideale per dare vita ai nostri calendari.

inglés a italiano: press release
General field: Técnico/Ingeniería
Detailed field: Publicidad / Relaciones públicas
Texto de origen - inglés
The researchers, from University College London (UCL), said their findings contradict the common perception that "fat shaming" helps people lose weight.

They suggested that people may "comfort eat" as a result of being discriminated against because of their weight.

Traducción - italiano
I ricercatori della University College London (UCL) hanno dichiarato che i risultati delle loro ricerche smentiscono l'opinione diffusa secondo cui l'atto di umiliare chi è in sovrappeso (il cosiddetto fat shaming) aiuti le persone a dimagrire.
I ricercatori asseriscono che l'essere discriminati per il proprio peso potrebbe indurre le persone a mangiare per compensare l'emozione negativa.

español a italiano: Daily expeditions
General field: Otros
Detailed field: Viajes y turismo
Texto de origen - español
Geyser del Tatio
Son casi las 6 am y la temperatura exterior alcanza los 15 grados bajo cero. Pareciera que casi nadie está lo suficientemente preparado para soportar el frío extremo, que realmente cala los huesos. En el horizonte, ante la mirada atónita de los cientos de turistas que visitan cada día el lugar, se ven las columnas de vapor emanado desde la tierra. La gente recorre la zona, siguiendo a los guías, mientras escuchan atentos la explicación del fenómeno que observan.
El Tatio, que en quechua significa "El viejo que llora", es el tercer campo de geysers más grande del mundo. Las erupciones de agua alcanzan grandes alturas, y son producidas debido a que bajo del lugar convergen aguas subterráneas sobre un campo de lava, y que al mezclarse producen las enormes columnas de vapor y gases que son expulsadas por las fisuras, superando en ocasiones los 10 metros de altura. Este campo geotérmico está formado por 40 geysers, 60 termas y 70 fumarolas en una extensión de 3 km2 .
Luego del primer recorrido por los geysers, es hora de desayunar y calentar el cuerpo, mientras se espera la salida del sol. Casi a las 7.30 aprox comienzan a aparecer, tras el volcán del mismo nombre, los primeros rayos del sol que apuntan directamente a los geysers. El espectáculo comienza en todo su esplendor, los distintos tonos que iluminan las columnas de vapor, generan una de las más lindas postales de la zona. La gente no para de fotografiarse desapareciendo y apareciendo entremedio del vapor. La temperatura comienza a subir, y dentro de un rato volverá a niveles sobre cero. Es un instante inspirador.
Como recompensa, una vez que el sol ya ha iluminado todo el lugar, la gente se dirige hacia la piscina termal que está en el mismo complejo, y que alcanza una temperatura cercana a los 30° C, para darse una zambullida reponedora. El viaje de regreso a San Pedro, es parte de un deleite visual.

Traducción - italiano
I Geyser del Tatio
Sono quasi le 6 del mattino e la temperatura esterna raggiunge i 15 gradi sotto lo zero. Sembra che in pochi siano davvero preparati a sopportare un freddo tanto estremo da penetrare nelle ossa. All'orizzonte, davanti allo sguardo attonito di centinaia di turisti che quotidianamente visitano il sito, si osservano le colonne di vapore emanate dalla terra. I visitatori esplorano la zona seguendo le guide, mentre ascoltano con attenzione la spiegazione del fenomeno che stanno osservando.
Il Tatio, che in lingua quechua significa "Il vecchio che piange", è il terzo campo di geyser più grande del mondo. Le eruzioni di acqua raggiungono notevoli altezze e sono dovute alla convergenza, proprio al di sotto di quest'area, di acque sotterranee su un campo di lava. Nel momento in cui si mescolano, le acque producono le enormi colonne di vapore e gas che vengono espulse dalle fessure, superando in alcuni casi i 10 metri di altezza. Questo campo geotermico, con un'estensione di 3 km2, è costituito da 40 geyser, 60 terme e 70 fumarole.
Dopo la prima passeggiata tra i geyser, è ora di fare colazione e di scaldarsi in attesa che sorga il sole. Attorno alle 7.30, alle spalle del vulcano che porta lo stesso nome del campo geotermico, iniziano ad affacciarsi i primi raggi di sole che puntano direttamente ai geyser. Lo spettacolo ha ora inizio in tutto il suo splendore: le diverse tonalità che illuminano le colonne di vapore danno vita ad uno degli scenari da cartolina più belli della zona. Le persone non smettono di fotografarsi mentre appaiono e scompaiono nel vapore. La temperatura inizia a salire e da lì a poco tornerà sopra lo zero. È un momento suggestivo.
Come ricompensa, una volta che il sole illumina tutto il sito, i visitatori si dirigono verso la piscina termale per un tuffo rinvigorente. La piscina, che raggiunge una temperatura vicina ai 30° C, si trova nello stesso complesso. Il viaggio di ritorno a San Pedro è un vero piacere per gli occhi.

More
beauty/cosmetics, Generic, Illuminotecnica
Master's degree - university 'La Sapienza' Rome, Italy
Años de experiencia: 18 Registrado en ProZ.com: Apr 2004 Miembro desde Jun 2010
inglés a italiano (Università La Sapienza, Rome, verified)
español a italiano (Università La Sapienza, Rome, verified)

N/A
Ultimate Translation Standard
Adobe Acrobat, Adobe Photoshop, DejaVu, Frontpage, Indesign, Microsoft Excel, Microsoft Office Pro, Microsoft Word, Access, HTML language, Poedit, PowerPoint, Publisher, Pagemaker, Powerpoint, QuarkXPress, SDL TRADOS
http://www.proz.com/profile/73114
CV available upon request
Simona Sgro apoya ProZ.com's Directrices profesionales.
Bio
# EXPERIENCIA PROFESIONAL

• Fechas (de-a) 2004 - actual

• Empleo

Traductor Oficial y Especialista en Comunicación Empresarial

de The Body Shop International en Italia EN>IT (ESP>IT)

• Funciones a desarrollar Traducción, adaptación, edició de todos los documentos publicados de la empresa Inglesa

- Marketing: catálogos, brochures y volantes publicitarios, promocards, posters, paneles y elementos informativos para decorar las tiendas, anuncios en los escaparates, etiquetas de los productos.

- Retail: guías de merchandising visual

- Recursos Humanos: manuales de formación y técnicas de venta

- Web:

sitio oficial de la marca

, newsletter, pagina facebook

- PR: comunicados de prensa, eslogan

• Areas de especialización Publicidad, cosmeticos, cosmética, PR, marketing, retail, bienestar, fragrancias, accessorios, web, e-commerce.

• Fechas (de-a) 2002 - actual

• Empleo

Traductor Profesional EN>IT ESP>IT

• Areas de especialización - Herboristerìa, Medicina Alternativa, Bienestar

- Internet: sitios web de hotels, escuelas de idiomas, restaurantes

- Ordenadores: artículos y textos sobre software, hardware, sistemas. Traducción de software.

- Telefonía móvil: aplicaciones smartphones (sobre todo iPhone)

- Literatura, poesía, filología: poesía y novelas de cualquier período, crítica literaria. Artículos sobre filología española y poesía española antigua.

- Publicidad, PR, Turismo

- Música: artículos sobre música de cualquier período histórico.

- Energía: articulos sobre energìa fotovoltaica y problemas ambientales

- Deportes: fitness, yoga, natación

# EDUCACIÓN Y FORMACIÓN

• Fechas (de-a) Septiembre 1997 – Julio 2003

• Universidad Universidad de Roma "La Sapienza" - Italia

• Título de la cualificación obtenida

Licenciatura en lenguas y Literaturas extranjeras

• Calificación 110/110 summa cum laude

• Tema de la tesis Lengua y literatura Española / Filología romance / Traducción

• Título de la Tesis de licenciatura "Il Canzoniere napoletano-aragonese della Casanatense di Roma (Ms.1098): edizione e studio"

• Fechas (de-a) Septiembre 1991– Junio 1997

• Instituto Liceo Scientifico sperimentale Linguistico "F. Enriques" – Roma – Italia

• Bachillerato Bachillerato de Lenguas y literaturas extranjeras

• Calificación 54/60

Referencias (si son requeridas): The Body Shop, Enel, Accessorize

Publicaciones:

Estudio Filologico de un antiguo codigo galego - Universidad La Sapienza

Citaciones:

Vicenc Beltran 'Poesia, Escriptura i societat: els camin de March'

citacion desde mi tesis

Voluntariado:

Peacelink website

Este miembro obtuvo puntos KudoZ al ayudar a otros traductores a traducir términos de nivel PRO. Haga clic en total(es) de puntos para ver los términos traducidos.


Palabras clave: cosmetics, websites, e-commerce, marketing, advertising, manuals, IT, wellbeing, health, alternative medicine, mobile applications, travel, tourism, literature, fitness, yoga, pilates, english, spanish, french, catalan, internet, facebook, newsletters, cosmesi, cosmetica, bellezza
40 visitas durante el mes pasado,
de un total de 24 visitantes Este perfil ha recibido
Última actualización del perfil
Feb 8