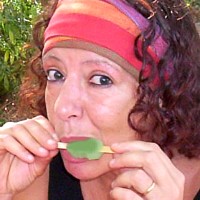 Idiomas de trabajo:
español a italiano
inglés a italiano
Fiamma Lolli
Traducir es un acto comunicativo



Umbria, Italia

Hora local:

19:16 CEST (GMT+2)




Idioma materno

: italiano

PayPal accepted

Feedback from
clients and colleagues
on Willingness to Work Again

1

positive review
Feel free to ask!
Traductor o intérprete autónomo
This person has a SecurePRO™ card. Because this person is not a ProZ.com Plus subscriber, to view his or her SecurePRO™ card you must be a ProZ.com Business member or Plus subscriber.

This person is not affiliated with any business or Blue Board record at ProZ.com.
Translation, Interpreting, Editing/proofreading
Se especializa en

Arte, artes manuales, pintura

Poesía y literatura

Medioambiente y ecología

Gobierno / Política

Viajes y turismo

Alimentos y bebidas

Cocina / Gastronomía

Filosofía

Religión
More
EUR
Puntos de nivel PRO 1061, Preguntas respondidas: 702, Preguntas formuladas: 64
3 proyectos mencionados

2 comentarios positivos de clientes



More
Muestras de traducción: 2
inglés a italiano: Dennis Stock, "James Dean: Fifty years ago", Harry N. Abrams Inc, NY; ed. it. "James Dean - Per sempre giovane", Contrasto Due, Roma 2005
Detailed field: Poesía y literatura
Texto de origen - inglés
Now poverty was a thing of the past, and with ready cash available, and credit no problem, Jimmy began buying bigger and faster racing cars. He made no bones about it with the studio executives that racing interested him far more than acting, a statement that obviously failed to endear him to them, for two reasons: it was an affront to their corporate and creative dignity; and they felt that damn kid would end up getting hurt, thus endangering their investment on any film in progress. Jimmy's last acquisition was a four-thousand-dollar Porsche Speedster, which in the spring of 1955 he entered in a race at Palm Springs. He not only won in the amateur class but came in third among the professional drivers, and this only whetted his appetite for more and better races.
He was still insomniac, and night after night he would stay up driving, or drinking, with local cronies or with friends from back home who would come to visit. But no matter how late he stayed up, somehow he usually managed to make it to the set on time. There were exceptions, of course, with which Hollywood legend abounds, but in my experience when Jimmy held up shooting, or showed up late, it was usually because he was at odds with the studio; it was his way of scoring a point for what he considered to be justice.
James Dean's Hollywood career was brilliant and brief. "East of Eden" opened in March, 1955. "Rebel without a cause" finished shooting in June, 1955. From "Rebel" Jimmy moved directly to "The giant", which finished shooting in September of the same year. Before the month was out, Jimmy was dead.
"If a choice is in order, I'd rather have people hiss then yawn. Any public figure sets himself up as a target ant that is the chance he takes. Most of us have more than one choice and I chose to be what I am, rather than remain a farm boy back in Indiana... Despite endless odds and issues along the way, I've never regretted it." - James Dean
Traducción - italiano
Oramai Jimmy si era lasciato la povertà alle spalle e, con una discreta disponibilità di contanti e nessun problema di credito, iniziò a comprare automobili da corsa sempre più grandi e veloci. Ai dirigenti della casa di produzione confessò, senza pensarci due volte, che gli interessava più correre che recitare. Con questa affermazione, ovviamente, si mise in pessima luce: per prima cosa perché era un affronto alla loro dignità aziendale e artistica, e poi perché i dirigenti temevano che quel benedetto ragazzo avrebbe finito per farsi male sul serio, mettendo così in pericolo i loro investimenti cinematografici futuri. L'ultimo acquisto di Jimmy era stato una Porsche Speedster da quattromila dollari con cui, nella primavera del 1955, si iscrisse a una gara a Palm Springs, non limitandosi a vincere nella classe amatori ma arrivando addirittura terzo in quella riservata ai professionisti, il che lo spinse a partecipare più spesso e a più alto livello.
Jimmy continuava a soffrire d'insonnia: passava una notte dopo l'altra guidando o bevendo, con amici del posto o gente di Fairmount che andava a trovarlo. Eppure, qualsiasi cosa facesse, in un modo o nell'altro riusciva sempre a essere puntuale sul set. Naturalmente ci sono state alcune eccezioni, sulle quali Hollywood ha costruito più di una leggenda, ma in genere, a quanto ne so, Jimmy bloccava le riprese o si presentava in ritardo solo quando entrava in conflitto con la produzione; era il suo modo di ottenere una rivincita su ciò che considerava ingiusto.
La carriera di James Dean a Hollywood fu luminosa e breve. "La valle dell'Eden" uscì a marzo del 1955, e le riprese di "Gioventù bruciata" terminarono a giugno dello stesso anno. Immediatamente dopo "Gioventù bruciata" Jimmy iniziò a girare "Il gigante", che finì a settembre. Prima ancora che arrivasse ottobre, Jimmy era morto.
"Se potessi scegliere, preferirei che il pubblico mi fischiasse piuttosto che vederlo sbadigliare. Sono i rischi cui si va incontro quando si è un personaggio pubblico: si diventa un bersaglio. Quasi tutti abbiamo la possibilità di scegliere chi essere e io ho scelto di essere quel che sono ora, piuttosto che rimanere un ragazzo di campagna nell'Indiana... E, nonostante gli innumerevoli problemi e ostacoli che ho trovato, non l'ho mai rimpianto." James Dean
español a italiano: "Le Reaparecide" ("Ese infierno"), di Actis/Aldini/Gardella/Lewin/Tokar, Stampa Alternativa, Viterbo 2005
Detailed field: Poesía y literatura
Texto de origen - español
Extractos de la prefación
Somos cinco mujeres. Algunas compartimos el encierro: somos amigas desde entonces. Otras no nos conocíamos más que por el nombre, porque nuestro cautiverio no coincidió en el tiempo. Pero haber pasado por ese infierno fue contraseña suficiente. Ahora, somos hermanas. Empezamos a reunirnos para hilar nuestros recuerdos en 1998, mientras resonaban todavía los ecos del vigésimo aniversario del Golpe y los jueces encarcelaban a algunos jefes militares.
Después de haber pasado por un Campo de Concentración, uno puede llevar una vida en apariencia normal. Trabaja, lleva a los chicos al colegio, viaja, hace las compras, va al cine. Hasta que, algunas veces contundente, demoledor e incendiario como un rayo, otras suave, engañoso y envolviente como la niebla, el Campo de Concentración se hace presente. Y entonces, uno se paraliza: se perciben los olores, se ve la oscuridad, se escucha el arrastrar de las cadenas, el ruido metálico de las puertas, los chispazos de la picana, se siente el miedo, el peso de las desapariciones. Sobre todo, las ausencias que dejan las desapariciones. Periódicamente, desde hace muchos años, a veces disparados por hechos concretos - como la citación a declarar en un juicio, la noticia sobre la recuperación de un bebé o el aniversario de una "caída" -, otras por una cara vista en la calle, una fotografía vieja, una carta amarillenta en un placard, una lectura... los recuerdos nos acechan y nos atrapan. [...] "Qué manto de memoria colectiva se podría tejer con estos pedacitos de memoria no dichos, fragmentados, dispersos, que muchos testigos y víctimas guardan para sí, como inmovilizados en su antiguo lugar. Un manto consolador y abrigador contra repeticiones posibles. Los crímenes del pasado perviven en lo que se calla de ellos en el presente." Nuestro libro es sólo un pedacito de ese "manto de memoria" del que habla Juan Gelman. Hubo cientos de sobrevivientes, hay decenas de miles de familiares de desaparecidos. Son muchos los trozos que tienen que ser unidos trabajosamente todavía para que el manto, inmenso, maternal, nos abrigue a todas y todas, definitivamente.
Traducción - italiano
Dalla prefazione
Siamo cinque donne. Alcune di noi hanno condiviso la prigionia: da allora siamo amiche. Altre ci conoscevamo solo di nome, perché la nostra cattività non ha coinciso nel tempo: ma essere passate per quell'inferno ci è bastato per riconoscerci. Ora, siamo sorelle. Abbiamo iniziato a vederci per tessere il filo dei nostri ricordi nel 1998, mentre ancora risuonava l'eco del ventesimo anniversario del golpe e i giudici incarceravano alcuni capi militari.
Chi è passato per un campo di concentramento può vivere una vita apparentemente normale: lavora, accompagna i figli a scuola, viaggia, fa spese, va al cinema. Finché, a volte contundente, devastante e incendiario come un fulmine, altre soave, ingannevole e avvolgente come la nebbia, il campo torna a farsi presente. Allora ci si paralizza: e si percepiscono di nuovo quegli odori, torna quell'oscurità, si sente di nuovo lo sferragliare delle catene, il clangore metallico delle porte, lo sfrigolio della "picana"; ed è di nuovo la paura, il peso e il dolore delle sparizioni. Soprattutto dell'assenza che le sparizioni lasciano dietro di sé. Periodicamente, da molti anni, a volte innescati da fatti concreti (la convocazione a testimoniare in un processo, la notizia che un bambino strappato alla madre desaparecida è stato ritrovato, l'accorgersi di colpo che quel giorno è l'anniversario dui un sequestro), altri solo da una faccia incontrata per strada, una vecchia fotografia, una lettera ingiallita in fondo a un cassetto, la pagina di un libro... i ricordi ti raggiungono e ti inchiodano: spalle al muro. [...] "Che coperta di memoria collettiva si potrebbe tessere con tutti quei pezzettini di memoria non detti, frammentati, dispersi, che molti testimoni e molte vittime conservano per sé, quasi fossero ancora immobilizzati nel loro luogo originario. Una coperta consolatrice che offra riparo dal loro possibile ripetersi. I crimini del passato sopravvivono in ciò che di essi si tace nel presente." Il nostro libro è solo un pezzettino di questa "coperta di memoria" di cui parla Juan gelman. I sopravvissuti del campo della ESMA sono stati più di cento, i familiari dei desaparecidos decine di migliaia. Sono ancora moltissimi i pezzi da unire l'uno all'altro, con cura e fatica, prima che quella coperta, immensa, materna, ci avvolga e ci riscaldi, tutte e tutti, definitivamente.
More
extralang, fiamma lolli eng>it, fiamma lolli esp>it, fiamma lolli it>esp
Other - Universidad Autónoma de Nicaragua – Diploma de 4° nivel en Lengua y Literatura Hispánica (1988)
Años de experiencia: 33 Registrado en ProZ.com: Sep 2006
N/A
N/A
Traduttori per la Pace www.traduttoriperlapace.org
Adobe Acrobat, Microsoft Excel, Microsoft Word, open office, photostudio, Powerpoint
http://www.proz.com/profile/595920
italiano (RTF), inglés (DOC)
Bio
I have been a fulltime translator from English and Spanish into Italian since 1988

; before that,

I worked in Italy, England, USA and Nicaragua

as a theatre director and actress, as well as a cultural animateur and trainer with an Italian NGO in psychiatric hospitals and day hospitals. Sometimes

I do even write articles for some Italian magazines and newspapers

(mainly il manifesto, Carta, Linus, Avvenimenti, Rinascita, Diario).

I am a published writer too

("Guida all'isola", "Millelire" series, Stampa Alternativa, Viterbo 1998, and many short stories in reviews and anthologies).

Of all the texts I've translated, the ones I am more proud of are

Karl L. Guillen

Il tritacarne: una voce dal carcere di Florence, Arizona (The grinder: execution of inocence in Arizona

), Multimage, Turin 1999, preface by Massimo Carlotto, and

Le reaparecide: sequestrate, torturate, sopravvissute al terrorismo di Stato in Argentina (Ese infierno: conversaciones de cinco mujeres sobrevivientes de la Esma

), "Eretica Speciale" series, Stampa Alternativa, Viterbo 2005 - a book I've translated and edited.

Since 2003 I volunteer with

Translators for Peace

(

ProZ

), a site of professional translators and peace activists whose main page and related projects I warmly invite everyone to visit.

I deeply believe that

translating means building bridges between cultures

: therefore, everytime I start a new translation (never mind if it is a brochure or a book), I remember that "Accuracy is not a virtue: is a duty".

This user has reported completing projects in the following job categories, language pairs, and fields.





Project History Summary
Total projects
3
With client feedback
2
Corroborated
2
100% positive (2 entries)
positive
2
neutral
0
negative
0




Job type
Translation
3
Language pairs
inglés a italiano
2
español a italiano
1
Specialty fields
Poesía y literatura
2
Arquitectura
1
Jergas
1
Arte, artes manuales, pintura
1
Viajes y turismo
1
Historia
1
Gobierno / Política
1
Other fields
Palabras clave: literature, literatura, letteratura, fiction, ficción, narrativa, poetry, poesía, poesia, human rights, derechos humanos, diritti umani, women/gender issues, donne/genere, mujeres/género, peace, paz, pace, Latin America, América Latina, America Latina, food & dairy, alimenti e latticini, alimentos y lácteos, cucina, cocina, cuisine, pop culture, cultura pop, advertising, pubblicità, ambiente, environment, medio ambiente, folklore, tourism, turismo, viaggi, viajes, travel, art, arte, theatre, teatro, cinema, moda, fashion, artigianato, artesanía, crafts, gergo, slang, jerga, commercio equo e solidale, comércio equo, fair trade, children, infanzia, infancia, ecologia, ecology, ecología, anthropology, antropologia, antropología
Última actualización del perfil
Jul 3, 2009