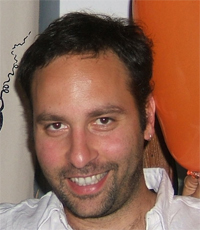 Miembro desde Dec '06
Idiomas de trabajo:
inglés a italiano
francés a italiano
portugués a italiano
español a italiano
Availability today:
| | | |
| --- | --- | --- |
| | February 2021 | |
S
M
T
W
T
F
S
1
2
3
4
5
6
7
8
9
10
11
12
13
14
15
16
17
18
19
20
21
22
23
24
25
26
27
28
Francesco Paolo Jori
Ph.D., former biomedical investigator



Portugal

Hora local:

07:09 WET (GMT+0)




Idioma materno

: italiano

PayPal accepted
Traductor o intérprete autónomo,

Miembro con identidad verificada
This person has a SecurePRO™ card. View now.

This person is not affiliated with any business or Blue Board record at ProZ.com.
Translation, Editing/proofreading, Website localization
Se especializa en

Biología (biotecnología/química, microbiología)

Genética

Medicina (general)

Medicina: Cardiología

Medicina: Salud

Medicina: Instrumentos

Medicina: Farmacia

Ciencias (general)

Química, Ciencias/Ing. quím.

Medicina: Odontología
More
Puntos de nivel PRO 1039, Preguntas respondidas: 419, Preguntas formuladas: 60
81 proyectos mencionados



More
Transferencia electrónica, PayPal | Send a payment via ProZ*Pay
Muestras de traducción: 2
inglés a italiano: Medical implant package insert
General field: Medicina
Detailed field: Medicina: Instrumentos
Texto de origen - inglés
The XXX implants can become loose or break if subjected to increased loading. Factors such as the patient's weight, activity level and adherence to weight-bearing or load-bearing instructions can affect the implant's longevity. Damage to the weight-bearing bone structures caused by infection can give rise to loosening of the components and/or fracture of the bone.
Serious post-operative complications may occur from the implant in a patient who; lacks good general physical conditions; has severe osteoporosis, demonstrates physiological or anatomical anomalies; has immunological responses, sensitization or hypersensitivity to foreign materials; systemic or metabolic disorders.
These warnings do not include all adverse effects which could occur with surgery, but are important considerations specific to metallic devices. The risks associated with orthopedic surgery, general surgery and the use of general anesthesia should be explained to the patient prior to surgery. See the PRECAUTIONS and POSSIBLE ADVERSE EFFECTS sections for additional warnings.

POSSIBLE ADVERSE EFFECTS
Pre-operatively, the patient should be made aware of the possible adverse effects of orthopedic surgery. Additional surgery may be necessary to correct some of these anticipated events including, but not limited to:
• Early or late loosening, disassembly and/or breakage of any or all implants;
• Metal sensitivity to a foreign body (implant material allergic reaction), including metallosis, staining, tumor formation, auto-immune disease and/or scarring;
• Skin or muscle sensitivity in patients with inadequate tissue coverage over the operative site, which may result in skin breakdown, penetration, pain, irritation and/or wound complications;
• Tissue damage resulting from improper placement of implants or instruments;
• Infection;
• Hematoma;
• Allergy;
• Thrombosis;
• Nerve or vascular damage due to surgical trauma, including loss of neurological function, neuropathy, neurological deficits (transient or permanent), bilateral paraplegia, appearance of radiculopathy, and paralysis (complete or incomplete);
• Bone loss due to resorption or stress shielding, decrease in bone density or bone fracture at operative site;
• Pain, discomfort or wound healing complications at the surgical site;
• Misalignment of anatomical structures;
• Bone non union or delayed union;
• Adverse effects may necessitate re-operation, revision or removal surgery , arthrodesis of the involved joint, and /or amputation of the limb.

Traducción - italiano
Gli impianti XXX possono allentarsi o rompersi se sottoposti a carico eccessivo. Fattori quali il peso del paziente, il livello di attività fisica e il rispetto delle istruzioni relative al carico del peso corporeo e al trasporto di carichi possono influire sulla durata dell'impianto. Danni alle strutture ossee portanti provocati da infezioni possono determinare l'allentamento dei componenti e/o la frattura dell'osso.
L'impianto può comportare l'insorgenza di complicanze post-operatorie gravi in pazienti che: non godono di buone condizioni fisiche generali; sono affetti da grave osteoporosi; mostrano anomalie fisiologiche o anatomiche; presentano reazioni immunologiche, sensibilizzazione o ipersensibilità a materiali estranei; soffrono di disturbi sistemici o metabolici.
Queste avvertenze non includono tutti gli effetti indesiderati che si possono verificare in seguito all'intervento chirurgico, ma costituiscono fattori importanti specifici per i dispositivi metallici. Prima dell'operazione, occorre informare i pazienti dei rischi associati agli interventi di chirurgia generale e ortopedica e all'uso dell'anestesia generale. Per ulteriori avvertenze, consultare le sezioni PRECAUZIONI e POSSIBILI EFFETTI INDESIDERATI.

POSSIBILI EFFETTI INDESIDERATI
Prima dell'operazione, il paziente deve essere informato dei possibili effetti indesiderati legati all'intervento di chirurgia ortopedica. Potrebbero rendersi necessari ulteriori interventi per correggere alcuni di questi possibili eventi, tra i quali si annoverano, a titolo esemplificativo, ma non limitativo:
• Allentamento, disassemblaggio e/o rottura precoce o tardiva di uno o più impianti;
• Sensibilizzazione al metallo dovuta a un corpo estraneo (reazione allergica al materiale dell'impianto), comprese metallosi, comparsa di macchie, sviluppo di tumori, malattia autoimmune e/o formazione di tessuto cicatriziale;
• Sensibilizzazione della pelle o dei muscoli in pazienti con copertura tissutale inadeguata del sito operatorio, che può provocare lesioni o perforazioni cutanee, dolore, irritazione e/o complicanze a livello della ferita;
• Danni tissutali derivanti dal posizionamento improprio di impianti o strumenti;
• Infezioni;
• Ematomi;
• Reazioni allergiche;
• Trombosi;
• Danni a livello nervoso o vascolare dovuti a trauma chirurgico, tra cui perdita di funzioni neurologiche, neuropatie, deficit neurologici (transitori o permanenti), paraplegia bilaterale, comparsa di radicolopatia e paralisi (completa o incompleta);
• Perdita di tessuto osseo dovuta a riassorbimento o stress shielding, diminuzione della densità ossea o frattura ossea in corrispondenza del sito operatorio;
• Dolore, fastidio o complicanze legate alla cicatrizzazione della ferita in corrispondenza del sito operatorio;
• Allineamento scorretto delle strutture anatomiche;
• Consolidamento mancato o ritardato dell'osso;
• Gli effetti indesiderati possono rendere necessario una nuova operazione o un intervento di revisione o di rimozione, l'artrodesi dell'articolazione interessata e/o l'amputazione dell'arto.

inglés a italiano: MSDS of a chemical compound
General field: Ciencias
Detailed field: Química, Ciencias/Ing. quím.
Texto de origen - inglés
Section 3 Toxicology and Health Information

Potential Human Health Effects:
Prolonged and repeated exposure may cause irritation of the eyes, skin, mucous membranes and upper respiratory tract. May be harmful if swallowed.
Target Organs or Systems:
Caution: May cause irritation to the eyes, skin, mucous membranes, upper respiratory tract. Overexposures may effect the kidneys, central nervous system, cardiovascular system, liver, and gastrointestinal system.
Route of Exposure:
Skin Contact: May cause skin irritation.
Skin Absorption: May be harmful if absorbed through the skin.
Eye Contact: May cause eye irritation.
Inhalation: May be harmful if inhaled. Material may be irritating to the mucous membranes and upper respiratory tract.
Ingestion: May be harmful if swallowed.
Signs and Symptoms of Exposure:
Prolonged exposure can cause: Nausea, headache, and vomiting.
Acute:
May cause irritation of the eyes, skin, mucous membranes, and respiratory tract. May be harmful by inhalation, ingestion, or skin absorption.
Chronic:
Prolonged exposure may cause nausea, headache, and vomiting.
Carcinogens:
This product contains no carcinogens in concentrations of 0.1 percent or greater based on U.S. and European chemical data base information. This product does contain a component that is not classifiable as to its carcinogenicity based on its IARC, ACGIH, NTP, or EPA classification (IARC Group 3).
Potential Environmental Effects:
No significant environmental hazards are expected if material is released to the environment.

Section 4 Emergency First Aid

Inhalation: Remove from area to fresh air. Seek medical attention if breathing becomes difficult.

Eye Contact: I Immediately flush eyes with copious amounts of water for at least 15 minutes. Call a physician.

Skin Contact: Remove contaminated clothing, shoes, and leather goods. Immediately wash with soap and rinse with copious amounts of water. Skin contact can cause irritation.

Ingestion: Wash out mouth with water provided the person is conscious and seek medical attention. Ingestions can cause gastrointestinal disturbances. Do not induce vomiting.

Section 5 Fire and Explosion Hazard

Not considered to be a fire hazard (primarily water)
Extinguishing Media:
Water spray, carbon dioxide, dry chemical powder or appropriate foam.
Special Fire Fighting Procedures
None identified.
Unusual Fire & Explosion:
May emit toxic fumes under fire conditions.
Exposure Hazard(s): Material: Irritant

Section 6 Accidental Release Measures

Procedures of Personal Precautions:
Exercise appropriate precautions to minimize direct contact with skin or eyes. Wear, chemical safety goggles, and rubber gloves.
Environmental Precautions:
No significant environmental hazards identified
Methods of Cleaning Up:
Contain spills immediately with inert materials (e.g. sand, earth). Avoid discharge to natural waters. Place in closed containers for disposal. Wash spill site after material pickup is complete and ventilate area prior to re-occupancy.
Waste Disposal Method:
Follow disposal procedures in accordance with federal, state and local regulations or applicable national or regional provisions.

Traducción - italiano
Sezione 3 Informazioni tossicologiche e sanitarie

Possibili effetti sulla salute umana:
L'esposizione prolungata e ripetuta può provocare irritazione degli occhi, della pelle, delle mucose e delle vie respiratorie superiori. Può essere nocivo per ingestione.
Organi o sistemi bersaglio:
Attenzione: può provocare irritazione degli occhi, della pelle, delle mucose e delle vie respiratorie superiori. La sovraesposizione può avere effetti negativi sui reni, sul sistema nervoso centrale, sul sistema cardiovascolare, sul fegato e sul sistema gastrointestinale.
Via d'esposizione:
Contatto con la pelle: può provocare irritazione cutanea.
Assorbimento attraverso la pelle: può essere nocivo in caso di assorbimento attraverso la pelle.
Contatto con gli occhi: può provocare l'irritazione degli occhi.
Inalazione: può essere nocivo per inalazione. Il materiale può essere irritante per le mucose e le vie respiratorie superiori.
Ingestione: può essere nocivo per ingestione.
Segni e sintomi di esposizione:
L'esposizione prolungata può provocare: nausea, cefalea e vomito.
Acuta:
Può provocare irritazione degli occhi, della pelle, delle mucose e delle vie respiratorie. Può essere nocivo per inalazione, ingestione, o assorbimento attraverso la pelle.
Cronica:
L'esposizione prolungata può provocare nausea, cefalea e vomito.
Sostanze cancerogene:
Questo prodotto non contiene sostanze cancerogene in concentrazioni superiori o uguali allo 0,1 per cento in base alle informazioni contenute nelle banche dati statunitensi ed europee sulle sostanze chimiche. Il prodotto contiene un componente non classificabile in termini di carcinogenicità in base alla sua classificazione IARC, ACGIH, NTP o EPA (Gruppo 3 IARC).
Possibili effetti sull'ambiente:
Non si prevedono rischi significativi se il materiale viene rilasciato nell'ambiente.

Sezione 4 Misure di primo soccorso di emergenza

Inalazione: allontanare il soggetto esposto portandolo all'aria aperta. Se la respirazione diventa difficoltosa richiedere assistenza medica.

Contatto con gli occhi: sciacquare immediatamente e abbondantemente gli occhi con acqua per almeno 15 minuti. Chiamare un medico.

Contatto con la pelle: togliere gli indumenti, le calzature e gli articoli in pelle contaminati. Lavare immediatamente la zona interessata con acqua e sapone e risciacquare abbondantemente con acqua. Il contatto con la pelle può provocare irritazioni.

Ingestione: sciacquare la bocca con acqua, a condizione che l'infortunato sia cosciente, e richiedere assistenza medica. L'ingestione può provocare disturbi gastrointestinali. Non indurre il vomito.

Sezione 5 Pericolo di incendio ed esplosione

Non è considerato una fonte di pericolo di incendio (è costituito essenzialmente da acqua)
Mezzi di estinzione:
Acqua nebulizzata, anidride carbonica, polvere chimica secca o schiuma appropriata.
Procedure antincendio speciali
Nessuna procedura speciale individuata.
Rischi inconsueti di incendio ed esplosione:
Può emettere fumi tossici per esposizione alle fiamme.
Pericolo/i risultante/i dall'esposizione: Materiale: irritante

Sezione 6 Misure in caso di fuoriuscita accidentale

Procedure precauzionali individuali:
Adottare opportune precauzioni per ridurre al minimo il contatto diretto con la pelle o gli occhi. Indossare occhiali protettivi resistenti agli agenti chimici e guanti in gomma.
Precauzioni ambientali:
Non sono stati identificati pericoli significativi per l'ambiente
Metodi di decontaminazione:
Contenere immediatamente la fuoriuscita con materiali inerti (ad esempio sabbia o terra). Evitare di scaricare il prodotto nelle acque naturali. Per lo smaltimento collocare in contenitori chiusi. Lavare l'area interessata dalla fuoriuscita dopo aver raccolto il materiale contaminato e ventilare l'ambiente prima di occupare nuovamente il locale.
Metodo di smaltimento dei rifiuti:
Attenersi alle procedure di smaltimento previste dalle normative statali e locali o dalle disposizioni nazionali o regionali applicabili.

More
Años de experiencia: 16 Registrado en ProZ.com: Jun 2006 Miembro desde Dec 2006
N/A
N/A
Adobe Acrobat, Adobe Photoshop, Microsoft Excel, Microsoft Word, Powerpoint, SDL TRADOS, SDLX
inglés (PDF)
Training sessions attended
Powwows attended

Francesco Paolo Jori apoya ProZ.com's Directrices profesionales.
Bio
Doctor degree in Biological Sciences (at the Federico II University of Naples in 1999) and Ph.D. in Neuroscience (at the Second University of Naples), during my academic career I published 12 scientific articles in international journals, working on stem cells of the central nervous system. My solid scientific background (8 years of lab work as investigator) allows me to fluently manage scientific terminology, and I have a vast experience in medical translations.
My previous classical studies make me the ideal candidate for clients who need a high quality translation both in terms of technical terminology and in terms of accuracy, style, syntax and grammar.
After my Ph.D. I moved to Lisbon and decided to leave scientific investigation to begin working as a translator. Since, I collaborated as a free-lance with several translation agencies both in Italy and abroad.

I am specialized in scientific texts, ranging from biology to medical instruments, from pharmaceutics to clinical trials.
I always had a passion for languages and I have good skills in writing Italian (when I'm not dealing with translations, I like to write short stories and novels).

Main medical and scientific subjects translated:
- Informed consent documents, medical market research questionnaires, subject information sheets, treatment guidelines, experimental protocols, clinical trials, surgical protocols.
- Physician's manuals, operation manuals, user's guides, training modules, medical marketing newsletters, news releases
- Research articles
- SPC and PILs according to the most recent EMEA guidelines
- Global quality management systems, operating room control systems
- Diagnostic workstations, image processing tools, electroanatomical navigation systems, digital mammography systems, virtual colonscopy systems, endoscopy applications, intraoral cameras, OCT (optical coherence tomography) cardiology imaging systems, digital radiology systems, panoramic X-ray systems
- Pharmacokinetics studies
- Analytical instruments, cholesterol, alcohol, diabetes, pregnancy, ovulation, menopause screening tests
- Ultrasound systems, fracture healing systems
- Primary and revision arthroplasty, hip and knee implants, prosthetic liners, spinal fixation systems, dental implants, compression screw systems, introducer needles
- Urethral support devices, internal support devices, support devices for the cure of prolapses, intraperitoneal hernia patches, endorectal endoscopy devices, ventral wall defect reduction systems
- Pacing systems, implantable cardioverter defibrillator (ICD) systems, cardiac resynchronization therapy (CRT) systems, defibrillation leads, heart failure devices, stent systems, intra-aortic balloon pumps
- Surgical retractor systems
- Pulmonary drug-delivery systems, drug eluting microspheres, embolization spheres
- Laser therapy systems, ablation catheters, radiotherapy dose calculation systems
- Moisture analyzers, oxygen analyzers, gas detection devices
- Coagulation systems, blood glucose monitoring systems
- Plate processors, medical digital recorders
- Laboratory equipment, analytical balances, mass spectrometry devices
- Specialty chemicals
- Filtering systems
- Cosmetic products, iontophoresis devices
- MSDSs
- Molecular biology products, immunochemistry systems, cell separation systems, ELISA kits, viral detection assays, virus staining kits
- Human medicinal products, vaccines, veterinary products


Main end clients:
Abbott, Accuray, Agfa, Allergan, Aragon Pharmaceuticals, Aspide, Astra Zeneca, Asuragen, Bayer, Behring, Bentec Medical, Biocompatibles International, Biosense Webster, BioSphere Medical, Callisto Pharmaceuticals, Chemgenex, Ciga Healthcare, ClinPhone, Cytocell, Datascope, Defibtech, Dexis, Dober, Enraf-Nonius, Extremity Medical, Focus Diagnostics, Gendex, Genzyme, Guidant, Hexion, Honeywell Analytics, Hood Laboratories, Imaging Sciences International, ITC, Kerr corporation, Lavet Pharmaceuticals, LightLab, Maxtec, MediWatch, Medscape, Medtronic, Merial, Mettler-Toledo, Microban, Millennium Pharma, NAI Tech products, Nektar Therapeutics, Novartis, Novo Nordisk, Ohio Willow Wood, Pall, Parker, Perceptive Informatics, Perkin Elmer, PHB Billiton, Rultract, SABIC, SAFC, Sanofi, Sheffield Medical Products, Skeyndor, Smith&Nephew, Somatex, Sonosite, Sorisa, Soteira, SpineVision, St. Jude Medical, Stockert, Stryker, Terumo, Thermogenesis, Vical, Vigilance Santé, Vircell, VirtualScopics, Z Corporation.

Este miembro obtuvo puntos KudoZ al ayudar a otros traductores a traducir términos de nivel PRO. Haga clic en total(es) de puntos para ver los términos traducidos.


Palabras clave: English, Italian, French, Portuguese, Spanish, italiano, francese, inglese, portoghese, spagnolo, italien, français, englais, portuguais, espagnol, traduttore, translator, traducteur, tradutor, traduzione, traduzioni, traduction, scienza, scientifiche, medicina, genetica, biologia, biologia molecolare, farmacia, apparecchi medicali, biotecnologia, manuali, chimica, fisica, zoologia, botanica, microbiologia, esperienza, science, scientifique, génétique, biologie, biologie moléculaire, médecine, pharmacie, manuel, biotechnologie, chimie, physique, zoologie, botanique, microbiologie, translation, traduccion, tradução, traducciòn, freelance, experience, editing, science, medicine, medical instruments, biology, molecular biology, pharmaceuticals, biotechnology, genetics, physics, chemistry, zoology, botany, microbiology, technical manuals, software, CAT, Trados, Multiterm, SDLX Lite, Office, Adobe Acrobat, Internet connection, physician's manuals, operator manual, user manual, operation manuals, user's guide, medical marketing newsletters, news releases, global quality management systems, operating room control systems, diagnostic workstations, image processing tools, electroanatomical navigation systems, digital mammography systems, virtual colonscopy systems, ultrasound systems, fracture healing systems, primary and revision arthroplasty, hip and knee implants, prosthetic liners, spinal fixation systems, dental implants, pacing systems, implantable cardioverter defibrillator (ICD) systems, cardiac resynchronization therapy (CRT) systems, defibrillation leads, heart failure devices, stent systems, intra-aortic balloon pumps, laser therapy systems, ablation catheters, endoscopy applications, moisture analyzers, oxygen analyzers, coagulation systems, blood glucose monitoring systems, plate processors, medical digital recorders, clinical applications, Botulinum toxin, specialty chemicals, filtering systems, informed consent documents, medical questionnaires, treatment guidelines, experimental protocols, clinical trials, surgical protocols, service manuals, user's guide, safety instructions, policy letter, internal bulletins, maintenance manuals, operator handbooks, plastics, surface coating products and systems, training courses, products training courses, press releases, newletters, brochures
Última actualización del perfil
Jan 19