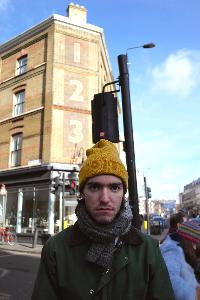 Idiomas de trabajo:
inglés a noruego
español a noruego
Gjert Hermansen
Cultural awareness & common sense!



Bergen, Hordaland, Noruega




Idioma materno

: noruego

PayPal accepted
Traductor o intérprete autónomo,

Identidad verificada
This person has a SecurePRO™ card. Because this person is not a ProZ.com Plus subscriber, to view his or her SecurePRO™ card you must be a ProZ.com Business member or Plus subscriber.

This person is not affiliated with any business or Blue Board record at ProZ.com.
Translation, Interpreting, Editing/proofreading, Voiceover (dubbing), Subtitling, Transcription, Copywriting
Se especializa en
Ciencias sociales, sociología, ética, etc.
Música
Lingüística
More
Preguntas respondidas: 1
Visa, PayPal
Muestras de traducción: 3
inglés a noruego: The Clash of Civilizations (excerpt) – Sivilisasjonenes sammenstøt (utdrag)
General field: Ciencias sociales
Detailed field: Ciencias sociales, sociología, ética, etc.
Texto de origen - inglés
THE NEXT PATTERN OF CONFLICT

World politics is entering a new phase, and intellectuals have not hesitated to proliferate visions of what it will be-the end of history, the return of traditional rivalries between nation states, and the decline of the nation state from the conflicting pulls of tribalism and globalism, among others. Each of these visions catches aspects of the emerging reality. Yet they all miss a crucial, indeed a central, aspect of what global politics is likely to be in the coming years.

It is my hypothesis that the fundamental source of conflict in this new world will not be primarily ideological or primarily economic. The great divisions among humankind and the dominating source of conflict will be cultural. Nation states will remain the most powerful actors in world affairs, but the principal conflicts of global politics will occur between nations and groups of different civilizations. The clash of civilizations will dominate global politics. The fault lines between civilizations will be the battle lines of the future.

Source: https://www.foreignaffairs.com/articles/united-states/1993-06-01/clash-civilizations
Traducción - noruego
DET NESTE KONFLIKTMØNSTERET

Verdenspolitikken er på vei inn i en ny fase, og intellektuelle har ikke nølt med å spre sine visjoner om hva denne kommer til å bli – historiens endelikt, tilbakefallet til tradisjonell rivalisering mellom nasjonalstater, og svekkelsen av nasjonalstaten gjennom stammementalitetens og globaliseringens motstridende krefter, blant andre. Hver av disse visjonene fanger opp aspekter av den nye virkeligheten. Imidlertid mangler de alle et essensielt, sentralt aspekt av hva internasjonal politikk sannsynligvis vil dreie seg om i årene som kommer.

Det er min hypotese at den grunnleggende kilden til konflikt i vår nye verden ikke først og fremst vil være av ideologisk eller økonomisk karakter. De store splittelsene innad i menneskeheten, og de dominerende kildene til konflikt, blir kulturelle. Nasjonalstater kommer til å forbli de mektigste aktørene i verdensspørsmål, men de viktigste konfliktene i storpolitikken vil finne sted mellom nasjoner og grupper fra ulike sivilisasjoner. Sivilisasjonenes sammenstøt kommer til å dominere internasjonal politikk. Skillelinjene mellom sivilisasjoner blir fremtidens slaglinjer.

Kilde: https://www.foreignaffairs.com/articles/united-states/1993-06-01/clash-civilizations
inglés a noruego: Software program installation guideline – retningslinjer til installasjon av programvare
General field: Técnico/Ingeniería
Detailed field: Informática: Programas
Texto de origen - inglés
How to install a software program

The installation process for software depends on your operating system and the program you are installing. As a result of these many combinations, we have created the steps below as a general guideline. The following does not cover errors during the installation process, as they are too vast for one document. Search on our site for further information on errors during the setup.

General Tips
Microsoft Windows users
MS-DOS Users

General Tips

Make sure your computer meets the system requirements of the program, game, or utility you are attempting to install.
The manual or the readme file contains exact instructions on how to install a program and are in the same directory as the installation files.
When installing a program, utility, or game, it is always a good idea first to close or disable any other programs that are running.
After installing a new program, if it prompts you to reboot the computer, do it.

Microsoft Windows users

Autorun from a CD or DVD

Many software programs, games, and utilities have an AutoPlay feature. This feature automatically starts a setup screen for the software program when inserting a CD or DVD. If your program contains this feature, follow the steps that appear after inserting the disc.
Traducción - noruego
Hvordan installere en programvare

Installasjonsprosessen for programvare avhenger av operativsystemet ditt, og av programmet du installerer. Som et resultat av disse mange kombinasjonene, har vi laget de følgende stegene som en generelle retningslinjer. De dekker ikke feil i løpet av installasjonsprosessen, ettersom dette er for stort til å få plass i ett dokument. Søk på siden vår etter mer informasjon om feil i løpet av installasjonen.

Generelle tips
Brukere av Microsoft Windows
Brukere av MS-DOS

Generelle tips

Forsikre deg om at datamaskinen din oppfyller systemkravene til programmet, spillet eller verktøyet du prøver å installere.
Manualen eller readme-filen inneholder nøyaktige instruksjoner for hvordan du installererer et program, og befinner seg i samme mappe som installasjonsfilene.
Når du installererer et program, verktøy eller et spill, er det alltid en god idé å først lukke eller deaktivere alle andre programmer som kjører.
Hvis du blir bedt om å starte datamaskinen på nytt etter å ha installert et nytt program, bør du gjøre det.

Brukere av Microsoft Windows

Autokjør fra CD eller DVD

Mange programmer, spill og verktøy har egenskapen automatisk avspilling (AutoPlay). Denne egenskapen gjør at når du setter inn en CD eller DVD, åpnes automatisk et installasjonsvindu for programvaren. Hvis programmet ditt har denne egenskapen, følg stegene som kommer til syne etter at du har satt inn CD'en eller DVD'en.
inglés a noruego: Book review of 'The Hunger Games' (excerpt) – Bokanmeldelse av «Dødslekene» (utdrag)
General field: Arte/Literatura
Detailed field: Poesía y literatura
Texto de origen - inglés
In a place once known as North America, now known as Panem, is a very rich City surrounded by twelve Districts. Every year because this very rich City, known as The Capitol, is so rich and likes to think they control all the Districts - which they do - there is something known as The Hunger Games! This is where two children, one boy and one girl from each district from the ages of twelve to eighteen, have to leave their families and compete in The Hunger Games, a live event that is aired on TV's all over Panem. When Katniss Everdeen, aged sixteen from District 12, has to volunteer to take the place of her twelve-year-old sister Prim after Prim's name is called forth to become the 23rd member to compete in The 74th Hunger Games, she promises to Prim that she will win!

Katniss doesn't believe she's coming out alive - but she's not going down without a fight.

Because District 12 is so poor, Katniss has been close to death many times from starvation but she's made it through it. But this is a different kind of close to death; this Katniss doesn't know if she can survive.

Source: http://www.theguardian.com/books/2013/nov/22/review-the-hunger-games-suzanne-collins
Traducción - noruego
I et land en gang kjent som Nord-Amerika, nå kjent som Panem, ligger en veldig rik By omringet av tolv Distrikter. Hvert år, fordi denne veldig rike Byen, kjent som Hovedstaden, er så rik og liker å tro at den kontrollerer alle Distriktene – noe den også gjør – arrangeres noe som er kjent som Dødslekene! To barn fra hvert distrikt, én gutt og én jente på mellom 12 og 18 år, forlate familiene sine og delta i Dødslekene, en begivenhet som sendes direkte på TV i hele Panem. Katniss Everdeen, 16 år fra Distrikt 12, må delta ved å ta plassen til sin 12 år gamle søster Prim, som blir utnevnt til å være det 23. medlemmet i de 74. Dødslekene. Hun lover Prim at hun skal vinne!

Katniss tror ikke hun kommer til å overleve dette – men hun gir seg ikke uten kamp.

Fordi Distrikt 12 er så fattig, har Katniss vært sultedøden nær mange ganger, men har alltid kommet seg helskinnet gjennom det. Men dette er en annen type nær døden-opplevelse; en Katniss ikke er så sikker på om hun klarer å overleve.

Kilde: http://www.theguardian.com/books/2013/nov/22/review-the-hunger-games-suzanne-collins
More
Años de experiencia: 5 Registrado en ProZ.com: Sep 2015
N/A
N/A
N/A
Adobe Acrobat, Microsoft Excel, Microsoft Office Pro, Microsoft Word, Powerpoint
Bio
I am a social and creative person who loves languages and linguistics, teaching, music and other cultural and creative art forms and activities. I am currently doing my MA degree in Spanish & Latin American studies at the University of Bergen, from where I also have my two BA degrees (Spanish & Latin American Studies and Political Science), a one year program (undergraduate) of Psychology, a one year program (undergraduate) of English Linguistics and Literature and a one year professional program of Practical Pedagogy (Teacher Education Programme).
At the same time as I'm completing my MA, I'm trying to use my language skills through taking jobs as a freelance translator – mostly from English to Norwegian, but also from Spanish to Norwegian.

Although I have no formal translation education, and little experience in the field, I regard myself as highly capable of producing excellent translations from English and Spanish to Norwegian. All my life I have been very fond of languages, and I have an analytical, conscious and reflective relationship with them. In middle school and high school I studied French for six years, and didn't start studying Spanish until the spring of 2013, but I now consider myself fluent, without ever having stayed in a Spanish speaking country for more than three weeks at a time. I still understand a decent amount of French, and could most likely manage translating from French to Norwegian and English, but I wouldn't call myself fluent. During the spring semester of 2012, I studied as an exchange student at UC Berkeley, where all classes and curricula were in English. I like to read, and have read quite a lot of literature both in Norwegian and English, as well as some in Spanish – while studying English I read and analyzed lots of both classical and modern English literature and poetry. Through my studies of English and Spanish, I have also learned much about phonetics, phonology, transcription, and, of course, grammar.


I have also been working as a substitute teacher while studying (mostly in the subjects of Spanish, English and Social Sciences, but also others), as a barista and salesperson at an organic bakery, café and sandwich bar, as a personal assistant for a physically handicapped lawyer, and as an assistant at a respite care facility for multi disabled children – all in my hometown of Bergen, Norway. In the fall of 2012, I volunteered as a journalist for Bergen's biggest, and Norway's second biggest, student newspaper, Studvest (http://www.studvest.no/). In addition, I use as much time as I can on nurturing my other great passion: music. I play, sing and write songs in various bands and projects of widely different genres – in different languages and on different instruments – and have as a goal to release at least one excellent album with each of them (with some bands, we already have some releases), and play lots of concerts.


I also love to travel, and have visited many countries all over Europe, as well as the US, Peru, Turkey, Georgia, Armenia, Egypt, Israel, Jordan and 10 countries in Sub-Saharan Africa: South Africa, Botswana, Zambia, Zimbabwe, Malawi, Mozambique, Tanzania, Kenya, Uganda and Ethiopia. I enjoying getting to know new countries and learn about their cultures, societies, history, geography – and whatever I can learn of their languages. Together with this interest of different countries and its peoples, as well as my social, creative, flexible and artistic personality and positive attitude, I think my range of academic merits and extensive work experience provide me with versatile and solid knowledge of different aspects of the world. This enhances both my cultural awareness and my common sense, something that in turn, I believe, greatly benefits both my general language skills and my abilities as a translator.
Última actualización del perfil
Dec 2, 2015